As shown in a recent post on using Wine Lister to build your portfolio, Burgundy is the best-represented region of Wine Lister's MUST BUY hoard (33%, or 533 wines). 10% of these (161 wines) are white Burgundies, that show high quality and good value within their respective vintages and appellations. These wines cover a vast range of prices, from £15 (per bottle in-bond) up to £1,354.
This week's blog post examines white Burgundy MUST BUYs at five different price points, to help the hunt of those buying fine wine at every level.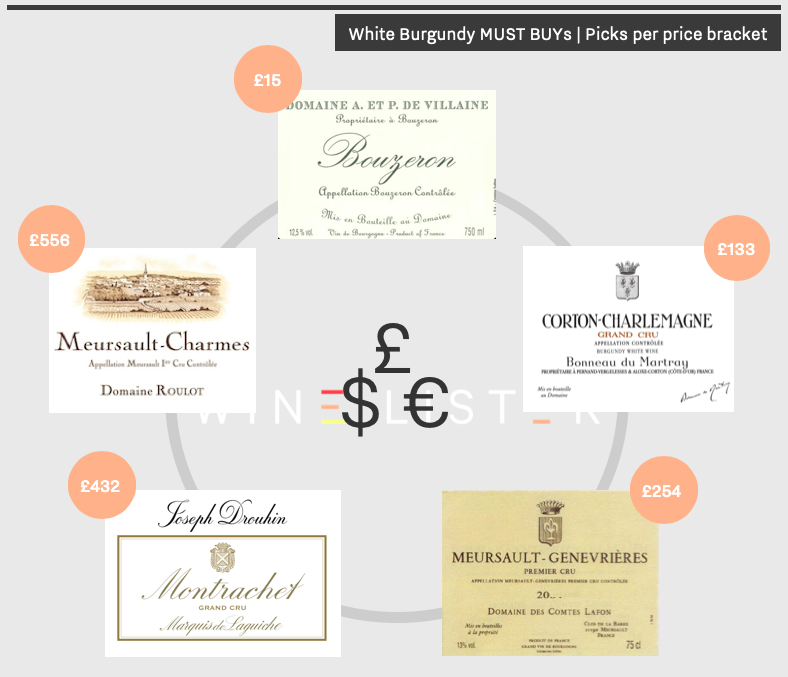 Prices are shown per bottle in-bond (when buying by the case).
Under £20 – 2016 Domaine A. & P. de Villaine Bouzeron
Bouzeron's location in the north of the Côte Chalonnaise provides the setting for Aubert de Villaine's personal project – one with a humbler reputation than that of his magnum opus, Domaine de la Romanée-Conti. Dispelling the region's once-unfavourable reputation, de Villaine's restricted yields and hand-harvesting produces top quality Aligoté Doré. The 2016 vintage achieves a WL Score of 90, and was described by Neal Martin as having "a touch of salinity towards the finish with judicious hints of stem ginger and a hint of rhubarb". This wine is available to purchase from Justerini & Brooks, where a case of six starts at £90 (in-bond).
Under £150 – 2015 Domaine Bonneau du Martray Corton-Charlemagne
Bonneau du Martray is the largest single owner of vines in Corton-Charlemagne – an appellation that is often said to rival Montrachet. The 2015 vintage was discussed in Wine Lister's blog on the top 2015 white Burgundies by WL score, in which it was the second highest overall scorer. As of 2018, around 25% of Bonneau du Martray's Corton-Charlemagne vineyards has been leased to Romanée-Conti – a factor that could drive its price up in the future. For now, this Corton-Charlemagne remains of exceedingly good value in the context of Grand Cru white Burgundy. The 2015 vintage can be purchased from UK merchants such as Goedhuis, where a case of six costs £916 (in-bond).
Under £350 – 2012 Domaine des Comtes Lafon Meursault Genevrières
Despite lacking the Grand Cru status held by Corton-Charlemagne, the higher cost of Domaine des Comtes Lafon's Meursault Genevrières (Premier Cru) could in part be reflective of the increasing popularity of Meursault. Dominique Lafon is often considered one of the leading producers in Meursault, as reflected in his meticulous vinification process. Spending two winters in wood, and sleeping in some of the deepest and coldest cellars in the region, his wines are bottled nearly two years after harvest – one of the latest bottlings in Burgundy. Achieving a WL score of 94 and 'Investment Staple' status, the 2012 vintage is available to purchase from Four Walls Wine Co., where a bottle costs £225 (in-bond).
Under £500 – 2017 Maison Joseph Drouhin Montrachet Marquis de Laguiche
The second Grand Cru white Burgundy examined here is more expensive than Bonneau du Martray's Corton-Charlemagne, but nonetheless also good value – this time in the context of Montrachet specifically. Hailing from négociant house Joseph Drouhin, its Montrachet Marquis de Laguiche is priced around £432, while the average price of all Montrachet 2017s on Wine Lister is £1,249. Sourcing grapes from vineyards owned by the Laguiche family, the quality here is just as impressive as several Montrachet wines produced by Burgundy domains. Achieving a WL score of 95, the 2017 vintage was described by Jancis Robinson as "Creamy, deep, powerful and endlessly long". This wine is available to purchase from Berry Bros. & Rudd, where a case of six bottles starts at £2,750 (in-bond).
Over £500 – 2015 Domaine Roulot Meursault Charmes
The "blowout" wine of this week's selection is Domaine Roulot's Meursault Charmes. Having assumed direction of the estate in 1989, Jean-Marc Roulot has been successful in fine-tuning the distinct style of wine developed by his father, Guy Roulot. While many other wines of this village exhibit richness and concentration, the 2015 Meursault Charmes reflects Jean-Marc's commitment to achieving a brighter style of Meursault – one which expresses its terroir vividly. Speaking on his aversion to excessive lees-stirring, he says, "I prefer to lose a little volume and power on the palate in order to obtain the 'ligne droite' [straight line] and the purity. This haunting purity and directness is evident in every wine Roulot produces." The wine is available from several UK merchants, including Morgan Classic Wines, and Fine+Rare, from which prices start from £425 (per bottle in-bond).