Having recently confirmed Chablis as the place to look for Burgundian Value Picks, this week's Listed blog brings the price scale up a notch to look at the top five still dry white wines under £200 per bottle by Wine Lister score. Alongside one further appearance from Chablis, the selection is pleasantly diverse.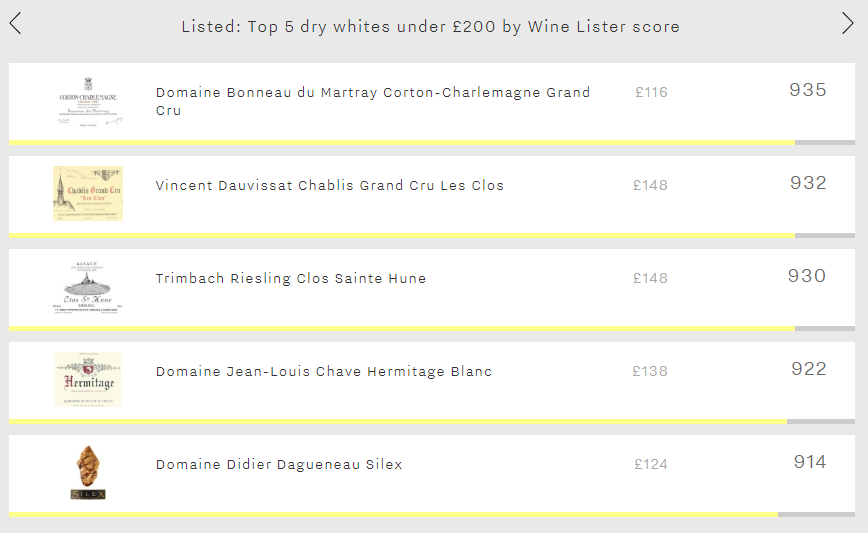 Domaine Bonneau du Martray's Corton-Charlemagne Grand Cru takes the number one spot. With a market price of £116 per bottle, it is in fact the least expensive of the five. Brand is its strongest category with a score of 950, generated by 4,150 monthly online searches on Wine-Searcher and presence in 36 of the world's best restaurants. Figures from Wine Market Journal also place it first for trading volumes, with 440 bottles of its top five vintages traded at auction during the last 12 months.
The second-highest scoring still dry white under £200 is Vincent Dauvissat's Chablis Grand Cru Les Clos. It has both the highest Quality score and market price of the group (952 and £151 per bottle respectively). However, Chablis once again shows a positive price to quality ratio when compared to other white Burgundian offerings with the same Quality score. In this context, Maison Louis Jadot's Chevalier-Montrachet Les Demoiselles and Maison Joseph Drouhin's Montrachet Grand Cru Marquis de Laguiche are 42% and 173% more expensive (at £214 and £412 per bottle respectively).
Next on the list is Riesling Clos Sainte-Hune, Trimbach's most iconic dry white. Its Quality and Brand scores (943 and 947 respectively) outperform its Economics score (870) resulting in an overall score of 930. Clos Sainte-Hune's tiny production level of an average 9,600 bottles per annum (five times fewer than the 48,000 bottles of Corton-Charlemagne produced by Bonneau du Martray, for example) makes it a true rarity.
Travelling further south for the still dry white in fourth place, we find Domaine Jean-Louis Chave's Hermitage Blanc with an overall Wine Lister score of 922. Curiously, vintage Quality score variation is more at play here than any other wine of this week's top five. The 2016 vintage of Chave's Hermitage Blanc earns the highest vintage Quality score of the lot (993), however 307 points separate its best from its worst vintage (2002) which is also the lowest vintage Quality score of the five.
Last but not least, the fifth highest-scoring still dry white under £200 is Domaine Didier Dageneau's Silex, with an overall score of 914 and a market price of £124 per bottle. In a regional context, Silex takes the number one spot on all fronts with the highest Quality, Brand, and Economics scores of all Loire dry whites. As the fifth and final wine of this week's top five, it has the highest restaurant presence with a listing in 39 of the world's best restaurants.