This week, Wine Lister determinedly battles through the cold to bring on spring with the vinous ray of sunshine that is Sauvignon Blanc. The Loire valley is, for many, the holy grail of Sauvignon Blanc production, creating pure, age-worthy examples of the grape. Interestingly, Wine Lister's top five Loire Valley dry whites for Quality all hail from the Easternmost tip of the Valley – Pouilly-Fumé and Sancerre – thus edging out stiff competition from the more Westerly Chenin Blancs.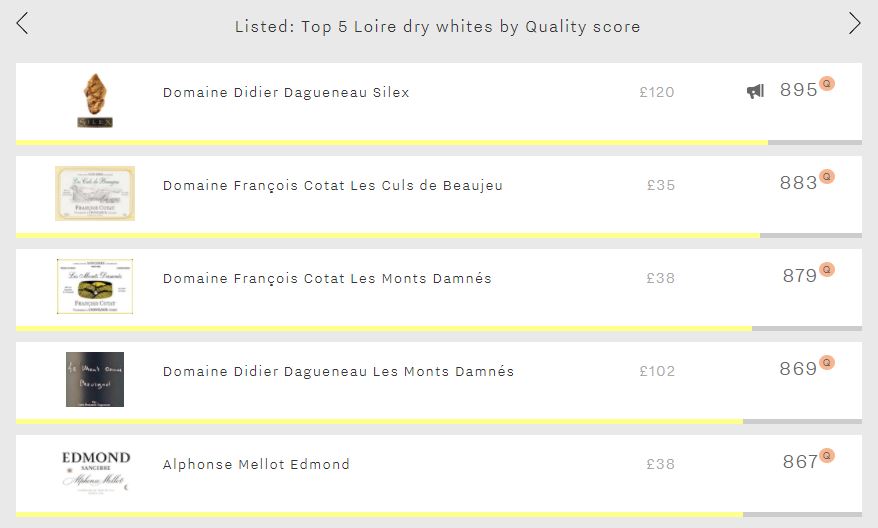 Whilst none of the top five breach the 900-point mark – thus not quite making it into the most elite band of Wine Lister's 1,000-point scale – they don't miss out by far, and are separated by just 28 points. Notably, two producers dominate – Dagueneau and François Cotat – filling four spots, with Alphonse Mellot's Edmond taking the remaining place.
In top spot is Dagueneau's Silex with a score of 895. This iconic Pouilly-Fumé – or Blanc Fumé de Pouilly as the domaine refers to it – might not be the Loire's longest-lived dry white, but leads thanks to excellent critics' ratings, with French duo Bettane+Desseauve awarding it 18.5/20 on average. Not only is it the Loire's top dry white for quality, it also achieves the best Brand score of any Loire Valley wine – it is 68% more popular than any other wine from the region and its famous flint-emblazoned bottle is visible in 39% of the world's top restaurants.
Second and third spots are taken by two Sancerres from François Cotat – Les Culs de Beaujeu (883) and Les Monts Damnés (879). François Cotat, along with his cousin Pascal inherited their respective domaines when their fathers – Paul and Francis – retired in the early 90s. The cousins decided to split production, with François continuing to make his wines in Chavignol, whilst Pascal built a new winery in Sancerre. François' Les Culs de Beaujeu and Les Monts Damnés comfortably achieve the longest drinking windows of this week's top five – 12 and 13 years respectively – at least three years longer than the remainder of the group.
Fourth and fifth spots are filled by Dagueneau's Les Monts Damnés (869) and Alphonse Mellot's Edmond (867). Whilst they are separated by just two points in terms of Quality, the former is over 2.5 times more expensive, perhaps thanks to Domaine Dagueneau's cult status.