Wine Lister Indicators are designed to help you find the perfect fine wine for any occasion. Wine Lister regularly tracks the movements of wines in and out of these segments (such as recent commentary featuring new Buzz Brands for Burgundy). This month we look at newcomers to the Value Pick segment – wines that achieve the best quality to price ratio.
France is the geographical victor of new Value Picks, with a total of seven wines hailing from Bordeaux and the Rhône (and one from the Loire). These traditional regions may appear "uncool" compared with the likes of Burgundy (whose popularity continues to rise). However, it is perhaps thanks in part to their "uncool" status that Bordeaux and the Rhône are also sources of exceptional value for money.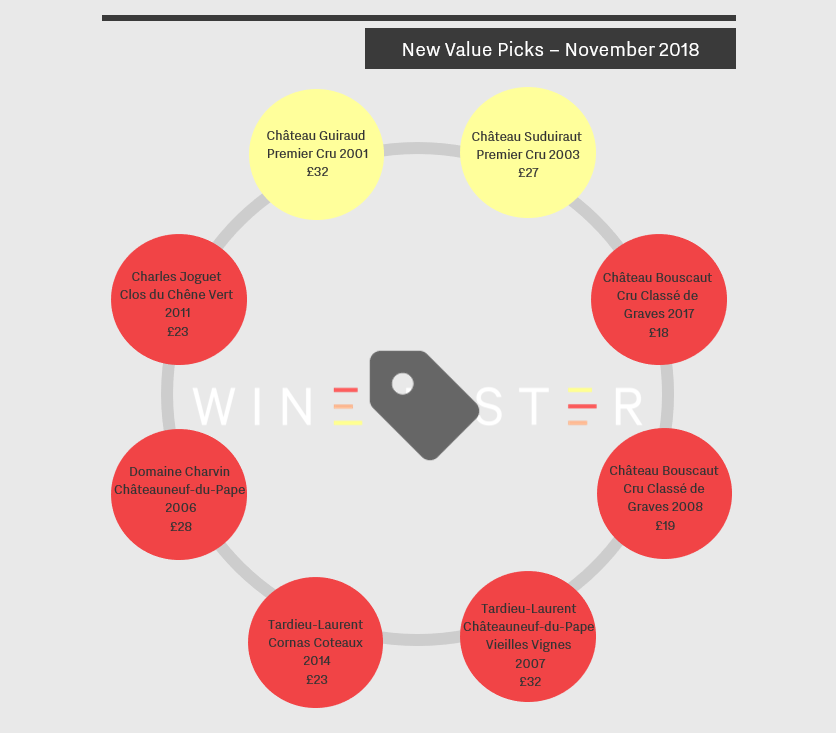 The only two whites of our new Value Picks, Château Guiraud Premier Cru 2001 and Château Suduiraut Premier Cru 2003, actually achieve the highest Quality scores of the group (936 and 929 respectively). Château Guiraud 2001 is priced at £32 per bottle in-bond, and Château Suduiraut 2003 at £27. Sadly, the incredible Quality scores of these Sauternes (as well as others across the board) may be hindered by a lack of demand for the volume produced. Sauternes typically earn poor Economics scores on Wine Lister (Château Guiraud 2001 achieves an Economics score of 212, and Château Suduiraut 2003 345), perhaps due to the pace at which older vintages of these exceptional sweet wines are consumed. With Christmas just around the corner, however, there is every reason to source either of these two for good value for your buck.
Elsewhere in Bordeaux, Pessac-Léognan rules the Value Pick reds with two listings from Château Bouscaut. The 2017 is one of Bouscaut's new Value Pick vintages, however the real appeal, with 10 years of age, is the physical 2008 vintage, which achieves a Quality score of 768 (vs. 775 for 2017) for a price just £1 above the latest release (at £19 per bottle in-bond). These two vintages join existing Value Picks of Château Bouscaut, namely the 2016, 2015, 2013, and 2004. The latter is interestingly Bouscaut's highest-scoring vintage ever (868), and therefore provides exceptional value at £21 per bottle in-bond.
In the Rhône, producer Tardieu-Laurent has two newcomers to the Value Pick segment: Châteauneuf-du-Pape Vieilles Vignes 2007 (£32) and Cornas Coteaux 2014 (£23), with Quality scores of 906 and 813 respectively. The Châteauneuf-du-Pape Vieilles Vignes now has an impressive six Value Pick vintages, and the Cornas Coteaux four. Indeed, Tardieu-Laurent (which was recently acquired by EPI, the owner of top Brunello producer Biondi-Santi and both Piper and Charles Heidsieck) appears a good producer to choose for value, with six of the domaine's ten wines on Wine Lister having vintages in the Value Pick segment. It is perhaps therefore surprising that its Brand scores sit mostly in the average section of Wine Lister's 1,000-point scale or below – uncool, but with very cool price to quality ratios.
A second Châteauneuf-du-Pape, the 2006 from Domaine Charvin is the third wine from the Rhône to make it to the list, with a Quality score of 869 and available at the modest price of £28 per bottle in-bond.
These French Value Picks convince us that "old-school" wines should not be dismissed as such. With an average price of £25 per bottle in-bond, and an average Quality score of 858, these represent excellent value for money – and that will always be cool.