With Bordeaux en primeur releases around the corner, the fine wine trade has begun to speculate behind the scenes on which properties will provide the top picks from the 2020 vintage. As we await patiently the release of critic scores and write-ups from further tastings, below Wine Lister shines some light on the perennial châteaux to watch, according to the results of our latest trade survey.
The graph below is an extract from Wine Lister's latest Bordeaux Study, and shows results of properties receiving the highest number of mentions in response to the following question: Which Bordeaux properties do you think have the most potential in the near- to mid-term to see the highest increase in demand?
Answered by the 49 CEOs, MDs, and wine department heads from across the globe that took part in our in-depth trade survey, wines from properties mentioned below are likely to see high demand again in this year's en primeur campaign.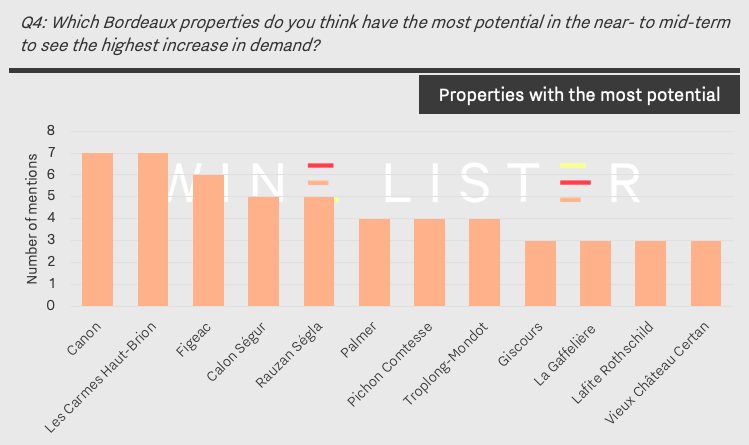 Mirroring the châteaux that have seen the biggest improvement in Quality, Brand, and Economics (Wine Lister's Pro Scores) over the past two years, the right bank proves a popular choice for potential increases in demand over the near- to mid-term, according to the survey results.
Saint-Émilion's Canon and Figeac gain the joint-highest and second-highest mentions by our Founding Members, respectively, with the latter achieving the top WL score of all Bordeaux 2019s. Troplong-Mondot and La Gaffelière join the Saint-Émilion squadron, while Pomerol pick Vieux Château Certan also features in the top twelve most-mentioned properties.
A rising star in recent years, Les Carmes Haut-Brion ties for joint-first alongside Canon. Small production levels, rising demand, and attractive en primeur pricing for the last few years has made Les Carmes Haut-Brion a top buy. Rauzan-Ségla makes an appearance in joint-fourth place alongside Calon Ségur, followed by Palmer, Pichon Comtesse, and Giscours. Lafite is the sole first growth to make an appearance, with three respondents mentioning it in their list of top properties likely to see the highest increase in demand.
Results are extracted from Part I of Wine Lister's annual Bordeaux Study. You can download the study digest in English here: Wine Lister 2021 Bordeaux Study – Digest or French here: Wine Lister 2021 Bordeaux Résumé d'étude. The full report can be purchased on our Analysis page, while Pro subscribers can access their free copy here.