Owner and winemaker of his family estate in Bandol: "I was regarded as the 'son of' for a very long time".
The 22nd interview in Le Figaro Vin's series finds us once more in Provence, at Château de Pibarnon, a southern jewel which has been raising the profile of the Bandol wine region for nearly half a century. We are here to meet Éric de Saint-Victor, #29, a second-generation owner who, after many years in the shadow of his parents, has firmly established his place at the zenith of the appellation.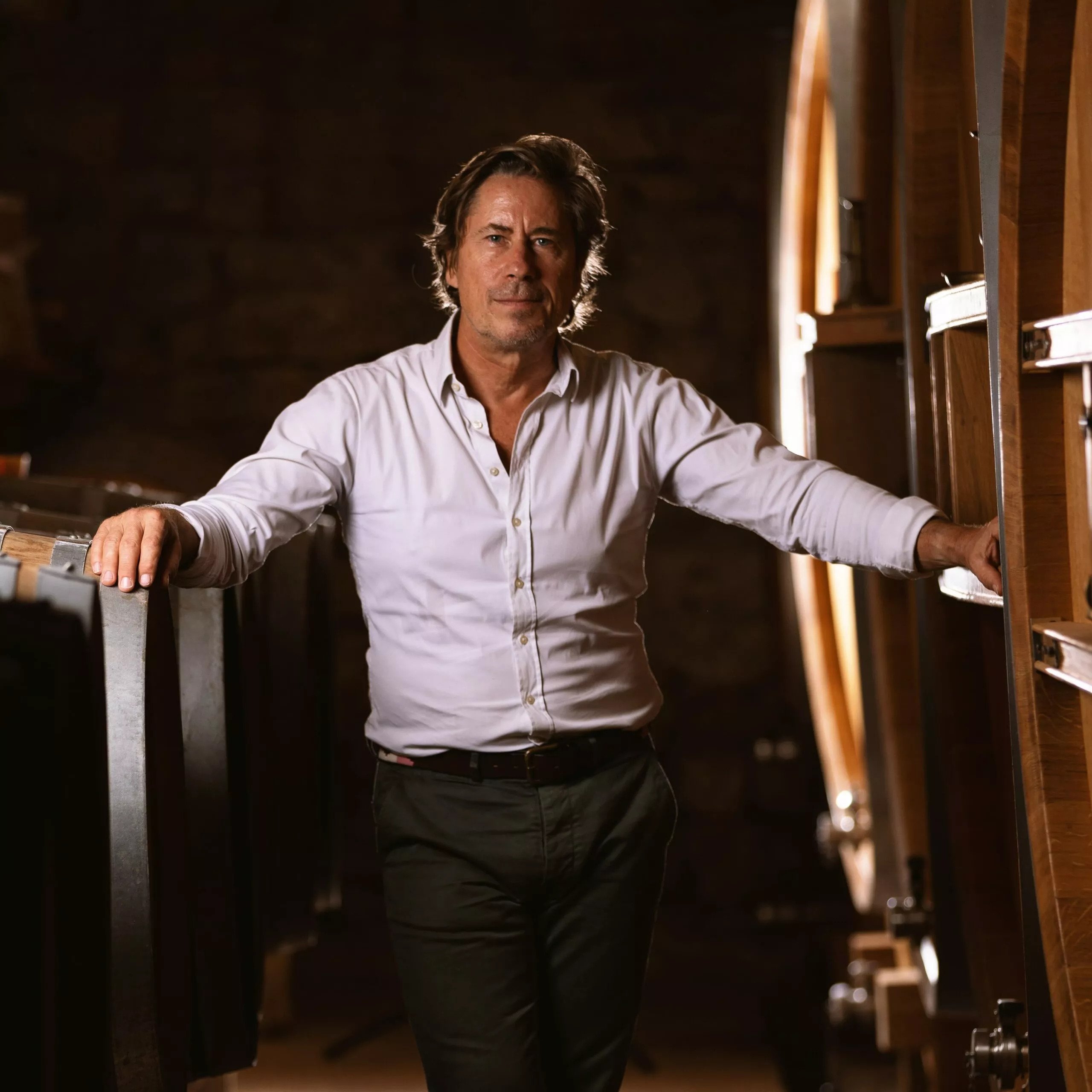 With a mere three hectares acquired in 1977, in an appellation which formerly struggled to get on the map, Château de Pibarnon began life as a genuine gamble. "My parents purchased what was within their means," acknowledges Éric de Saint-Victor. "My father saw that you could do something extraordinary in Bandol. They created everything from scratch." With its two red wines, two rosés, and one white, the estate now ranks among the most sought-after in France and plays a major part in the growing reputation of the Bandol wine region on both national and international stages.
Le Figaro Vin: How does it feel to be crowned a winemaking champion?
Éric de Saint-Victor: It reminds me of something my father used to say when he heard himself described as the best: "I am one of the two best, but we don't know who the other one is!" We should bear in mind that in the 1980s and 1990s there was a competitive atmosphere between the estates, who were in a race to get results and win attention. A great wine had to be powerful and intense. That was the norm, especially in Bandol. When it comes to me, I am really fortunate to have had the time to develop my expertise and to benefit from well-established vines, so today, above all, the challenge is with myself, in the pursuit of craftsmanship rather than competition. It makes me very happy to be regarded as a champion, but just like with sailing, you have to put your own boat in order before taking on others.
Have you been training for long?
At the outset I learnt alongside my parents. My father taught me about winemaking, my mother about the business side of things. The training never stops, and you are always taking risks.
Who is your mentor?
Alain Brumont (of Château Montus and Château Bouscassé in the Southwest, ed.) who visited the estate in 1989. He was the first winemaker of note to treat me as an equal. I was regarded as the "son of" for a very long time, whereas he spoke to me as one winemaker to another, which boosted my confidence. I think that more than having a mentor, what is really valuable is to analyse the pathways taken by winemakers whose wines you love and to see how these can be understood through their wines. In this respect tasting is key to analysis. I always say that Pibarnon's first customer is me!
Is wine a team sport?
Of course. We have a talented team here and the working atmosphere is pivotal. I don't want a team of pruning shears; I want human beings. Everyone brings something to the table, and I favour consensus and collective decision-making.
What is the key to making a good wine? The terroir or the winemaker?
We are merely part of the terroir, it is our job to give it meaning, to interpret it, whereas the substrate is immutable.
To what do you owe your success?
First and foremost to the terroir. Here in Bandol we have a unique geological layer, a Triassic limestone soil which is exceptional, enjoys excellent hydromorphology, and produces grapes with quite intense tannins.
Is your family proud of you?
I think so, even though I have been an "orphan" since the ages of 49 and 50.
Your favourite colour? 
I like white, although it's hard to choose. I roll with the seasons. My favourite style of wine is the one that takes me into its own world. I don't look to be amazed, I go for depth and the experience of discovery.
Your favourite grape variety?
Mourvèdre, which has a fascinating, very romantic character. It's a Don Quixote, untamed and freethinking. It's a grape variety that requires freedom, it's not a circus animal: you can't put it in a box, you have to know how to guide it.
Your favourite wine?
Because of my genes it has to be Le Rouge du Château, which is Pibarnon's standard bearer, combining all the attributes of the estate. In our southernmost environment we contrive to produce something fresh, which makes for an astonishing paradox on the palate. These are wines of light rather than wines of heat.
Your favourite vintage?
No vintage is exactly like another. I really liked 2019, for which we went out on a limb.
If your wine was a person, who would it be?
A character from fiction, but intellectually rich, a bit like Steve McQueen with a feline side. It's a wine that sometimes shows its claws but has a smooth and solitary side.
What are the best circumstances in which to taste your wine?
When the wines are young, over a meal, when they have aged, in a more contemplative way, especially after 25 years of ageing. The latter are more meditative wines, producing more heightened states of intoxication, whereas the former make the conversation flow.
Who is your strongest competition?
Drought.
What is your greatest trophy?
My father won six gold medals at the Concours Général Agricole de Paris. He exuded a special charm and had built up some very strong relationships with sommeliers and winemakers. In 1993 I began to take over responsibility for winemaking, then, a few years after that, I entered a competition in England. I gave that a shot because in France I would have been afraid of only getting bronze! Neither Bandol wines nor Mourvèdre were specified on the entry form, so I competed in the "others" category and six weeks later I was awarded a prize. This story aside, the greatest trophy for me today is to share a tasting with a great sommelier and to see in his eyes a growing understanding which reveals a sense of experiencing something new.
Who would be your ideal successor on the podium?
Someone who could take my place while showing true independence through their own take on things. Someone who could build on their experience on the estate and find their own voice: they would be the ideal successor.