Throughout the late 20th century, Riesling gained a somewhat tarnished reputation, particularly within the UK, as a consequence of the abundance of overly sweet, low-quality Rieslings being released onto the market. Over the past two decades, however, it has made a comeback – especially the dry styles of top-quality wines with ageing potential and great value. The high acidity and complexity of tertiary flavours in Riesling have led to it being a favourite among wine industry professionals, including Jancis Robinson, who hails it "the greatest white wine grape".
To help you uncover Germany's noble grape, this week we examine some iconic dry and off-dry Riesling MUST BUYs with WL scores above 95.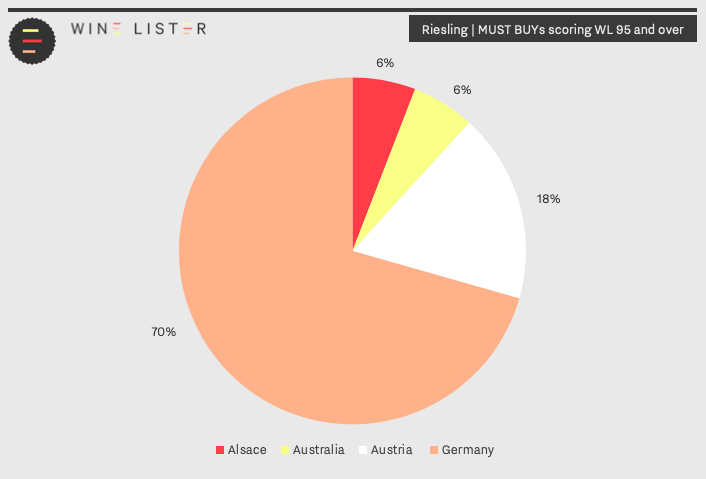 Top quality Riesling is now produced around the world, from the traditional regions of the Mosel and Alsace, through to Australia and South America. 70% of dry Riesling MUST BUYs scoring above WL 95 hail from Germany (25 wines), of which just over half (19 wines) are produced in the Mosel. The other German regions in the list comprise two entries from the Rheinhessen, and one each from the Rheingau, Nahe, and Pfalz respectively.
Austria achieves six entries on the list of Riesling MUST BUYs scoring WL 95 and over (18%), which all hail from Niederösterreich, while the Alsace and Australia's Clare Valley both earn two entries respectively.
 A Mosel Must – 2010 Joh. Jos. Prüm Wehlener Sonnenuhr Riesling Auslese Goldkapsel
With a WL Score of 97 at just £59 (per bottle in-bond), the 2010 Wehlener Sonnenuhr Auslese Goldkapsel exemplifies the excellent quality-to-price ratio of JJ Prüm's wines. Long considered one of the Mosel's, if not the whole of Germany's most revered estates, its Wehlener Sonnenuhr vineyard is situated on steep south-facing, blue slate slopes, resulting in its complex minerality. Scoring it 19/20 points, Wine Lister partner critic, Jancis Robinson recounts that the 2010 vintage of this off-dry Riesling "Dances out of the glass on the nose. Such delicacy and life! Racy". This vintage is available to purchase from Lay & Wheeler, where a case of six starts at £330 (in bond).
An essential Alsace – 2008 Trimbach Riesling Frédéric Emile
Dating back to 1626, 13 generations of the Trimbach family have contributed to the estate's winemaking, now considered one of Alsace's top properties. Cuvée Frédéric Emile is a blend of two Grand Cru vineyards, Geisberg and Osterberg, that share complex soils of alkaline clay and limestone, producing a wine of intense minerality. Both sites benefit from evening winds (the Tahlwendala), which allow extended ripening periods. The 2008 Trimbach Riesling Frédéric Emile achieves a WL Score of 95, and is available to purchase by the case from Cru World Wines for £390 (in bond).
 A need for Niederösterreich – 2013 F.X. Pichler Riesling Kellerberg Smaragd
Described by Jancis Robinson as "Big and opulent with some lychee flavours", the 2013 was a notably good vintage for F.X. Pichler's Kellerberg Smaragd. Achieving the best WL Score since 1995 (96), it showcases Pichler's attempt to refine his style and prioritise purity of fruit and balance over power. Although the narrow stone terraces of the Kellerberg vineyard necessitate farming and harvesting by hand, this wine has an impressive quality-to-price ratio. At £34 (per bottle in bond), the 2013 vintage is also a Wine Lister Value pick, and is available to purchase from BI Wines & Spirits (by the case of 12).
 A New World necessity – 2013 Grosset Polish Hill Riesling
Often coined one of Australia's most renowned Riesling winemakers, Jeffrey Grosset's Polish Hill plot was planted in 1996, following years of research into the effect of soil, rock, and altitude on Riesling. This eight-hectare plot is thus at 460 metres altitude, ensuring cool nights and longer ripening of its Riesling grapes. Planted in an area termed "hard rock", the Polish Hill vineyard is situated on a crust of clay over slate, which, alongside the cool growing season, causes stress on the vines, resulting in smaller but more complex-flavoured grapes. The 2013 vintage achieves a WL score of 95, and is available to purchase from Lay & Wheeler for £50 (per bottle in bond).
See the full list of Riesling MUST BUYs here.