Owner and winemaker, in tandem with his sister Marie, of their family estate in Alsace: "We run on adrenaline".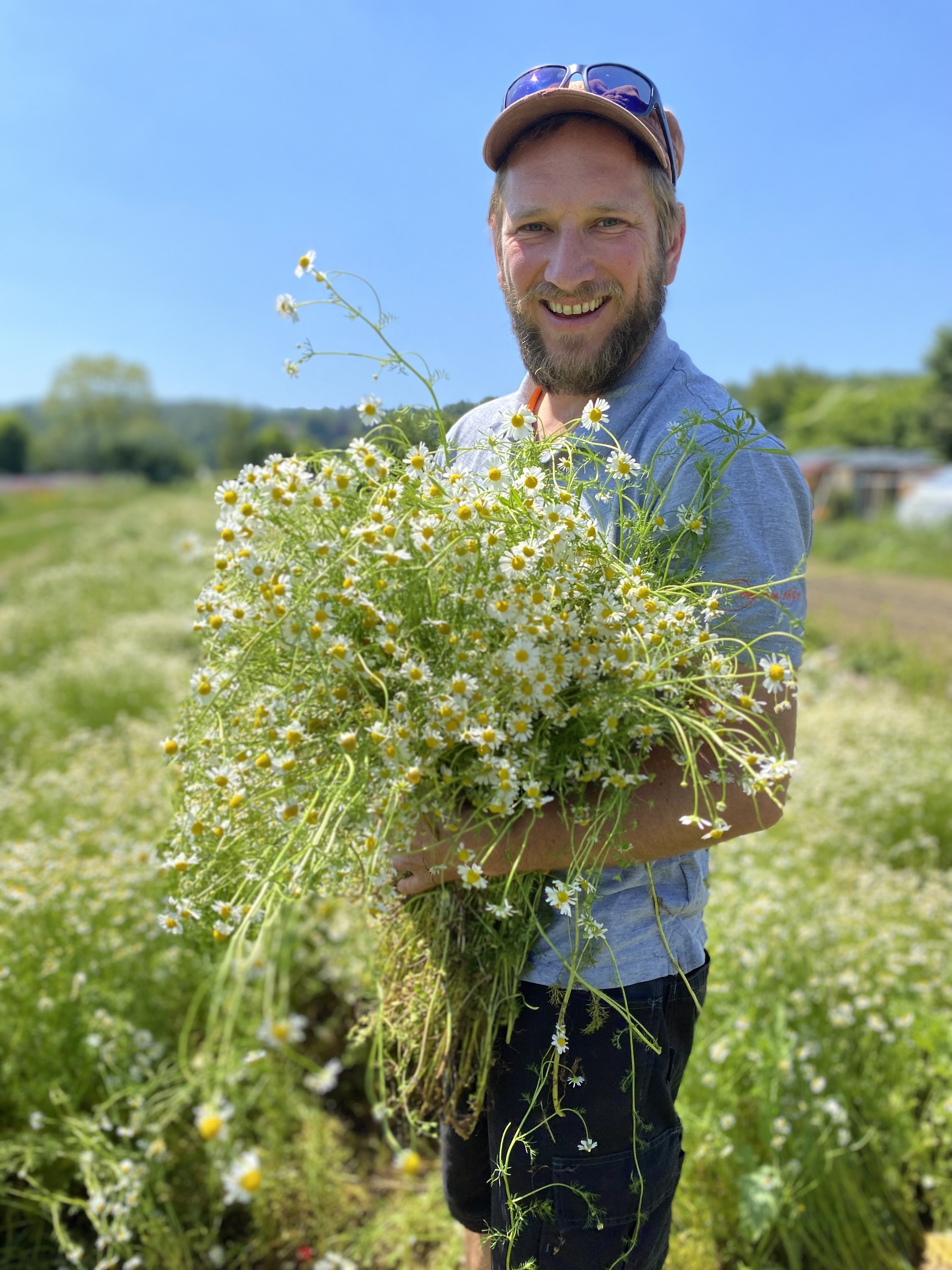 For the tenth interview in Le Figaro Vin's series we pay our third visit to Alsace to meet Jean-Paul Zusslin, #41. He and his sister Marie work hand-in-hand with nature to create their great Alsace wines at Domaine Valentin Zusslin, founded in the late seventeenth century, at Orschwir, between Colmar and Mulhouse. The two siblings, 13th generation of a family of winemakers, work 13.5 hectares of vines, made up of nine grape varieties (Auxerrois, Chardonnay, Chasselas, Gewurztraminer, Muscat, Pinots Noir and Gris, Riesling, and Sylvaner). The estate's three select terroirs, on the slopes of Bollenberg, Clos Liebenberg, and Grand Cru Pfingstberg, have been cultivated biodynamically since 1997, and produce exquisite, exciting, and elegant Alsace wines.
Le Figaro Vin: How does it feel to be crowned a winemaking champion?
Jean-Paul Zusslin: I am very happy with what we have been able to achieve since my sister and I joined forces on the family estate in 2000. The estate's reputation has grown, and we make wholesome wines which are true to us and our environment.
Have you been training for long?
Since forever, I think. Vines, wines, wine-lovers, and restaurants have all been part of my daily life from a very young age, and I never tire of them!
Who is your mentor?
My partner, my children, my sister, my mother, all my kindred winemakers. Nature, too, is a good guide when you pay it proper attention.
Is wine a team sport?
You need plenty of team-mates and have to be in good shape to make a good wine. It is important to me that everyone should work well together, start the day with a smile, be generous-spirited, and want to work hard and conscientiously. That said, I am not hugely competitive! I am a big fan of live shows and I see us more as a theatre company with me as the director. The spectators are the tasters, the actors are the vines and our team, while the playwright who guides us is nature. We try to interpret nature as faithfully as possible.
What is the key to making a good wine? The terroir or the winemaker?
To make a good wine you have to be a good winemaker, but to make a great one you have to understand its terroir, its environment. That comes from experience, accumulated through successive vintages, from observation, from challenging yourself, and from humility.
To what do you owe your success?
To my family, to my partnership with my sister, to doing what I love, and to my perseverance. When I joined the family estate in 2000 my parents and grandparents gave me the freedom to experiment and do what I wanted, especially in the cellar. They gave me the same freedom in the vineyard, where I have experimented with herbal treatments, biodynamic sprays, the introduction of nesting-boxes…
Is your family proud of you?
Yes, I think they are, I certainly hope so! I am equally appreciative of everyone's contribution.
Who is your biggest supporter?
My mother, but without a trace of objectivity!
Your favourite colour? 
White in the morning, bubbles at midday, deep yellow for afternoon tea, and red in the evening.
The king of grape varieties?
It's hard to say, to choose is to go without! I love all the wines that I make. It's like asking me which is my favourite child. I love both of them unconditionally. That said, I am very partial to Riesling, for its multiple dimensions, its freshness, and its versatility in matching with food.
Your favourite wine?
I am very fond of Clos Liebenberg, it's a unique spot, a haven of biodiversity where I love to spend time, and it produces magnificent still and sparkling wines.
Your favourite vintage?
I would go for 2015, the last vintage with my father. Each year brings a new experience, a new encounter. For every vintage we spring into action, give it everything we've got, and the fruits of our labour are there in the bottle. Every wine has a story to tell and reminds us of some climatic or some personal event.
If your wine was a person, who would it be?
I hope it is like me, on a good day! But it is also like our landscape through the passing seasons.
What are the best circumstances in which to taste your wine?
Wine is a social bond, a product that we share, therefore it has to be in good company, over a meal or in the living room.
Have you ever thought about chemically enhancing yourself, or your wine? 
Yes, all the time. I try to stimulate both vine and wine with willpower and with attentive, loving care. I think it is important that both vine and wine know what we expect from them, what our intentions are. We have to give heart and soul for them, always be there for them, and stay tuned in. My vinifications are very minimalist and natural but require careful attention. As for my personal stimulants of choice, they are wine, in moderation I like to think, positive energy, and strong coffee…
For what price would you be prepared to sell your estate?
I have never considered that question. For 13 generations now my family has been making wine and looking after a bit of land. I would be very happy if I could pass that on to my children or to my sister's children. It will be their choice, with no pressure from me. In any case, that's for the future. I am not about to go anywhere.
Who is your strongest competition in Alsace?
No one. Instead, I see my winemaking colleagues as a source of inspiration. Everyone has their own style. When I'm at home I almost exclusively taste wines that are not my own. I try to understand what the winemaker sought to express and to discover what makes them tick. Faced with climate change we are going to have to form a collective front against numerous challenges, hence all the more reason to get on well.
Which competitions do you dread the most?
The harvest. We run on adrenaline. There are lots of team-mates to manage, you have to bring home the wines, and the days are long. By comparison the Mont Blanc ultra marathon is a walk in the park!
What is your greatest trophy?
When you start the day among the vines and you see a hare, a pheasant, a tit has come to say hello. Or perhaps when my children tell me "That's really good!". And when our customers tell me that my wine does them good.
What has been your most innovative strategy in the vineyard and in the cellar?
From the moment I came to the estate in 2000 I have been passionate about the natural cultivation of vines, observing and classifying the plants and small animals and insects that live in the vineyard. The estate had already been converted to biodynamic viticulture in 1997, on the initiative of my father, Jean-Marie Zusslin. I found that fascinating and delved deeply into alternative methods, especially the use of herbs. I acquired a lot of knowledge in this field about plants that produce essential oils. I have tried out different methods of extraction (infusion, decoction, and maceration) and potentisation. Currently I macerate the plants in alcohol to extract more of their essential elements. It's an ongoing experiment, but the results so far are encouraging. The idea is also to become self-sufficient in caring for our vines, to strengthen them without stressing them.
In the cellar, for a number of years now, I have passed some fermenting wines over marcs from our great reds. That produces greater flavour, fewer tannins, and an unbelievable drinkability. We have called this wine Ophrys, after the orchids which grow on the sheltered part of Bollenberg hill.
Who would be your ideal successor on the podium?
I hope it will be my children, or my sister's children. But only if they choose this freely and because they are passionate about it. I think that they respect what we are doing. We try pass on to them what excites us. But it's not an issue for the time being. I very much want to try and make another 40 vintages!