December is an expensive month, a time when many of us push the boat out, embracing the seasonal festivities as the days get ever shorter and the nights longer. But December has now been and gone, and January is here. Whilst it is a time for trying to tighten one's belt – economically and physically – it needn't be all doom and gloom.
This is where Wine Lister's Value Picks come in to their own. One of Wine Lister's four indicators (designed to highlight particularly noteworthy wines for our subscribers), Value Picks identify the wines and vintages that have the best quality to price ratio (with a proprietary weighting giving more importance to quality, thus giving the finest wines a look-in). This week's Listed section looks at Spain's top five Value Picks. Each achieving Quality scores of at least 876, and costing under £40 per bottle, they are sure to brighten up these dark January days. Please note that the prices shown are excluding duty and VAT, and often reflect prices available only when purchasing a full case.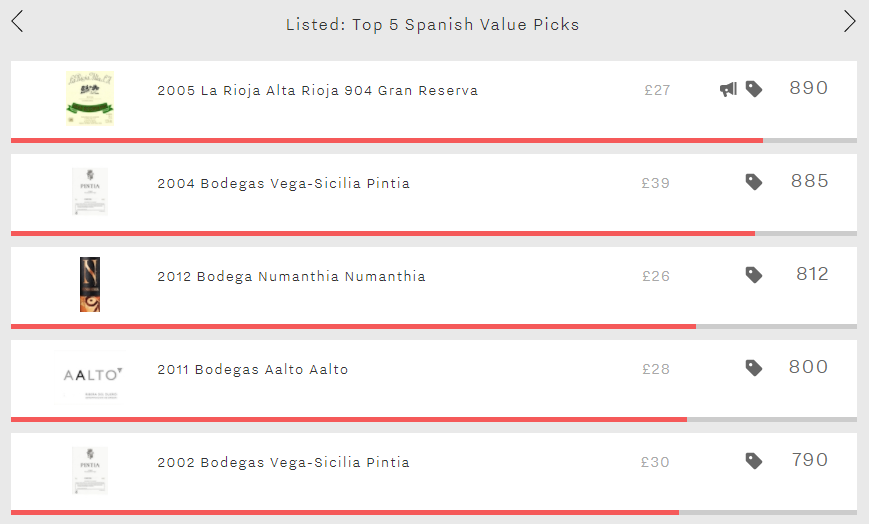 Leading the way is La Rioja Alta Rioja 904 Gran Reserva 2005. With an excellent Quality score of 909, this is a wine that is built to last – it is only now entering its drinking window, and will be drinking well until 2032. Not only does it qualify as a Value Pick, it is also one of Wine Lister's Buzz Brands. Available for as little as £27 per bottle, it represents outstanding value.
Vega-Sicilia Pintia fills two spots, with the 2004 and 2002. They enjoy the group's top two highest Quality scores (987 and 965 respectively), having received excellent ratings of 19/20 and 18/20 from Wine Lister partner critic Jancis Robinson. They need drinking up now, so why not start the year as you mean to go on and get your hands on one (or both!) of these.
Numanthia 2012, on the other hand, won't be ready until 2022. The cheapest of the group – at as little as £26 per bottle – it might be wise to buy a case and forget about it for a few years. Achieving a Quality score of 876, you won't regret finding a bottle of it tucked away in January 2028!
The last of Spain's top five Value Picks is Aalto 2011. With a Quality score of 920, and right in the middle of its drinking window, it would be £28 of liquid Spanish sun to brighten up the month.