Having commenced the week with International Women's Day (Monday 8th March), Wine Lister's latest blog celebrates some of the leading female figures in winemaking. Interviewing a handful of top producers across six regions, whose practices embody a range of principals, we put a spotlight on the wines made by some of the industry's most exceptional women.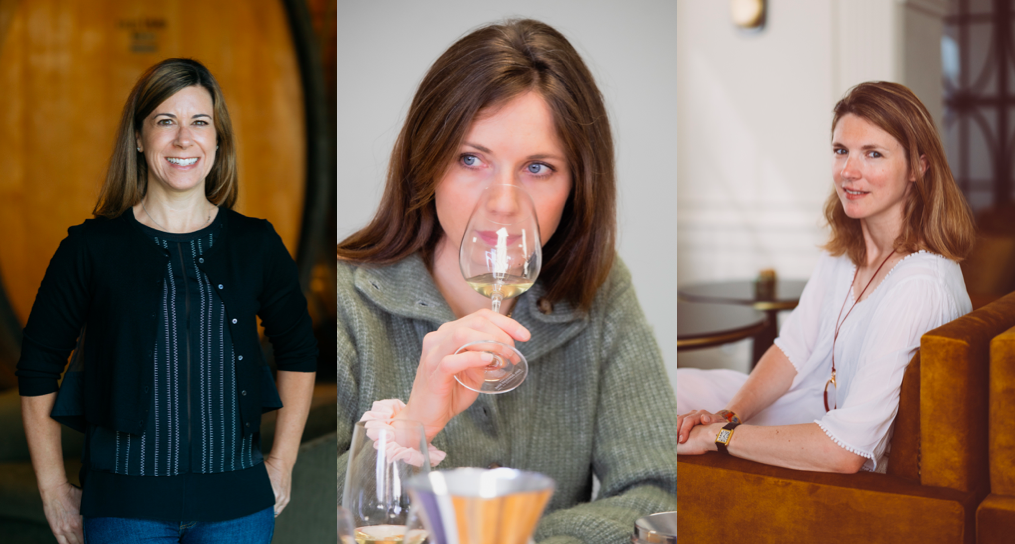 From left: Ashley Hepworth, Caroline Frey, and Stéphanie de Boüard-Rivoal
Ashley Hepworth – Joseph Phelps Vineyards
Following a degree in Chemistry and Biology, Ashley Hepworth spent two years cooking at Charlie Trotter's legendary Chicago restaurant, where she realised she "wanted to learn more about wine and utilize [her] science background". After studying the restaurant's wines, and quizzing its Master Sommeliers, she applied for a harvest internship at Joseph Phelps where she continued to work her way "up the ladder", eventually becoming winemaker in 2008. She is "particularly fond" of the 2008, 2015, and 2017 vintages of Joseph Phelps' flagship wine, Insignia, explaining that each are "distinctive of the given vintage and the interplay of the six estate vineyards" that the wine is blended from.
Caroline Frey – La Lagune and Paul Jaboulet Aîné
Having taken the helm of third-growth property La Lagune from her father in 2004, Caroline Frey has since assumed an additional winemaking role in the Rhône, at Paul Jaboulet Aîné, after its acquisition by her family in 2005. Like several of the producers we spoke to, Caroline informs us that working "in harmony with nature is a long-term project" for her, with both properties now certified biodynamic. She explains that "to produce great wine the grapes must be the fruit of nature and not of synthetic chemistry", and the more she "improves in working in harmony with nature" the "more wonderful" her wine will be. 
Stéphanie de Boüard-Rivoal – Angélus
Having spent her childhood at Angélus, Stéphanie de Boüard-Rivoal was seven years old when she told her grandfather, Jacques de Boüard de Laforest, that she wanted to join him and her father, Hubert, in running the estate. After an early career in London's financial sector, Stéphanie returned to Angélus in 2012, and has since continued a "quest for excellence while endeavouring to keep the estate in [her] family". Noting "purity, tension, and focus" as key words to describe the style of her wine, she tells us that she is currently fond of Angélus' 2005 and 2010 vintages, and anticipates enjoyment of the 2016 and 2018 in the coming years.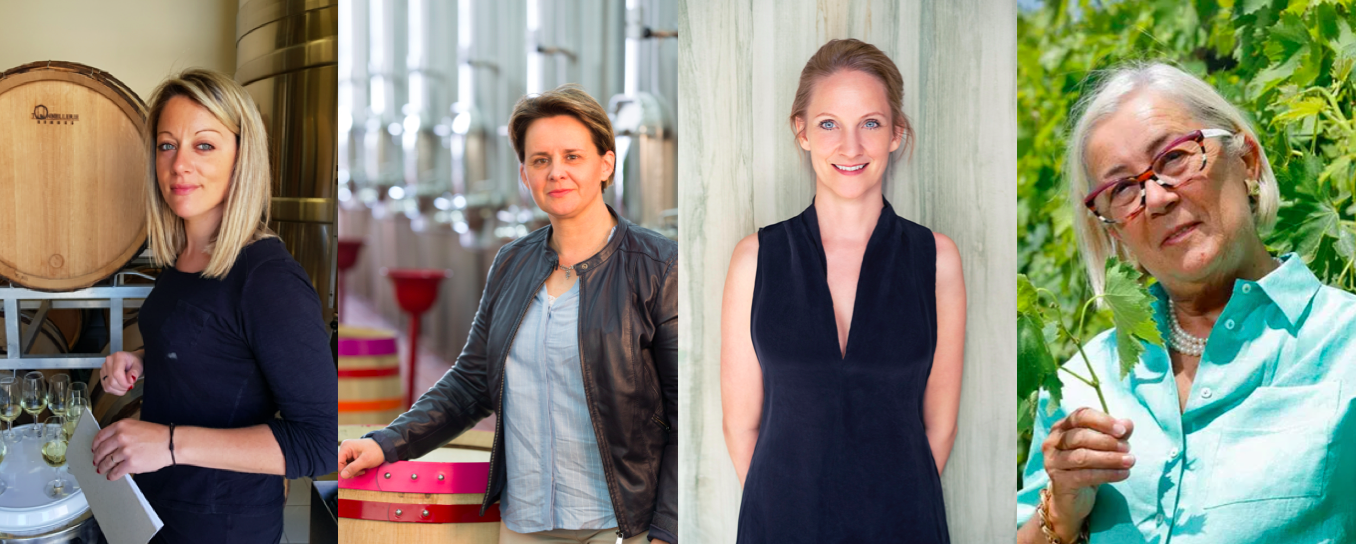 From left: Charlène Pinson, Florence Heresztyn-Mazzini, Eva Fricke, and Donatella Cinelli Colombini
 Charlène Pinson – Pinson
One of the longest-established families in Chablis, records show that the Pinsons have been producing in the region since 1640. Having joined her father, Laurent, at the estate in 2008, Charlène Pinson tells us of her respect for tradition and the work that her family has done before her, with the aim to "pass on the passion" to her two sons. Producing 13 different wines, she explains that each is a "reflection of their terroirs", and are "more or less floral and fruity" depending on the slope and soil of the parcel. For those new to Pinson, she recommends the 2017 Chablis Mont de Milieu, describing it as a "pure expression of our Kimmeridgian limestones […] classic, mineral, balanced, and fresh".
Florence Heresztyn-Mazzini – Heresztyn-Mazzini
Taking over her family's estate (Domaine Heresztyn) in 2012, Florence Heresztyn-Mazzini and her  husband, Simon Mazzini have overseen numerous developments under its new name. Introducing biodynamic practices in 2015, and achieving organic certification in 2019, Florence continues to "experiment with natural treatments" to fulfil her goal of "fighting the challenges of climate change", including more "cover crops and sustainable pruning". Explaining that many recent vintages have been difficult due to global warming, she tells us that she is particularly proud of her "fights" in 2013 and 2016, creating top quality wines in years that "remind us that we are small in the face of Mother Nature!".
Eva Fricke – Eva Fricke
After making wine in Australia, Spain, and Germany, Eva Fricke returned to Germany in 2006 to start her own estate, which now holds 17ha across the Rheingau. Achieving organic certification in 2016 and membership in The Vegan Society in 2017, the property also employs several biodynamic practices including its adherence to the lunar calendar. She tells us that these principals guide her goals of developing a domain that "stands for organic, sustainable, and socially conscious standards". Eva notes the "2019 Lorcher Schlossberg, 2019 Lorcher Krone Trocken, and 2019 Lorcher Krone Trockenbeerenauslese" as some of her top wines.
Donatella Cinelli Colombini – Casato Prime Donne and Fattoria del Colle
Born into a family of winemakers whose production in Montalcino can be traced back to 1592, Donatella Cinelli Colombini tells that it is "for this reason" that winemaking comes naturally to her. Founding Italy's first winery run solely by women, she explains that her decision to have an all-female staff at Casato Prime Donne "leaves an imprint of acute accuracy in each step of the production process". She notes of Casato Prime Donne wines that they are some of the first "chosen, and produced by women, for women".