The technical director revolutionising Pomerol's Château L'Évangile: "If my wine was a person, it would be Catherine Deneuve".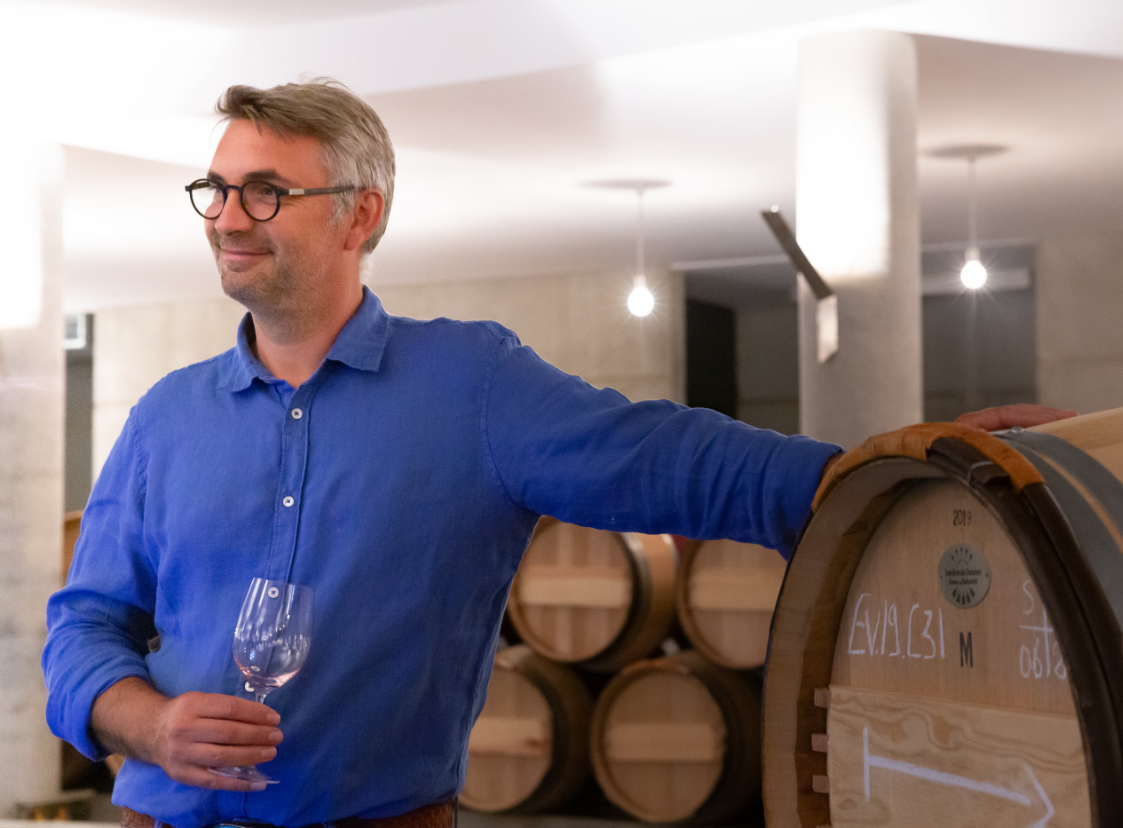 Wine Lister's parent company, Le Figaro Vin, has launched its inaugural series of the 50 best winemakers in France in 2023. Interviews with each winemaker making the top 50 will be published throughout the course of the year – in French on the Le Figaro Vin website, and in English on Wine Lister's blog. The first in the series, #50, is Olivier Trégoat – Technical Director of Pomerol's Château L'Évangile. Here he shares the highlights of his viticultural journey so far.  In just a few years, Olivier Trégoat has managed to realise the full potential of l'Évangile, getting the most out of the appellation's natural generosity, while reinstating a remarkable freshness in the wine.
Le Figaro: How does it feel to be crowned a winemaking champion?
Olivier Trégoat: I am very happy, but give most of the credit to the team, as it is, above all, a real collective effort. Alone, I would be good for nothing.
Have you been training for long?
Yes, I've been training since 1997. Everything I've done in my previous winemaking roles contributes to what I have achieved at L'Évangile. I got my start in Saint-Émilion, which catalysed my interest in soil studies – while my previous job as an independent consultant for large Bordeaux estates (including Château Cheval Blanc) was invaluable.
Who is your mentor?
At the start of my winemaking journey, it was Kiss Van Leeuwen, a viticulture professor at Bordeaux Sciences Agro and the Institute of Vine and Wine Sciences (ISVV). Today, my mentors are my neighbours in Pomerol – whose proximity prevents me from making mistakes and provides me with constant inspiration.
What is the key to making a good wine? The terroir or the winemaker?
The terroir. For me, climate and soil make up 80% of the wine.
To what do you owe your success?
To my education, my curiosity, and the tools at my disposal – a triptych of soil, vine, and wine.
Is your family proud of you?
Yes, I'm sure they are.
Who are your best supporters?
Paradoxically, some of my competitors, but also my former clients from when I was an independent consultant.
Red or white wine? 
The older I get, the more white wine I drink!
The king of grape varieties?
Cabernet Franc. At Château L'Évangile, it's a grape variety that we will continue to plant and conduct research into – particularly because of its freshness. And also because I love the wines of the Loire Valley!
Your favourite wine?
Château L'Évangile 2006. It is a harmonious vintage that offers the delicate touch of l'Évangile's hallmark tannins, alongside a more fleshy characteristic – but without excess, and still retaining a beautiful freshness.
Your favourite vintage?
2011 – something slightly different. It was not well understood around the time of its release, and it came after 2009 and 2010, which were widely-recognised as exceptional vintages. It's just starting to open up today.
If your wine was a person, who would it be?
Catherine Deneuve. A great, timeless actress who knew how to challenge herself in different roles.
What are the best circumstances in which to taste your wine?
Drink it with people you love.
Have you ever thought about chemically-enhancing yourself, or your wine? 
No, never. Nature is generous in Pomerol; I always say that I have my foot on the brake rather than the gas.
Who is your strongest competition in Pomerol?
Château Lafleur.
Which competitions do you dread the most?
Frosty periods in early April.
What was your greatest win?
I had beginners' luck. My entire career in wine so far has been a bit like a race in which I have ended up on the podium against all odds!
What has been your most innovative strategy?
While we do things in a very simple manner in the winery, in the vineyard, we make very rigorous intra-parcel selections on different soils. I sometimes say that we harvest in a Sauternes style. We love to split hairs during this critically decisive period. It's a real challenge to be a winemaker in Pomerol today.
Who would be your ideal successor on the podium?
On the podium, Château Lafleur. They are very sharp and precise in what they do, with consistently good ideas. And for my successor at the estate, I don't know yet…
A few words about the estate:
The property was founded in the mid-18th century under the name "Fazilleau". At the beginning of the 19th century, the Léglise family, who played a significant role in expanding the vineyard, sold it to a lawyer named Isambert, who renamed it L'Évangile. He expanded the estate to around 13ha – not far off its current size.
Since 1990, Château L'Évangile has been under the helm of Baron Éric de Rothschild, who also owns Château Lafite in Pauillac (among others in the appellation), as well as Château Rieussec in Sauternes. His daughter, Saskia, a former New York Times correspondent writing from the Ivory Coast, and the author of a novel, joined her father in Bordeaux in 2017. The estate has benefitted from significant investments, as well as the technical expertise of the Domaines Barons de Rothschild (Lafite) teams for over 30 years. Juliette Couderc was appointed Chief Operating Officer in 2020, having previously managed the vineyards of Chinese estate, Long Dai, which also belongs to the group. She works alongside Olivier Trégoat.