As Wine Lister enters its fifth year in business, we are excited to announce the addition of 650 new wines onto Wine Lister's information hub. Thanks to scores from our trusted partner critics, prices through our official pricing partner, Wine Owners, and data measuring popularity, as determined by the number of searches on Wine-Searcher (Pro and Pro+ site only), website users can now discover Wine Lister scores, prices, and apply decision-making analysis tools to a broader range of fine wines.  With the latest additions, our database now extends across 4,450 wines, and over 40,000 wine-vintages, providing further insight to inform wine investment choices and strategic solutions.
Below we examine the regional split of the additional wines, and take a closer look at some of the properties featured in the expansion.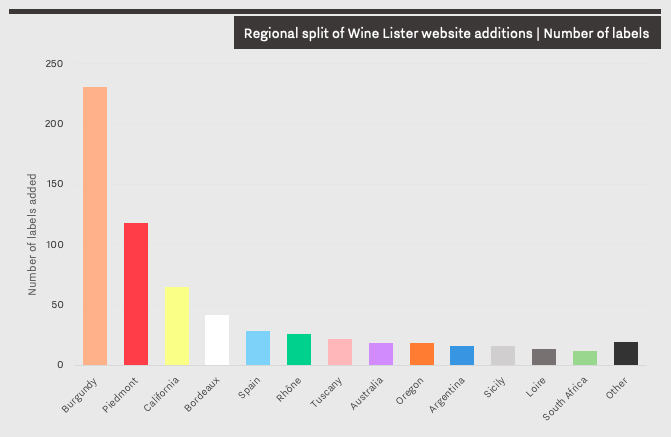 Burgundy represents 36% of the new selection, with more cuvées added from the likes of Pierre-Yves Colin-Morey, Cécile Tremblay, Benjamin Leroux, and more. A further 42 wines (6%) are added to the already-established set of Bordeaux properties featured on the Wine Lister site, including Cru Bourgeois Exceptionnels, Cambon La Pelouse, and Malescasse. Domaine des Roches Neuves represents seven out of the 10 new additions from the Rhône, alongside Bernard Baudry and Domaine du Closel.
Wine Lister's Italian listings grow by 24% in the latest update, including 118 additions from Piedmont, 22 from Tuscany, and 16 from Sicily. The new Piedmontese picks include Arnaldo Rivera Barolo, Elvio Cogno, Figli Luigi Oddero, Giuseppe Mascarello e Figlio, and more. A region on the rise, Sicilian additions include new wines from organic Etna producers, Tenuta delle Terre Nere and Passopisciaro.
Wine Lister has also expanded its New World portfolio, which now features more additions from California (10% of the latest haul), Australia, and Oregon, among other regions. Featured amongst the new Californian picks are rising estates such as Littorai, Quintessa, Bevan, and Cardinale. Moving up the West Coast, Oregon additions include five new wines from Evening Land, four new bottles from Bergstrom, and three new picks from Antica Terra.
For more industry insights and advice on which wines and regions to buy, sign up for Wine Lister's free newsletter here. Members of the trade can sign up to the Pro account to search and filter wines by Wine Lister Pro metrics.
Any of the producers recently added to the Wine Lister website can provide us with additional information on their wines, including production volumes, grape varieties, and label images. Email us at: team@wine-lister.com.