Like many of the world's winemaking regions, Barolo is increasingly subject to dramatic weather patterns as a result of global warming. With significant frost in spring followed by an extremely hot summer, its 2017 growing season was no exception to these severe shifts. Akin to its vines, Barolo's producers are now more than ever demonstrating their resilience to change, as evident in its latest offerings.
To guide those buying Barolo 2017 over the coming weeks, Wine Lister has spoken to nine of the region's top producers to get a better picture of the vintage and its viticultural demands.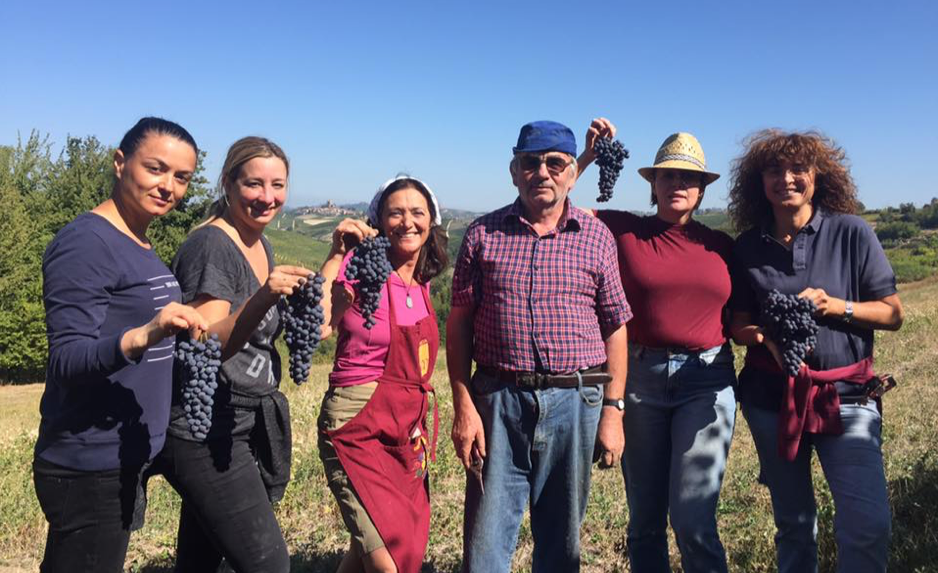 Chiara Boschis and her team during the 2017 harvest at E.Pira e Figli
A reduction in production
As cited by several producers, spring frost and summer drought resulted in reduced yields across the board in 2017. Situated in the heart of Barolo, Chiara Boschis tells us that production at E.Pira e Figli was down between 10-20% on the 2016. The estate had to carefully select "clusters that were compact when picked", as heat stress was preventing complete berry development. Marco Marengo notes that yields at his estate were 25% lower than average in 2017, while owner and winemaker at La Spinetta, Giorgio Rivetti, saw levels down by roughly 30%. A representative at Giacomo Conterno, Stephanie Flou tells us that its 2017 vintage was particularly affected by it being "the second year in a row in which [the estate] has suffered drought". She states that while yields were limited "because the grapes dried out", they are "positively surprised with how the vintage has ended up".
Finding shade from the sun
Numerous estates noted the need for rigorous canopy management in 2017 – one of many adjustments applied across the region to cope with the extreme heat. Elio Altare's second-generation winemaker, Silvia Altare tells us that hydric stress forced her to be amongst the vines, "meticulously managing the canopies to protect the grapes from the sun". The team at Cantina Cooperativa Terre del Barolo also explain that this "was key in 2017 in order to keep bunches in shade, without suffocating them", while "conservation tillage – mulching or grass covering in between the rows –was crucial to limit evaporation, and to protect the vines from the 'mirror effect' of the soil". Vietti's winemaker, Luca Currado notes that he similarly used "uniform, dense foliage to provide clusters with greater shade" and "grass cover between the rows to prevent sunlight reflecting directly onto the clusters". The estate also started harvest significantly earlier than usual in 2017 – another recurring theme across the properties.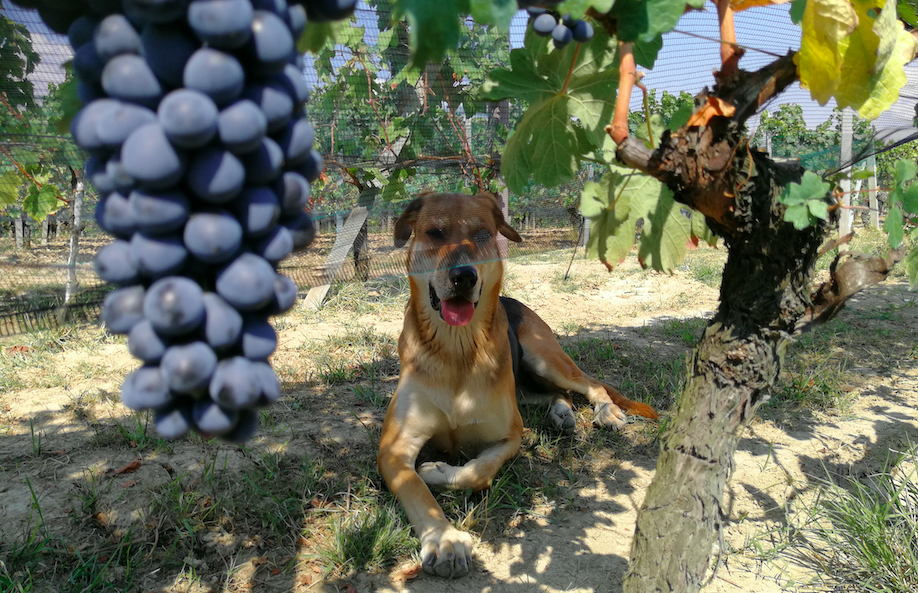 Keeping cool: the family dog at Elio Altare finds shade under the vines during the estate's 2017 harvest
A crucial cooling 
As mentioned by several of his peers, Azelia's fifth-generation winemaker, Lorenzo Scavino tells us that a large diurnal temperature range helped to "preserve the freshness and the aromas of the grapes" in such a hot year. He states that while these cool nights "usually do not occur in warmer vintages, they were really a blessing". Poderi Luigi Einaudi's team echoed this sentiment, add that the temperature changes between day and night helped to develop the "polyphenolic profile of the Nebbiolo", allowing "an excellent accumulation of tannins". Rainfall in early September also helped to ensure balance in the 2017 vintage, with Luca Currado informing us that Vietti's "Nebbiolo and Barbera benefited in particular, with highly complex polyphenolic profiles compared to other particularly rich vintages", and "an unexpected freshness on the palate".
The final freshness
Indeed, according to Wine Lister's discussions with producers, freshness has been the great surprise of the 2017 vintage – a description applied repeatedly by Wine Lister's partner critic, Antonio Galloni, in his notes on the region's latest offerings. Chiara Boschis notes that E. Pira e Figli's 2017 is "generous but very fresh", while Azelia's Lorenzo Scavino explains that rigorous vineyard management allowed them to "preserve the acidity, which is why even in this vintage we can find a great freshness". Silvia Altare also tells us that while "2017 is definitely a warmer, more open knit vintage than 2016", she has  "noticed over the past few months the wines have integrated more and there's a bit more freshness".
The successful conception of balance in a year defined by drought aptly illustrates the resilience of Barolo's producers in 2017, which may well be described as a winemaker's vintage. Barolo 2017 scores have so far been high across the board, giving further merit to those who have created a wine of complexity and quality in a year of climatic uncertainty.
Keep track of new Barolo 2017 scores from Wine Lister's partner critics here.