Owner and winemaker of her iconic family estate in Condrieu: "A wine is like its maker".
The 15th in Le Figaro Vin's series finds us in the northern part of the Rhône Valley where Christine Vernay, #36, has made her distinctive mark in the 25 years since she took over from her father, Georges Vernay.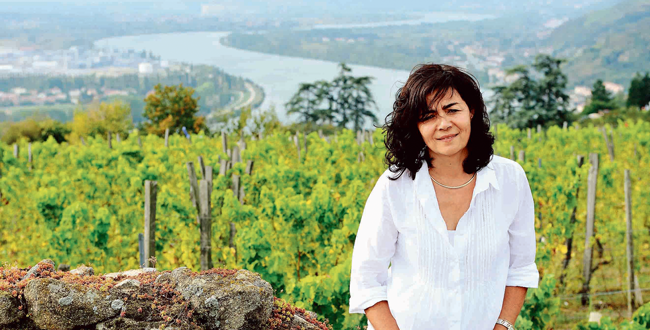 From its home in Condrieu, Domaine Georges Vernay's 24 hectares of vines, mainly comprised of Syrah and Viognier, extend over steep, precipitous terroirs. Georges Vernay began to develop the estate in 1953, starting out with 1.5 hectares of vines classified as AOC Condrieu Coteau de Vernon. A passionate defender of the appellation, he played a major part in its preservation.
As the third-generation owner of the family property, Christine Vernay, joined in 2020 by her daughter Emma Amsellem, maintains the family's knowledge and expertise. Today they cultivate 10 hectares of vines classified as AOC Condrieu, including three hectares of old vines which produce the prestigious Le Coteau de Vernon and Les Chaillées de l'Enfer, wines which epitomise the Viognier grape variety in Condrieu. They also grow six hectares of vines classified as Côte-Rôtie, two hectares as Saint-Joseph, and six hectares as IGP Syrah and Viognier.
Le Figaro Vin: How does it feel to be crowned a winemaking champion?
Christine Vernay: A champion? I have never thought about it in those terms. It surprises me, but I am delighted by it.
Have you been training for long?
It has been a real marathon…nearly 30 years now.
 Who is your mentor?
There have been quite a few. In the first place my family, then numerous encounters in the world of wine with men and women who have inspired me.
Is wine a team sport?
Of course. How could anyone think otherwise. Wine starts its life on the vine and our hillsides require so much attention that you need a strong team to manage successfully. Everyone plays their part. When the grapes reach the cellar I have a smaller team around me, it's more intimate, I work more on my own, and I engage in a real one-to-one conversation with my wines.
What is the key to making a good wine? The terroir or the winemaker?
Without question, the terroir. For me the terroir is a wonderful confluence of place, vine, and winemaker. You then have the freedom of interpretation to make a great wine.
To what do you owe your success?
For a winemaker the definition of success changes every year. My awareness of its transient nature stimulates and strengthens me. I believe that desire, pleasure, doubts, convictions, and, above all, commitment to inherited values are all key to progress and success.
Is your family proud of you?
I hope so!
Who is your biggest supporter?
I don't have any.
Your favourite colour? 
Red – the red of Maison Rouge.
Your favourite wine?
My heart swings between Coteau de Vernon and Maison Rouge.
Your favourite vintage?
1997, my first vintage.
If your wine was a person, who would it be?
It would be me. I often find that a wine is like its maker.
What are the best circumstances in which to taste your wine?
My favourite circumstances for tasting it are when you are tuned in to the sensations that it can bring you.
Have you ever thought about chemically enhancing yourself, or your wine? 
Our reciprocal energies are enough in themselves.
For what price would you be prepared to sell your estate?
I am not prepared to sell it.
Who is your strongest competition?
Nature, which you have to contend with all the time.
Which competition do you dread the most?
At the beginning of the harvest, when you are walking through the vines, tasting the grapes, keeping a watchful eye on the earth and the sky, and deciding when to press start, you experience a powerful adrenaline rush. I dread it, but I love it.
What is your greatest trophy?
The smile and serenity of my father watching me be a winemaker.
What has been your most innovative strategy in the vineyard and in the cellar?
Commitment to a way of working that respects the environment and having the flexibility to be as close as possible to the vines, the grapes, and the wine, contingent on the demands of nature, the vintage, the weather…
Who would be your ideal successor on the podium?
My daughter!