A glass of cold Riesling on a hot summer's day hits that sweet spot between refreshment, satisfaction, and intrigue. Any one of Germany's finest wines for Quality under £300 would definitely deliver those three things. Moreover, with an average drinking window of 16 years, and with global warming seemingly set to deliver increasingly high summer temperatures, stock up on them now and you will be rewarded with stunning wines for years to come.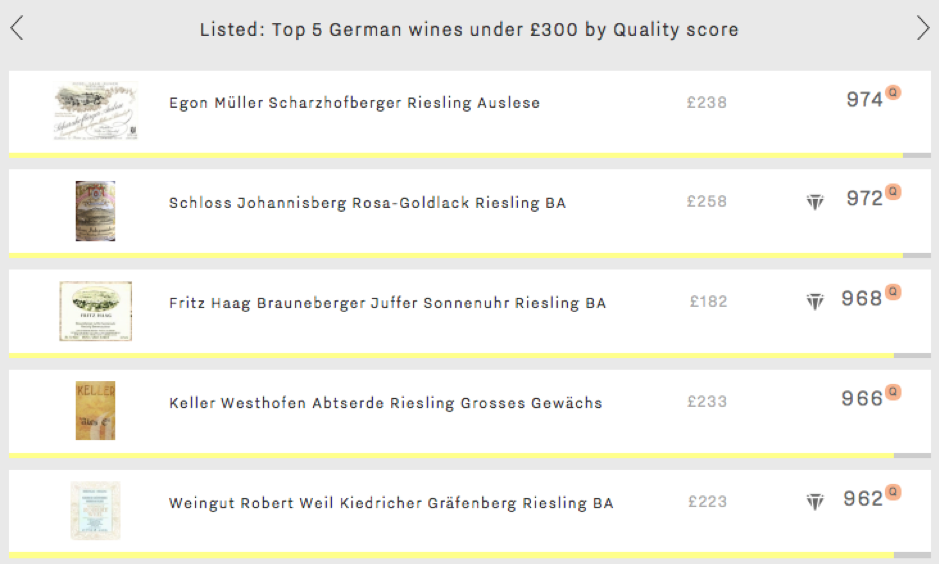 It is perhaps revealing of Riesling's under-the-radar nature that three of this week's top five qualify as Hidden Gems, meaning that they combine excellent critics' ratings with modest restaurant presence and online popularity. Moreover, many of Wine Lister's Hidden Gems were picked out by the global fine wine trade in our Founding Members' survey, underlining the perennial mystery of Riesling as the darling of the trade, despite struggling to spark wide-scale consumer demand. Interestingly the group's three Hidden Gems are all Beerenausleses (BAs). Schloss Johannisberg Rosa-Goldlack, Fritz Haag Brauneberger Juffer Sonnenuhr, and Weingut Robert Weil Kiedricher Gräfenberg's BAs, in spite of a phenomenal average Quality score of 969, achieve an average Brand score of just 398 – the result of being present in just 2% of the world's top restaurants and receiving only 70 online searches each month on average. Demand for excellent sweet Riesling is clearly not there at present.
However, returning to the group's fantastic quality, it is Egon Müller's Scharzhofberger Riesling Auslese that comes out on top with a score of 974. 2014 was its best ever vintage, with one of JancisRobinson.com's critics, Michael Schmidt, awarding it 19/20 and heaping on the praise: "Our sensory perception is treated to an animating exuberance of exotic fruit and fresh raisins. Botrytis has been kept in check to focus on purity of expression rather than indulge in unctuous combustion".
The group's final spot is filled by Keller Westhofen Abtserde Riesling Grosses Gewächs (966). It is Jancis Robinson's favourite of the five, achieving an outstanding average rating of 18.5/20 from Wine Lister's UK partner critic. Tellingly, particularly in the context of the three BA's lack of consumer demand, it is also the group's most popular wine, receiving nearly 30 times more searches each month on average than the BAs. Consumers appear much more at ease with Riesling's dryer styles.