The 2015 vintage was widely hailed as one of the Northern Rhône's best ever. This is reflected in the vintage's outstanding Quality scores, with the top two wines – Guigal's La Turque and La Mouline – both achieving exceptional scores of 993, their best on record. However, neither makes it into the top five by overall Wine Lister score.
With the vintage's outstanding quality not in doubt, this week we throw brand and economics into the mix too, looking at 2015's overall top-scoring Northern Rhônes. It is interesting to note that Jaboulet Hermitage La Chapelle is the only one of the overall top five whose 2015 Quality score (985) is also one of the top five Quality scores for the vintage.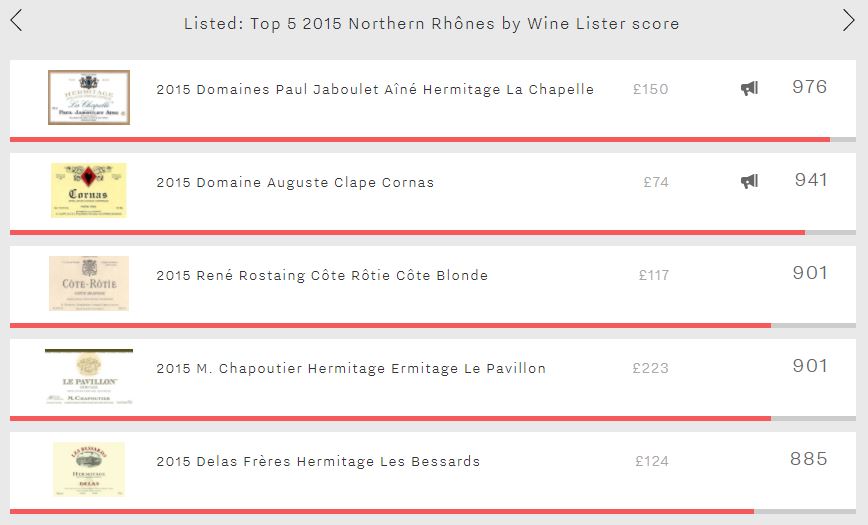 Jaboulet La Chapelle's outstanding 2015 Quality score – its best since the fabled 1989 vintage – helps it to top the table here with an excellent overall Wine Lister score of 976, 35 points ahead of any other wine. It backs up its excellent quality with the Northern Rhône's best Brand score (985), and the vintage's third-best Economics score (941).
In second spot is Clape's Cornas. Its appearance in the top five is thanks to its 2015 Quality score being 105 points (13%) above its average (937 vs 832). Despite being by far the cheapest of the group, it also achieves the Northern Rhône's second-best Economics score for the vintage (944) – the result of having added 16.6% to its price over the past six months.
In joint third place with 901 points – just making into the "strongest" band of the Wine Lister 1,000-point scale – are Rostaing's Côte Rôtie Côte Blonde and Chapoutier's Ermitage Le Pavillon. Whilst they achieve very similar Quality scores (963 and 975 respectively), their profiles differ elsewhere. Chapoutier's Le Pavillon possesses a stronger brand (891 vs 849), but interestingly its 2015 Economics score can't keep pace (752), 19% below its average Economics score (931), and over 100 points below Rostaing Côte Blonde's score (854).
In fifth place is Delas Frères Hermitage Les Bessards (885). It earns its spot in the group thanks to currently achieving the Northern Rhône's best Economics score for the vintage (970), thanks to formidable short-term price performance – it has added 26.3% to its price over the past six months alone.