Following a successful campaign for Brunello 2015s in 2020, this year's releases of Brunello 2016 will surely take one of Italy's prominent winemaking appellations to new heights. Below we take a closer look at a handful of Brunello producers to look out for, as the region as a whole continues to rise in fine wine spheres.
With a family history dating back to the 1800s (and beginning with Lavinio Franceschi), Il Poggione's multi-generational winemaking experiences have given its wines quite the reputation. As the number one most popular Brunello (as measured by Wine Lister's search rank, based on monthly searches conducted on the world's most-visited wine website, Wine-Searcher), is it most certainly deserved – indeed, for the 2016 vintage, Il Poggione achieves a Wine Lister score of 97 – it's best ever. Writing for Vinous, Eric Guido names it "a classic in the making".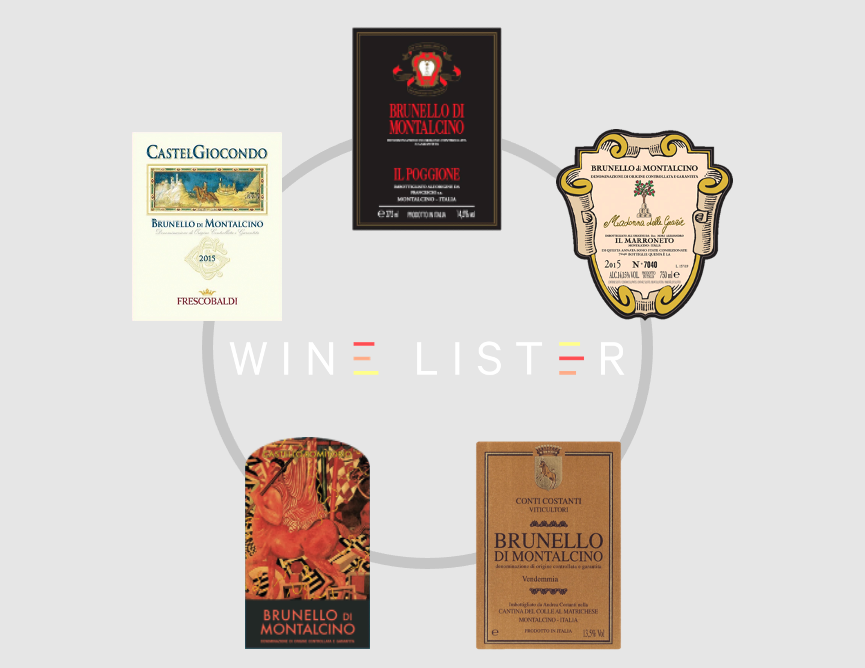 A comparatively young project, Il Marroneto was born from the purchase of vines by lawyer, Giuseppe Mori in 1974, and the ensuing passion for winemaking held by one of his sons, Alessandro. Strict commitment to quality has since seen the estate rise to become a quiet reference for the region, fetching high prices to match. Small availability from the latest vintage (2016) of the flagship wine, Madonna delle Grazie impressive is still available, at c.£263 per bottle in-bond).
Stemming from one of the most influential Sienese families of the 15th century, Costanti is another Brunello estate with wealthy history, and strong family traditions. As one of the first producers to present a wine under the name we know as "Brunello" today, its style has evolved beautifully under the watchful eye of winemaker, Andrea Costanti (indeed two recent vintages, the 2013 and 2010 achieve Wine Lister MUST BUY status). Awarding the 2015 vintage 17.5 points, Walter Speller writing for JancisRobinson.com notes, "True precision but definitely 'sexy' and sheer pleasure".
Romitorio's impressive castle possesses a rich history dating back to the Etruscans, while both its interior and the vines it overlooks benefit from the modern influence of its current ownership. Purchased by artist, Sandro Chia in 1984, his son, Filippo now runs the estate and makes its wine. Having attended a virtual tasting with him recently, organised by Honest Grapes, the wines appear to reflect their estate's history in their timelessness, balancing a traditional style with contemporary energy and elegance. Some availability of the 2016 Brunello di Montalcino and single-vineyard offering, Filo di Seta, remains.
A few kilometres southwest, lies "the castle of Giocondo"  – another imposing Tuscan structure, originally constructed in the 12th century (AD) to guard the road leading from Siena to the sea, and owned since by one of the most famous families in Tuscany – the Frescobaldis. Joining Il Poggione's Franceschi family in being one of the very first to produce Brunello in the 1800s, Castelgiocondo's straight Brunello offering is also among the top-ranking wines of its kind in popularity. Those wishing to snap up the latest vintage offering may need to give it some time – writing for Vinous, Antonio Galloni notes the 2016 "needs some time to come together […] yet it has all the balance necessary to mature into a real beauty".
Explore more top-scoring Brunello here.