With Burgundy en primeur coming to a close – and such a good array of 2018s to choose from at that – fine wine collectors might feel inclined to tighten their purse strings over the coming months (perhaps until the next big campaign to come – Bordeaux 2019 en primeur). For those unable to resist the temptation of continuing to grow their wine collection, the Rhône is a perfect resting place for high-quality drinking wines.
This week we focus on a subset of Rhône MUST BUYs – those under £100 per bottle in-bond (when bought by the case), with WL scores above 95, of which there are 36.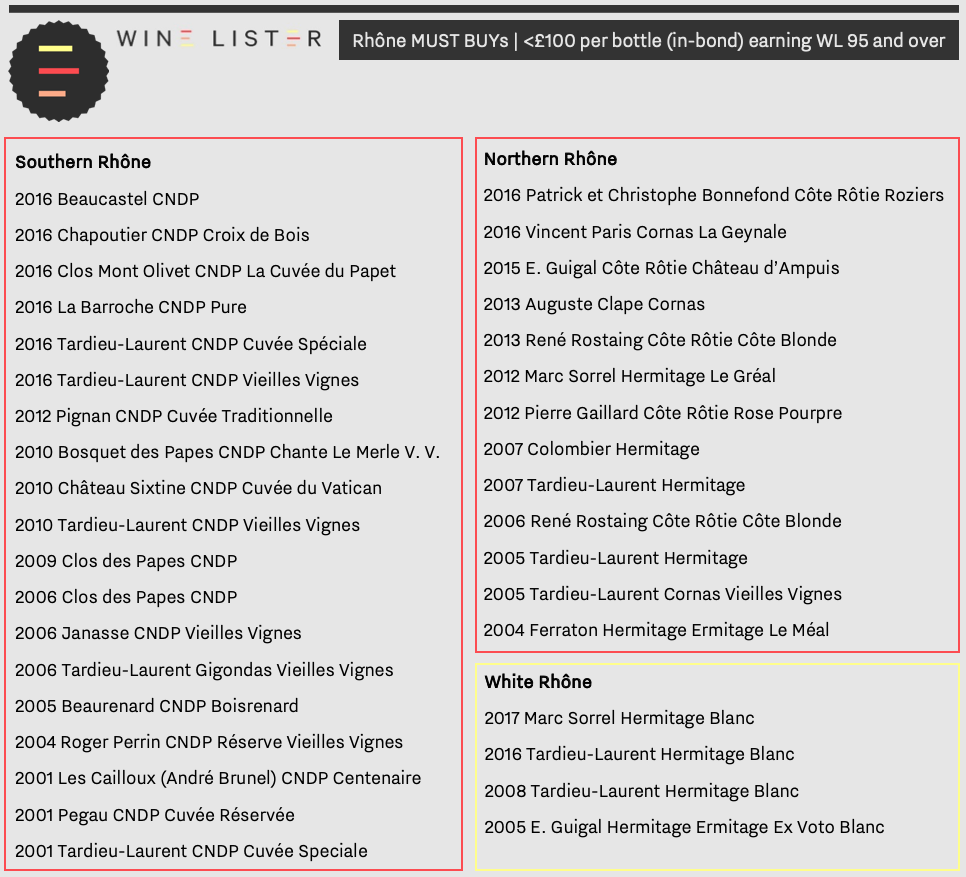 Châteauneuf-du-Pape wins the lion's share of top Rhône MUST BUYs under £100, with 18 entries across eight different vintages. The exceptional 2016 vintage features heavily, however for wines drinking now, 2005 Beaurenard's CNDP Boisrenard or 2009 Clos des Papes' CNDP are particularly interesting options.
Hermitage too fairs well, with five reds and all four whites. Value Picks 2007 Colombier Hermitage and 2004 Ferraton Ermitage Le Méal provide impressive quality and bottle age for just £33 and £35 per bottle in-bond respectively (if you can get your hands on any).
Côte Rôtie matches in number for reds, and features Hidden Gem 2012 Côte Rôtie Rose Pourpre from Pierre Gaillard, which Wine Lister partner critic, Jancis Robinson, awards 18 points, commenting, "No doubt this is a very special cuvée".
A consistent feature throughout is Maison Tardieu-Laurent – a powerhouse producer of reference for quality matched by exceptional value in the Rhône.
See the selection of Rhône MUST BUYs featured above here, or browse the full MUST BUY selection.