Cellar Master of Champagne's oldest house: "I see myself as a craftsman".
For the 19th interview in Le Figaro Vin's series, we pay our third visit to Champagne to meet Frédéric Panaïotis, #32, chef de caves of Maison Ruinart for the past 16 years. He is now, beyond question, one of the most influential figures in Champagne, fashioning wines of outstanding precision and purity from every vintage.
Though always at home in the world of wine – his grandparents owned a small winery – his original ambition was to be a vet. However, a seminal encounter with a great Burgundy set him on a different path: after graduating in agronomy he became an oenologist, cutting his teeth in California before working for 12 years at Veuve Cliquot. He then joined Maison Ruinart in 2007, going on to become one of the most inspiring chefs de caves of his generation.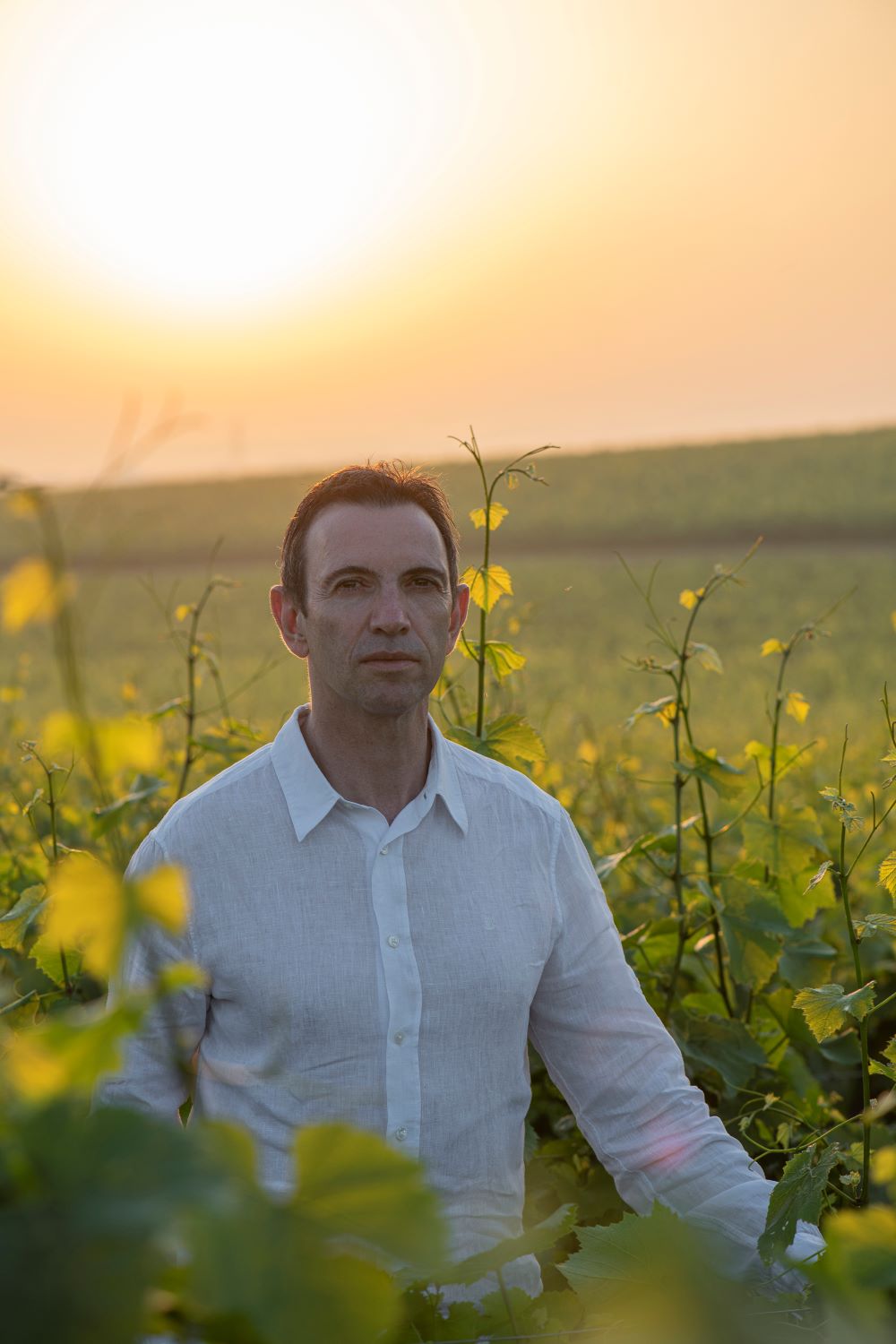 Le Figaro Vin: How does it feel to be crowned a winemaking champion?
Frédéric Panaïotis: That's something to celebrate, isn't it? It calls for champagne! And a Blanc de Blancs would be perfect. More seriously, my congratulations go, first of all, to the entire team that works alongside me.
Have you been training for long?
For 39 harvests (make that 40 including one in New Zealand in 2001!).
Who is your mentor?
I would say there are two of them: on the one hand the natural elements, especially the climate which sets the tempo, and on the other, Frédéric Dufour, President of Ruinart, who keeps challenging me and is always driving us forward.
Is wine a team sport?
Completely. Wine is always the product of the collective effort of talented men and women, from the vine all the way through to its development and its launch. And we really do have a mixed team at Ruinart, with genuine parity, specifically in our winemaking team.
What is the key to making a good wine? The terroir or the winemaker?
If your definition of terroir includes the selection of grape varieties and the way the vines are trained, in addition to the climatic elements and the soil – and that is how I see it – then the terroir is indisputably the foundation for making great wines.
To what do you owe your success?
To a combination of passion for the world of vines and wine, a lot of hard work, and also the good fortune to have been in the right place at the right time…but as the saying goes, "God helps those who help themselves!".
Is your family proud of you?
I hope so! Whether on earth or in heaven…In any case, as far as my nearest and dearest are concerned, they appear to enjoy our wines. And naturally, that allows them a touch of pride.
Your favourite colour? 
Sea blue.
Your favourite grape variety?
Chardonnay, of course!
Your favourite wine?
Dom Ruinart Blanc des Blancs.
Your favourite vintage?
2010, while awaiting 2019.
What are the best circumstances in which to taste your wine?
Always among friends, because I cannot imagine opening lovely bottles without sharing them. And sometimes it only needs two of you!
Have you ever thought about chemically enhancing yourself, or your wine? 
To be honest, I'm more the sort of person to implement anti-doping controls. So the answer is no, never.
For what price would you be prepared to sell your estate?
Maison Ruinart doesn't belong to me, and in any case, I don't believe it's for sale.
Who is your strongest competition?
Rather than a competition, I prefer to think of it as a rivalry among those who are, in many cases, good friends. This means we are always looking to improve, aspiring to excellence. Nothing beats rivalry for making you test your limits and give it your all!
Which competition do you dread the most?
The next harvest, because you never know what it will bring. And in the longer term, climate change, which will affect us more and more profoundly. We are going to have to get to grips with it and reinvent ourselves, which is what we have started to do with our new wine, Blanc Singulier.
What is your greatest trophy?
The title of Supreme World Champion, awarded by the CSWWC (Champagne and Sparkling Wine World Championship) in 2022 for Dom Ruinart Blanc de Blancs 2010, because it represents the culmination of a project begun by my predecessors in 1998, which involved trialling tirage under cork. I was lucky enough to inherit this project and see it to fruition.
But the best reward comes through conversations and shared moments with our customers when they have enjoyed tasting one of our champagnes.
What has been your most innovative strategy in the vineyard and in the cellar?
I see myself more as a craftsman than an artist or a researcher. So my strategy is to try to evaluate and understand in minute detail every step from the vine to the wine. The aim is to replicate, and where possible enhance, what we already do. I am not sure that is a very innovative strategy, but it does help us improve!
Who would be your ideal successor on the podium?
Ask me the same question in six years' time, in 2029, when we celebrate the 300th anniversary of Maison Ruinart!