Owner of his family estate in Corsica and winemaker: "I was never any good as a conventional winemaker!"
The 17th interview in Le Figaro Vin's series finds us in southern Corsica, where the luxuriant plots of Domaine Comte Abbatucci lie nestled in the heart of the Taravo Valley. We are here to meet Jean-Charles Abbatucci, #34, the island's undisputed champion of biodynamic viticulture.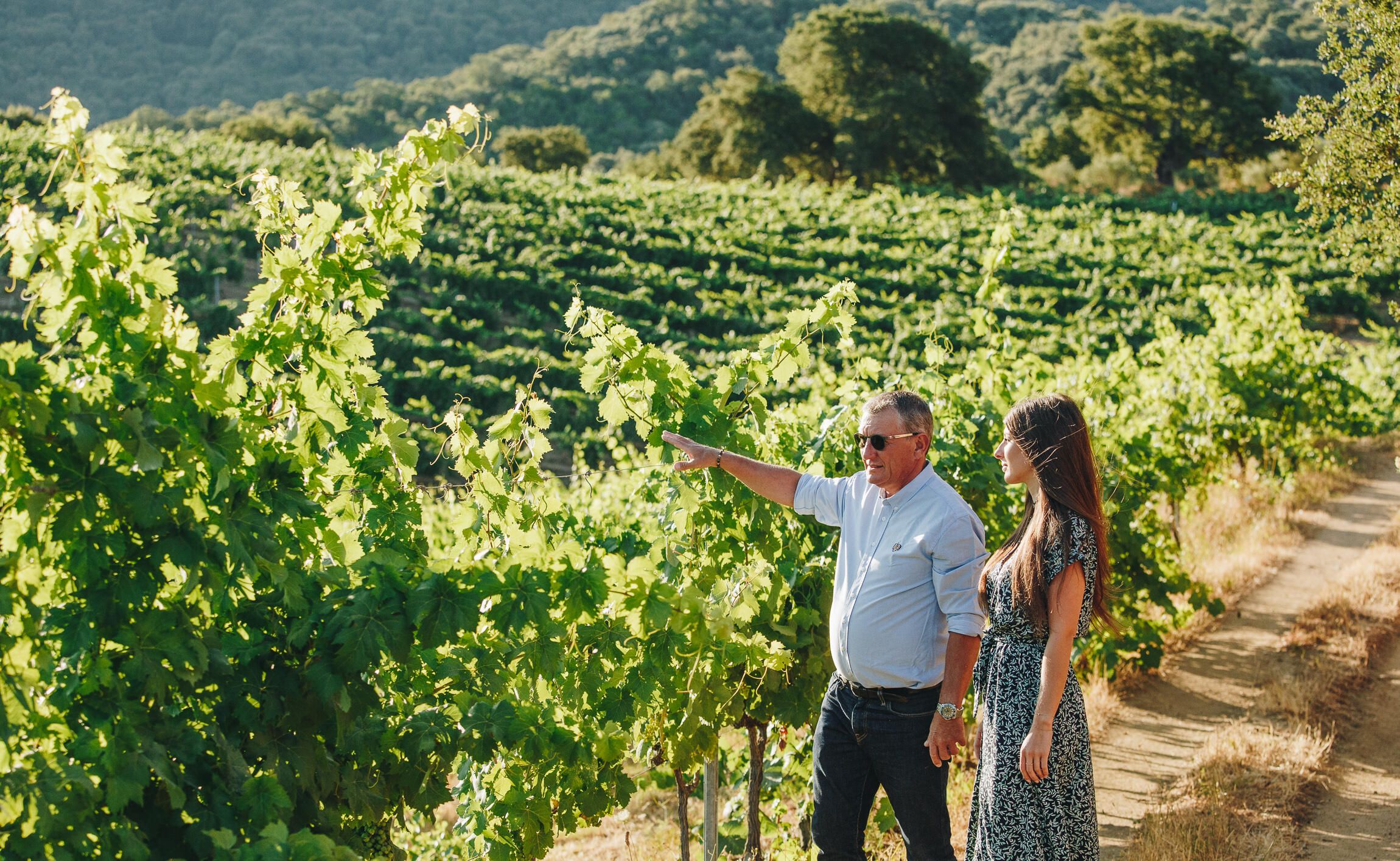 Domaine Comte Abbatucci is a living ampelographic museum of the Corsican wine region, with no fewer than 18 grape varieties grown alongside each other. With his hat firmly in place, and a pair of sunglasses hiding the twinkle in his eyes, the legendary winemaker that is Jean-Charles Abbatucci has acquired, over the course of many vintages, an encyclopaedic knowledge of all aspects of biodynamic viticulture. This knowledge extends from its history to its philosophy, with a dash of the esoteric.
While he describes himself as a pragmatist, he is constantly trying out new approaches, the most striking of which remains the treatment of vines with seawater. In the cellar, the wines range from those bearing the stamp of an outmoded nobility, from Ministre Impérial to Général de la Révolution, through to the cuvée named Faustine, after his daughter, available as a red, a white, and a rosé. Now a member of the Académie du vin de France, Jean-Charles Abbatucci embodies both the memory and the future of Corsican winegrowing.
Le Figaro Vin: How does it feel to be crowned a winemaking champion?
Jean-Charles Abbatucci: In my opinion being a champion is, above all, about giving expression to your terroir and to your grape varieties. It's a particular vision of agriculture and the winemaker's vocation.
Have you been training for long?
Yes, for 30 years now. When I started out, I was pretty conventional, doing what I could with the means at my disposal. But I was never any good as a conventional winemaker! One day, after ten years, something just clicked. This brought about my transition to organic and biodynamic agriculture, and the results of that transformation are what have made me a champion.
Who is your mentor?
From the 2000s onwards my mentor has been nature. When you take a step in her direction, she takes ten towards you. She can be capricious, admittedly, but then we are too. You have to be able to deal with that, assess the situation, and challenge yourself.
Is wine a team sport?
Yes, of course. The more you are a champion, the more you need a strong support team. Ultimately it is the athlete or the winemaker that lifts the trophy, but, behind the scenes, the winemaker benefits from the different perspectives that can be provided by an oenologist, a vineyard manager, etc.
What is the key to making a good wine? The terroir or the winemaker?
It is all of them together. I believe that there is an alchemy between the terroir, the winemaker, and nature.
To what do you owe your success?
In my case, to my father who was responsible for the preservation of the historic Corsican grape varieties. If he hadn't been inspired to collect them, I wouldn't be where I am today. But I must also acknowledge that I am fortunate to enjoy an exceptional terroir and a wonderful island.
Is your family proud of you?
Yes, they are all very proud. I have a very close working relationship with my brothers, one of whom is a restaurateur, the other a farmer. We are always bouncing ideas around.
Who is your biggest supporter?
It has to be nature, yet again. She gives me everything, not least the traditional Corsican grape varieties.
Your favourite colour? 
Red.
Your favourite grape variety?
Sciaccerello. It's a grape that provides unbelievable results when you know how to work with it, a kind of wild Pinot Noir, which displays finesse, elegance, and an aroma suggestive of myrtle and immortality. I also incline towards Carcajolo Nero, a variety that is highly characteristic of Corsica. I really struggle to choose between the two.
Your favourite wine?
For now, the one which truly stands the test of time remains Ministre Impérial, but the one which most fully expresses Carcajolo Nero would be my Cuvée Valle di Mare (vinified since 2019 and produced from vines treated with seawater, ed.).
Your favourite vintage?
2017 is a really lovely vintage. It was a temperate year which provided outstanding wines.
If your wine was a person, who would it be?
My wine personifies Corsica.
What are the best circumstances in which to taste your wine?
At any time, around a meal. It is a wine for epicures.
Have you ever thought about chemically enhancing yourself, or your wine? 
No. I did it in my early days before I realised that it doesn't work.
For what price would you be prepared to sell your estate?
It is priceless.
Who is your strongest competition?
The weather. You can lose a bit at every stage, and you can never get it back. In the end, you count your losses, and then you have to let them go. But if it's my enemy, it's also my life. It is an alchemy of both these things.
Which competition do you dread the most?
The two most critical months are May and June. That's when we have to be on a war footing, especially when, like me, you work without a safety net.
What is your greatest trophy?
Being appointed to the Académie du vin de France, that is very special. It is in recognition of my work, but also for Corsica, as I am the first member from our island. That has taken some time, when you consider that Corsica has been a winegrowing region for over 3,000 years!
What has been your most innovative strategy in the vineyard and in the cellar?
Treating vines with seawater. That is what has made me stand out from the crowd. I think we will hear more and more about these wines. In my opinion, they belong among the new wines of the 21st century. A number of winemakers are becoming interested in the concept, but the precise principle and formula are mine.
Who would be your ideal successor on the podium?
My daughter Faustine, who will take over the estate.