An Easter weekend on lockdown presents as good a time as ever to evaluate your wine collection. While it can be tricky to keep track of what you've got and when you should drink it, Wine Lister's various online tools allow detailed analysis of your collection and can guide future purchases, whether for drinking or investment.
This week's blog post examines two of the most popular Wine Lister website features amongst collectors, starting with the MUST BUY recommendation tool.
Wine Lister's proprietary recommendation algorithm produces a dynamic list of wines with high quality that show value within their respective vintages and appellations, helping wine lovers buying at almost every level to make the best choices for their desired region, style, or vintage.
There are currently 1,665 MUST BUYs out of the 30,000+ labels on Wine Lister. See the chart below for a breakdown of MUST BUYs by region – an indication of what a diverse portfolio could look like for the modern collector.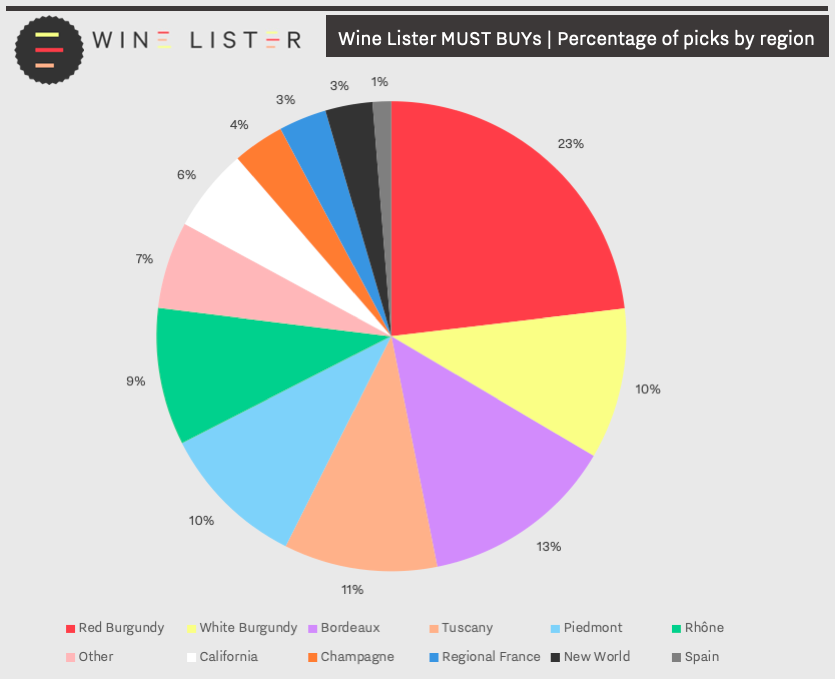 While the same chart from a decade ago may have been dominated by Bordeaux, the global demand and secondary market values for Burgundy's top wines have continued to spiral upwards. Burgundy represents the greatest percentage of MUST BUY wines, with red and white recommendations accounting for 33% of all MUST BUYs collectively. The red Burgundian MUST BUYs feature a range of prices starting from the most expensive, DRC's Romanée-Conti 2015 (available at £14,500 per bottle in-bond), down to 64 wines priced at £100 or under, including Stéphane Magnien's Clos Saint-Denis 2010 (available at £76 per bottle).
Bordeaux represents 13% of MUST BUYS, and also encompasses a wide range of prices, from six vintages of Petrus (with an average price of £1,990 per bottle) down to two vintages of Marsau (priced at £12 and £13 respectively). Tuscany, Piedmont, and the Rhône follow closely behind, while California makes up the largest proportion of New world MUST BUYs.
With so much MUST BUY choice available, you may wish to filter these by top regions, and then further by Wine Lister Indicator. For example, filter results by 'Investment staples' to see wines that are long-lived (but not too old), and have proven wine price performance, while staying relatively stable and liquid.
Wine Lister's Compare tool can then further refine your investigation, by displaying your selected MUST BUYs side by side. This is illustrated below using three 2016 Saint-Estèphe MUST BUYs – Cos d'Estournel, Calon Ségur, and Montrose. While Calon Ségur appears to be the best value, Montrose has the highest scores from Wine Lister's partner critics, and therefore the better WL score overall.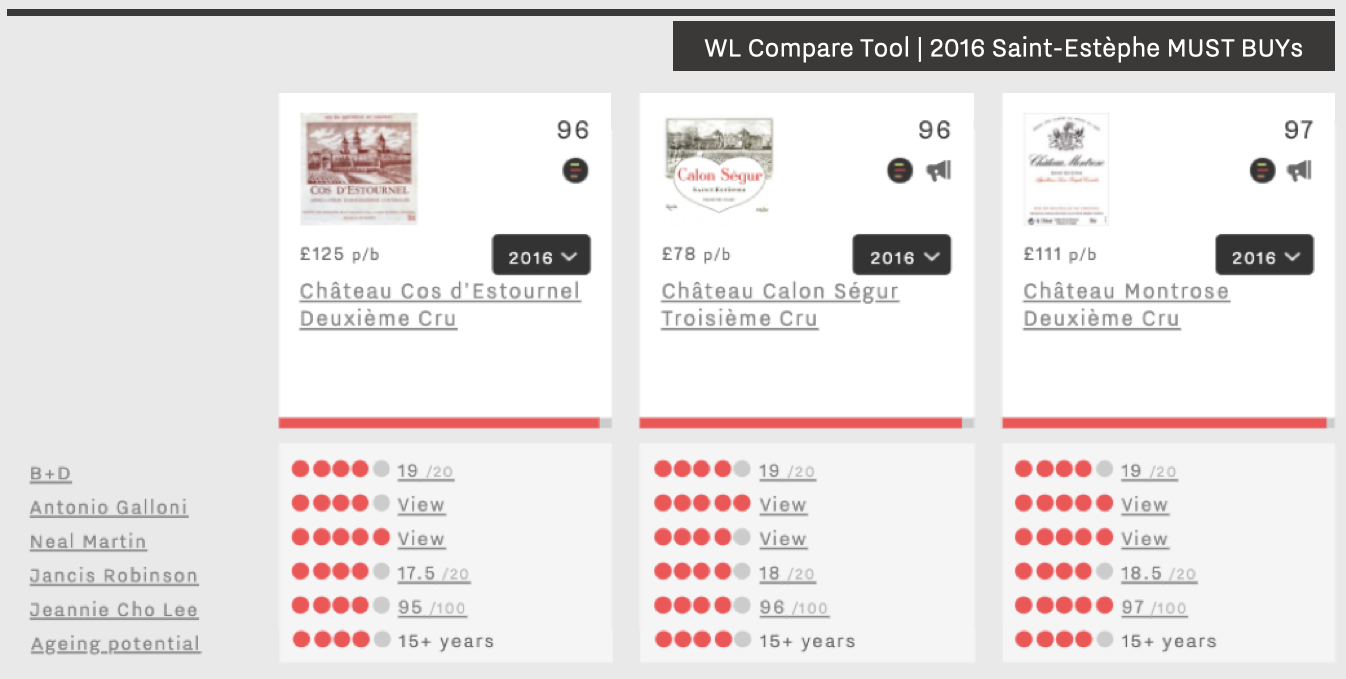 See the above comparison for yourself, or start your own wine comparison here.
Wine Lister is currently offering a range of portfolio analysis services to private clients, from detailed geographical split and further purchase advice, to investment forecasting and a fully-fledged "drink vs. sell" plan. If you are interested in having your wine collection analysed by our team of fine wine data experts, please don't hesitate to contact us.