It's the most wonderful (if most expensive) time of the year. Wine Lister Value Picks help you to avoid compromise on your seasonal drinking choices, identifying wines and vintages with the best quality-to-price ratios. This week's top five looks at some affordable options for you – still with impressive Quality scores – complete with two Ports in the mix to keep us feeling festive. With Italy and Portugal sharing the top five (and even the top 10) red Value Picks by Quality score, Wine Lister's Christmas drinking picks stick firmly to Mediterranean climes.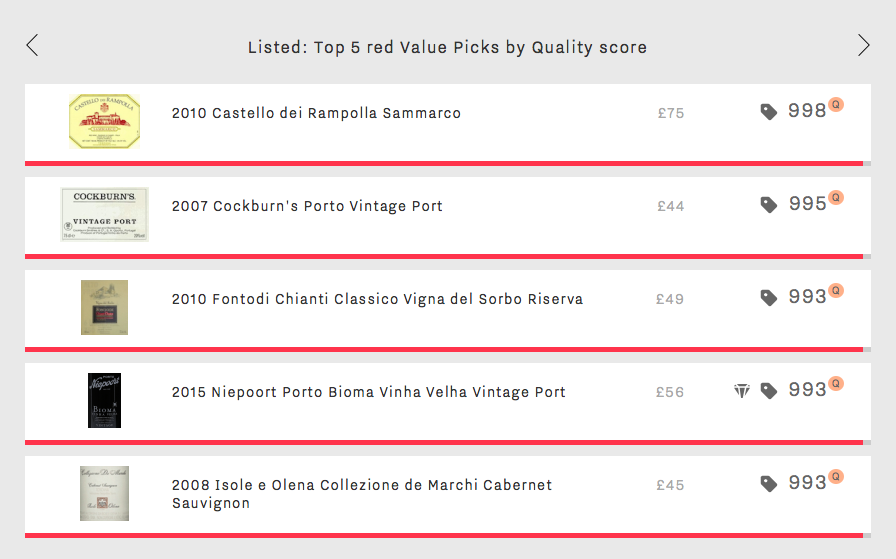 In first place is Castello dei Rampolla Sammarco 2010. Although it is this week's most expensive option (at £75 per bottle in-bond* vs. an average £49 of the four other wines of this top five) the spectacular Quality score of 998 is impossible to ignore. Indeed, it earns the highest Quality score of any 2010 red on Wine Lister, alongside three others – Castello dei Rampolla's Alceo, Cerbaiona Brunello di Montalcino, and Vietti Barolo Ravera – all of which are at least £71 more expensive. Sammarco 2010's remarkable Quality score is due a perfect score of 100/100 from Vinous' Antonio Galloni, who describes it as "stunning" and "magnificent".
Next is this week's first port – Cockburn's Vintage Port 2007. With a Quality score of 995 and price of £44 there can be no doubt about its status as a Value Pick. It has just entered its drinking window, and with a predicted wine life of 53 years, it could make for the perfect Christmas gift (if you can refrain from drinking it yourself).
The group's second port, Niepoort Bioma Vinha Velha Vintage Port 2015, shares a Quality score of 993 with the last three spots of this week's top five. It is the only one of this week's Value Picks also to achieve Hidden Gem status – Wine Lister's Indicator for excellent wines that are yet to receive proper recognition. Although it will not be ready to drink until 2028, at £56 per bottle this is an exceptional value wine to store away for Christmases to come.
Rounding out this week's top five in Tuscan triumph are Fontodi's Chianti Classico Vigna del Sorbo 2010 and Isole e Olena's Collezione de Marchi Cabernet Sauvignon 2008. They have both just entered their drinking windows, but will last for many years to come. Each earning a Quality score of 993, their modest prices of £49 and £44 per bottle respectively provide fantastic value.
All that remains is to wish you a very Merry Christmas.
*Prices shown assume the purchase of a whole case. See more on pricing on our website.