Wine Lister's founder, Ella Lister, was in Burgundy last week and gained insight into how the 2018 vintage is shaping up. Benjamin Leroux explained that Burgundy is "getting used to picking in August". He says that grapes picked early enough in 2018 are "showing amazingly".
With the potential of another superb vintage under Burgundian belts, this week's top five examines the region's best whites by Wine Lister score. Unsurprisingly, the quality of these five wines is extremely high, their brand strength is well-established (all five are Wine Lister Buzz Brands), and the prices are eye-watering (with an average per-bottle price of over £2,500).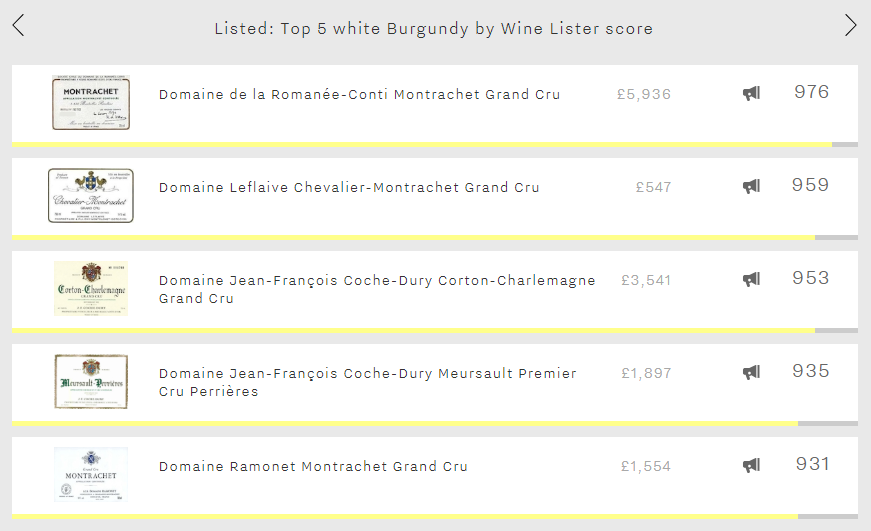 In first place of this week's top five with a score of 976 is Domaine de la Romanée-Conti's Montrachet. Sweeping up the top spots across all three Wine Lister score categories, Quality (978), Brand (964), and Economics (992), it is hard to fault the top white offering from arguably the world's most famous, and exclusive, wine estate.
Next is Domaine Leflaive's Chevalier-Montrachet. It stands out amongst this week's top five with a market price of £547, or just 17% of the average of the remaining wines in the group. While the all-white-producing domaine earns Buzz Brand status for its Chevalier-Montrachet, its highest-scoring wine for quality is actually the Montrachet, with a Quality score of 985. Sitting 18 points above the Chevalier-Montrachet, it also comes with a much larger price tag of c.£6,500 per bottle in-bond.
Third and fourth places in this week's top five are occupied by the same producer – Jean-François Coche-Dury. The domaine's Corton-Charlemagne actually comes in second of the group for quality, with a Quality score of 971, just six points behind Romanée-Conti's Montrachet.
Coche-Dury's Meursault Perrières is very close behind, sporting a Quality score of 959. The only Meursault to feature in this week's top five, Wine Lister partner critic Antonio Galloni names the 2009 vintage – its highest-scoring in the last 10 years – "pure seduction" and "insanely beautiful". The Meursault Perrières does not live up to these surrounding grands crus in quality alone – it also comes at a four-figure sum per bottle (of almost £2,000 in-bond).
Finally, in fifth place is Ramonet's Montrachet, with an overall score of 931. Despite earning this week's least-strong Quality score of 958, it wins the number one spot for long-term ageing, with an average wine life of 19 years – seven years longer than the average of the remaining four wines of the group. A wine to lay down then, and it also has impressive long-term price performance – the second best of the group after DRC's Montrachet, with a compound annual growth rate of 27.7%.