The first Bordeaux 2021 en primeur releases have started to trickle through over the past two weeks, with key entries from Batailley, Carruades de Lafite, Duhart-Milon, Pavie, Cheval Blanc, Léoville Las Cases, Angélus, and the Barton family wines.
Kicking things off on Monday 9th May, Batailley 2021 was released at £27.50 per bottle (flat on the 2020 and 2019 release prices), setting a positive pricing tone in a year where reduced quantities had prompted apprehension. Indeed, the estate's Managing Director, Frédéric Castèja informed Wine Lister that Batailley saw no mildew in 2021, and yields are therefore at a "normal" 50 hl/ha.
Released on Thursday 12th May at £165 per bottle, Carruades de Lafite 2021 similarly presents a discount on the 2020 and 2019 release prices, while entering the market below current prices of all recent back-vintages. The wine has shown to be one of the best price performers post-release in Wine Lister's latest Bordeaux Study, with the 2020 already witnessing a 39% price increase over the past year. Carruades' younger cousin, Duhart-Milon 2021 was also released on Thursday at £56 per bottle.
Another encouraging price move countering the early fears of the trade, Pavie 2021 was released on Wednesday 18th May at £232 per bottle – offering a discount of 3%-13% on all physical vintages back to 2015. Cheval Blanc 2021 was released on Thursday 19th May at a slight premium on the past two years' release prices, though still below average prices of all back-vintages on the market up until 2014. With a quality that matches recent top vintages (2019, 2018, 2016, 2015), while priced at an average 28% below them, the 2021 has already seen successes. Indeed, one top UK merchant reports having sold "even more than last year".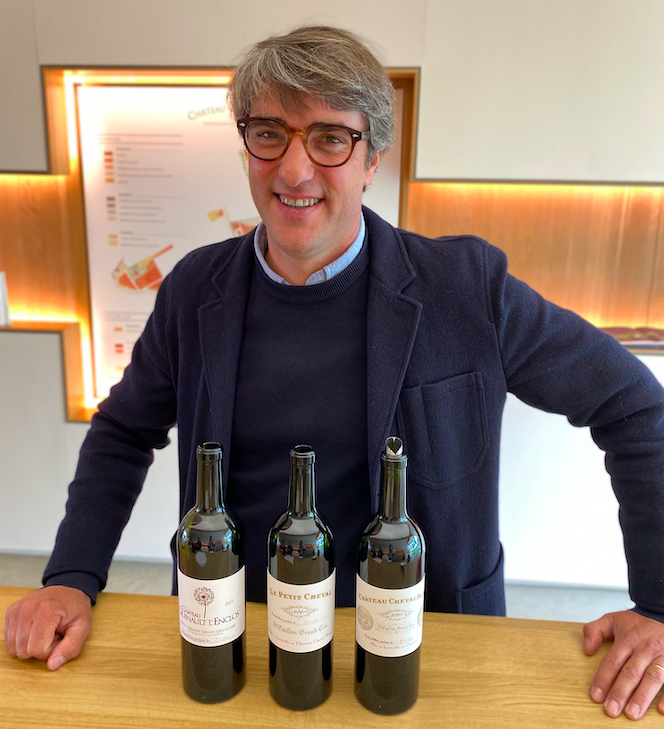 Cheval Blanc's Technical Director, Pierre–Olivier Clouet, taking the Wine Lister team through the 2021s
A similarly successful entry (in the words of another top UK merchant), Léoville Las Cases 2021 was released on Friday 20th May at £162.50 per bottle – a significant 18% down on the 2020 release price. As well as offering the greatest discount from last year's opening price seen of key releases thus far in the campaign, the 2021 receives a score of 94-96 from both Vinous' Antonio Galloni and Neal Martin.
Upping the pace this week (on Monday 23rd May), we saw further releases from Angélus and the Barton family. The 2021 is the first vintage of Léoville Barton and Langoa Barton vinified in the Barton family's new winery, and the last before the passing of the estates' legendary owner, Anthony Barton. The vintage also marks 200 years of the family's  ownership of Langoa Barton, which will be commemorated with a special-edition label on the 2021, and the release of a limited-edition, multi-vintage case.
Also released during this period: Carillon d'Angélus, La Lagune, Petit Cheval, Cantemerle, L'Extravagant de Doisy-Daëne, Potensac.
Wine Lister's real-time, wine-by-wine analysis of this year's campaign is available in email newsletter form through a Pro+ subscription. For more information on this, please contact us.