Winemaker, oenologist, and director of Château La Verrerie in Puget-sur-Durance: "The terroir is a triptych, with the human at the centre, the climate and the soil on either side".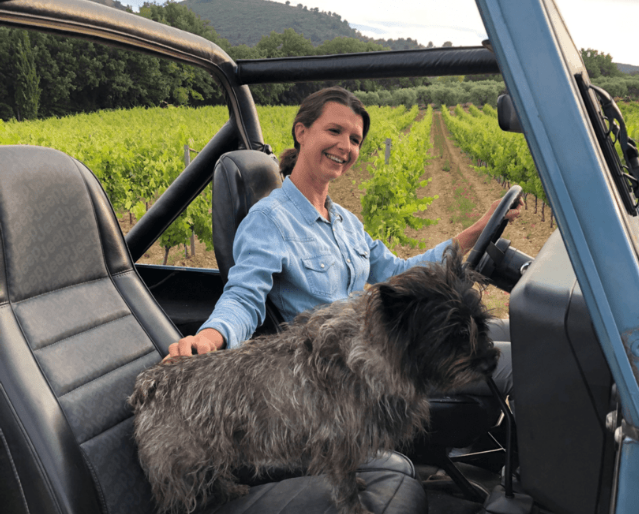 For the seventh in Le Figaro Vin's series of interviews, we travel to the heart of the Luberon, in Provence, where Valentine Tardieu-Vitali, #44, has set herself the task of taking Château La Verrerie's already impressive wines to an even higher level.
Le Figaro Vin: How does it feel to be crowned a winemaking champion?
Valentine Tardieu-Vitali: Taking on the challenge is energising in itself. Plus, it's a feather in my cap. But you can never switch off if you want to stay at the top level. You have to stick to a rigorous regime.
Have you been training for long?
For a good ten years.
Wow! And always training with the same intensity?
Always the same intensity and no easing off.
How long do you train for on a daily basis?
For ten hours at least.
Every day, seven days out of seven?
No no, not seven out of seven, you must take the occasional break. I need to step back from time to time to get some perspective.
Five days out of seven then?
More like six days out of seven. Almost always.
And when you are competing – during the harvest?
Then I am busy day and night, seven days out of seven. It's even more intense then. I become completely single-minded, exclusively focused on the quality of the harvest. Nothing else matters, nothing can distract me.
So you cut yourself off completely? Your sole focus is the competition?
Yes, it's my only option. I have to win.
Who is your mentor?
I have a viticultural adviser and a vinicultural adviser, which makes two. And then I seek to talk things through with other leaders in the field, so we can share our knowledge, experience, and perspective.
Who are the other winemaking champions that you converse with the most?
First of all there's my husband, Bastien Tardieu. I have other friends in wine who work at a very high level, particularly from Châteauneuf-du Pape. I also consult with Sylvain Morey, a colleague from our appellation.
Is wine a team sport?
Without any question. On your own, without a team, you are nothing. It's through the choreography of each separate movement, repeated to the point of perfection, that you are able, step by step, to reach the heights. That's the job I take on as team captain. I have to identify my players' individual skills then put them in the positions where, with the right support, they can achieve their full potential.
What is the key to making a good wine? The terroir or the team captain?
The terroir is a triptych, with the human at the centre, the climate and the soil on either side.
To whom or to what do you owe your success?
I think it has a little bit to do with luck. As for whom? I would have to say Christopher Descours, because he trusted me to run La Verrerie estate, even though I was young and a woman! And then, underpinning everything, I have had to work for it.
When did you first fall in love with this sport?
When I was 16. I lived in Libourne, close to Saint-Émilion, where I went to see what this sport was all about. It was love at first sight and I've never looked back.
Do you ever dream of playing for Saint-Émilion?
No, I am happy where I am. I really love the Luberon appellation, which is still relatively undiscovered, and a natural environment. The approach to nature in the Luberon is markedly different from that in Saint-Émilion.
Are your parents proud of you?
I hope so, but that's not what motivates me.
Who is your biggest supporter?
Christopher Descours.
Your favourite colour? 
Red, because it is much trickier to master.
Your favourite wine?
Le Grand Deffand, because you have to give it everything you've got. It competes at an elite level, has an exceptional blend, and achieves outstanding results.
Have you won a lot of trophies with Le Grand Deffand?
I couldn't care less about trophies. Nevertheless, it is beginning to win some. More importantly, it's beginning to make its name. That's why I really love this wine. On top of that, it's quite unique.
How would you describe it in three words?
I would say it has elegance, subtlety, and soul. It has a soul precisely because so many people have contributed to its success, and that shows.
Your favourite vintage?
2006.
Why?
Because the wine is extremely subtle. It's like velvet on the tongue and it ages really well. And, by no means least, because this vintage didn't enjoy the greatest of critical receptions, which now gives it the element of surprise.
How do you see the rest of the 2023 season panning out?
I think we are well prepared even if, as things stand, we are always worried about drought. But we are constantly finding better and better ways to cope with the hazards of climate change.
Do you agree that the quality of your league increases with every season?
Yes, but then I also become more and more demanding. We have to be even better prepared and control every part of our performance. So yes, inevitably, we have to up our training even further, and perhaps I have to be more selective when it comes to picking my team.
Is the transfer market faring well?
It's complicated. My teams are actually pretty well settled, but I would still like to build a bit more for the future and try to integrate more young players.
Do you have a mascot?
Of course, we have Marguerite. She is an eight-year-old Cairn Terrier and the mascot for La Verrerie. She supports us every day and she is always there, at every stage.