One of the major trends identified in Wine Lister's first Champagne study was the rise of grower Champagnes. While maison offerings dominate the top 20 highest-quality Champagnes from the basket of 108 studied, growers achieve a higher average Quality score overall (862 vs. 853). This week's top five looks at the top Champagnes under £100 by Quality score, and helps us examine the grower vs. maison phenomenon further.
The first of this week's top five is grower Champagne Egly-Ouriet's Vieillissement Prolongé Extra Brut with a Quality score of 919. Though top of the leader board for Quality, it is the least expensive of this week's group at an in-bond per bottle price of £55 (or 34% less than the average price of the other four Champagnes). This is perhaps due to it being the only non-vintage Champagne of the group, and provides testament to the great price to quality ratio of N.V. Champagnes across the board.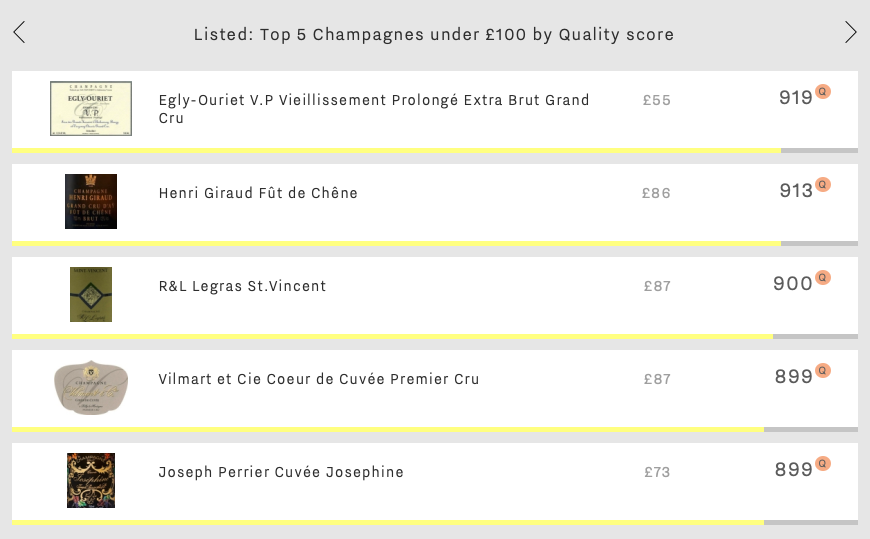 Next up of this week's top five is Henri Giraud's Fût de Chene with a Quality score of 913. For the purposes of Wine Lister's Champagne study, Henri Giraud was in fact not classed as a grower Champagne, since our definition of 'grower' signified properties who use 100% of their own grapes (Henri Giraud buys in 20%). The 1999 vintage earns 18 points from Wine Lister partner critic Jancis Robinson, who calls it "a sort of Montrachet of Champagne".
Third of this week's top five is R&L Legras' St. Vincent. Earning a Quality score of 900, it is the only Blanc de Blancs of the group. In true grower fashion, this little-known Champagne ranks as the 1,985th most-searched-for wine of the c.4,000+ wines on Wine Lister and is present in just 3% of the world's best restaurants.
The last two Champagnes of this week's top five may have the same Quality score of 899, but have very different profiles. It is surely a satisfying conclusion that, despite maison Champagne's stronger brand position overall, these two wines (one maison and one grower) prove the opposite to be true. Maison offering Joseph Perrier's Cuvée Josephine has the lowest Brand score (474) of this week's top five, while grower Champagne Vilmart et Cie Coeur de Cuvée earns the highest (779), with a search rank in 854th place and presence in 11% of the world's best restaurants. The rise of grower Champagnes is in full force.
For a more in-depth look at Champagne, subscribe or log-into read the full report here. Alternatively, all readers can access a five-page executive summary. (Both versions are also available to download in French).