Despite the challenges brought throughout the growing season of the 2021 vintage, Bordeaux's dry whites shone in terms of quality. To guide those still considering their 2021 Bordeaux en primeur purchases, Wine Lister presents some of the best choices in Bordeaux whites from the vintage, at five different price points. (All prices are quoted in-bond per bottle when purchasing by the case).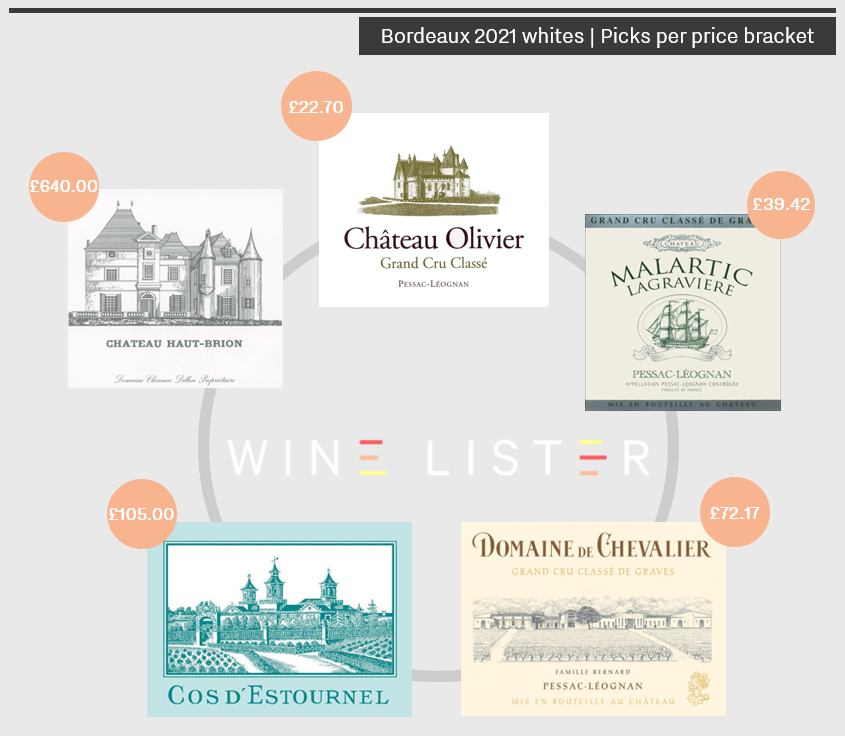 Under £25 – Olivier Blanc
The 2021 vintage from Château Oliver's white was described by Jancis Robinson as "Racy and lively" with a "good balance of interesting fruit and zest". Ella Lister (for Le Figaro) gave Olivier 2021 a score of 92-93, praising its balance and describing it as an "ethereal and harmonious blend of Sauvignon and Sémillon". Olivier 2021 can be purchased from Millésima for £22.70.
Under £40 – Malartic-Lagravière Blanc
Awarding 90-92 points, Antonio Galloni (Vinous) describes the latest vintage of Malartic-Lagravière as "Bright and sculpted", with "plenty to offer". Jancis Robinson deems it "Already attractive" and "Impressively persistent". Malartic-Lagravière Blanc appears on Wine Lister's list of value picks in Part II of our 2022 Bordeaux Study, indicating a strong quality-to-price ratio. Elsewhere in the study, Wine Lister found that Malartic-Lagravière is enjoying a robust short-term (six-month) price performance of just under 14% – placing it in the top 15 short-term price performances. Malartic-Lagravière 2021 can be bought from Justerini & Brooks for £39.42.
Under £75 – Domaine de Chevalier Blanc
The 2021 vintage from Domaine de Chevalier has received acclaim from the critics, with Neal Martin (Vinous) awarding its white 95-97 points and declaring it "one of the best Domaine de Chevalier whites that [he has] tasted in 20-plus years". Jancis Robinson confers a score of 17+ and writes that it "should be a real long-distance runner". Domaine de Chevalier Blanc 2021 can be bought from Farr Vintners for £72.17.
Under £110 – Cos d'Estournel Blanc
The only wine among the five selected here not to hail from Pessac-Léognan, Cos d'Estournel's Blanc 2021 receives its joint-highest Wine Lister score in over 15 years. Indeed, Antonio awards it 93-95 points, above last year's vintage (91-93), and writes that it is "one of the finest vintages I can remember tasting". He praises its "sheer palate presence", a sentiment Ella echoes as she describes Cos d'Estournel Blanc 2021 as "delectable, lingering in the mouth". Cos d'Estournel Blanc 2021 can be purchased from Berry Bros. & Rudd for £105.
Under £650 – Haut-Brion Blanc
One of the most noteworthy releases of the 2021 Bordeaux en primeur campaign is the latest white from Haut-Brion. In such a challenging vintage, Haut-Brion Blanc 2021 seriously impresses as it sees the greatest increase in Quality from 2020 to 2021 – as explored in Part II of Wine Lister's 2022 Bordeaux Study. The 2021 vintage also achieves the wine's highest ever potential en primeur score from Vinous as Neal awards it 96-98 points. Haut-Brion Blanc 2021 can be purchased from Cru World Wine for £640.