2017 was perhaps the most difficult of recent Bordeaux vintages. Looking back at our harvest report on this frost-ridden vintage, the Wine Lister team attended the annual UGC re-tasting with some trepidation last week.
Indeed, new president of the Union des Grands Crus Classés, Ronan Laborde, reminded us that 2017 had been a "vintage of challenges", requiring "patience, determination, and energy" to battle against the frost. Even still, some producers lost their entire crop, and many that didn't produced their "smallest quantities of recent years".
Troubled though the vintage might have been, you wouldn't know it from the hoards of London trade that flocked to taste Bordeaux's latest deliverable vintage, nor indeed from many of the wines we tasted, which followed a general trend of being exceedingly approachable.
Out of some 120 wines tasted, the Wine Lister team highlights its selection of 17 top dogs, and four underdogs below.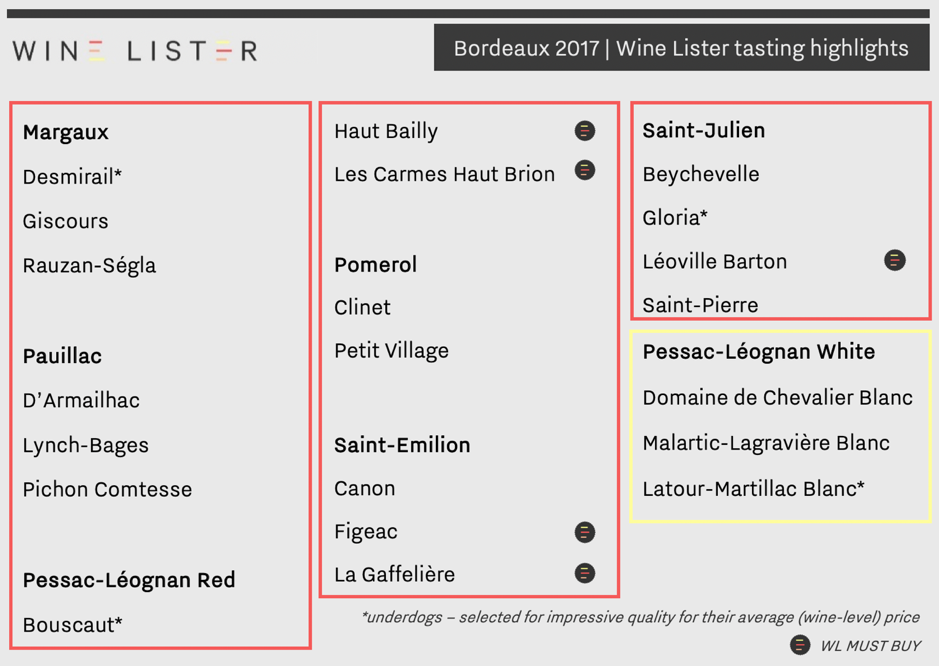 The team's highlights include five out of the six 2017 Bordeaux WL MUST BUYs (vs. 19 in 2018 Bordeaux), while the other 16 are those we felt showed the best of those in attendance at the UGC tasting, in the context of the 2017 vintage.
Saint-Julien was our top-performing red appellation, with exemplary wines such as "poised" Léoville Barton, as well as two great successes from Domaines Henri Martin: Saint-Pierre was a "real triumph in the vintage,", while underdog Gloria was "lithe, lovely, and beguiling". Elsewhere on the left bank, Margaux and Pauillac earn three highlights apiece, including "hedonistic" Giscours and Wine Lister's top pick of the tasting, "magical, brooding" Pichon Comtesse.
Pessac-Léognan performed equally well for whites as reds. Domaine de Chevalier Blanc was "explosive yet precise", and underdog Latour-Martillac Blanc showed impressive roundness and balance. Haut Bailly had "an incredible elegance", while Les Carmes Haut Brion showed "purity and savoury spice".
Saint-Emilion's Figeac was the best of the right bank bunch – "muscular" in texture but balanced by "succulent fruit". Pomerol was well-represented by "floral and velveteen" Clinet, and "powerful" Petit Village.
Other wines included in Wine Lister's 2017 tasting highlights are: Rauzan-Ségla, D'Armailhac, Lynch Bages, Bouscaut, La Gaffelière, Canon, Beychevelle, and Malartic-Lagravière Blanc.