Earlier this year Wine Lister compared the top 50 wines by Quality score from Old World and New. The outcome revealed a 35-point gap between the two, with an average Quality score for the 50 best New World wines of 948. This week, Wine Lister dips its toes back into New World waters to examine the top five Argentinian wines by Wine Lister score.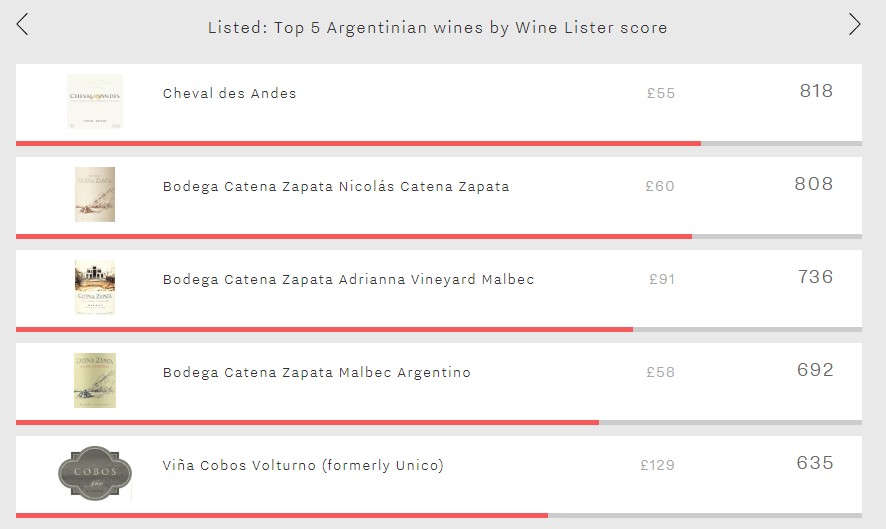 Interestingly, the winner of this week's top five can perhaps be considered as belonging to both Worlds. Cheval des Andes, the joint venture from Terrazas de los Andes and Pierre Lurton of Cheval Blanc, has an overall Wine Lister score of 818. Unsurprisingly, Cheval des Andes shows the clear benefit of association with its Old World stablemate through a Brand score of 862, the highest of the group. This is thanks to presence in 15% of the world's best restaurants, and a search frequency ranking as the 400th most-searched-for wine on Wine Lister's database. It has the lowest Quality score of the five (845) – and is notably the only one of the group whose Quality score is not its strongest asset – but is also the least expensive at £55 per bottle.
Bodega Catena Zapata shows impressive presence in this week's top five, taking the next three spots. In second place overall is Nicolás Catena Zapata with a Wine Lister score of 808. Nicolás has the highest Quality score of the group (921), however its brand strength should not be overlooked. With the second-highest Brand score of this week's top five (828), it actually ranks 10 places higher for search frequency than New World super-brand Cheval des Andes.
Although Catena Zapata's Adrianna Vineyard Malbec comes next for overall Wine Lister score, it is the Bodega's Malbec Argentino (in fourth place overall) that comes next for Quality, with a score of 909. Its overall score (692) doesn't maintain the dizzying heights set by its Quality score – nevertheless still sitting in the "strong" section of the Wine Lister 1,000-point scale – due in part to a lower Brand score (705), but mostly to a much weaker Economics score (181).
Bookending this week's top five is another wine which might also be considered as originating from more established roots, though this time hailing from elsewhere in the New World, and more specifically, producer Paul Hobbs. Viña Cobos' Volturno has an overall score of 635. It paints a similar picture to Catena Zapata's Malbec Argentino, in that despite a high Quality score (902), its overall score is hindered by modest Brand and Economics scores (436 and 380 respectively).