While wines made in The Golden State are not as affected by vintage variation as their European counterparts, the 2013 vintage was for California as close to perfect as they come. The long, hot summer led to Cabernet Sauvignons with extreme fruit concentration and firm structure – a recipe for long-term cellaring. The vintage's economic credentials seem equally promising, with Economics scores of the top five Californian reds from the 2013 vintage outperforming their respective wine-level average by 114 points (averaging 979 in 2013 versus 864 across all vintages).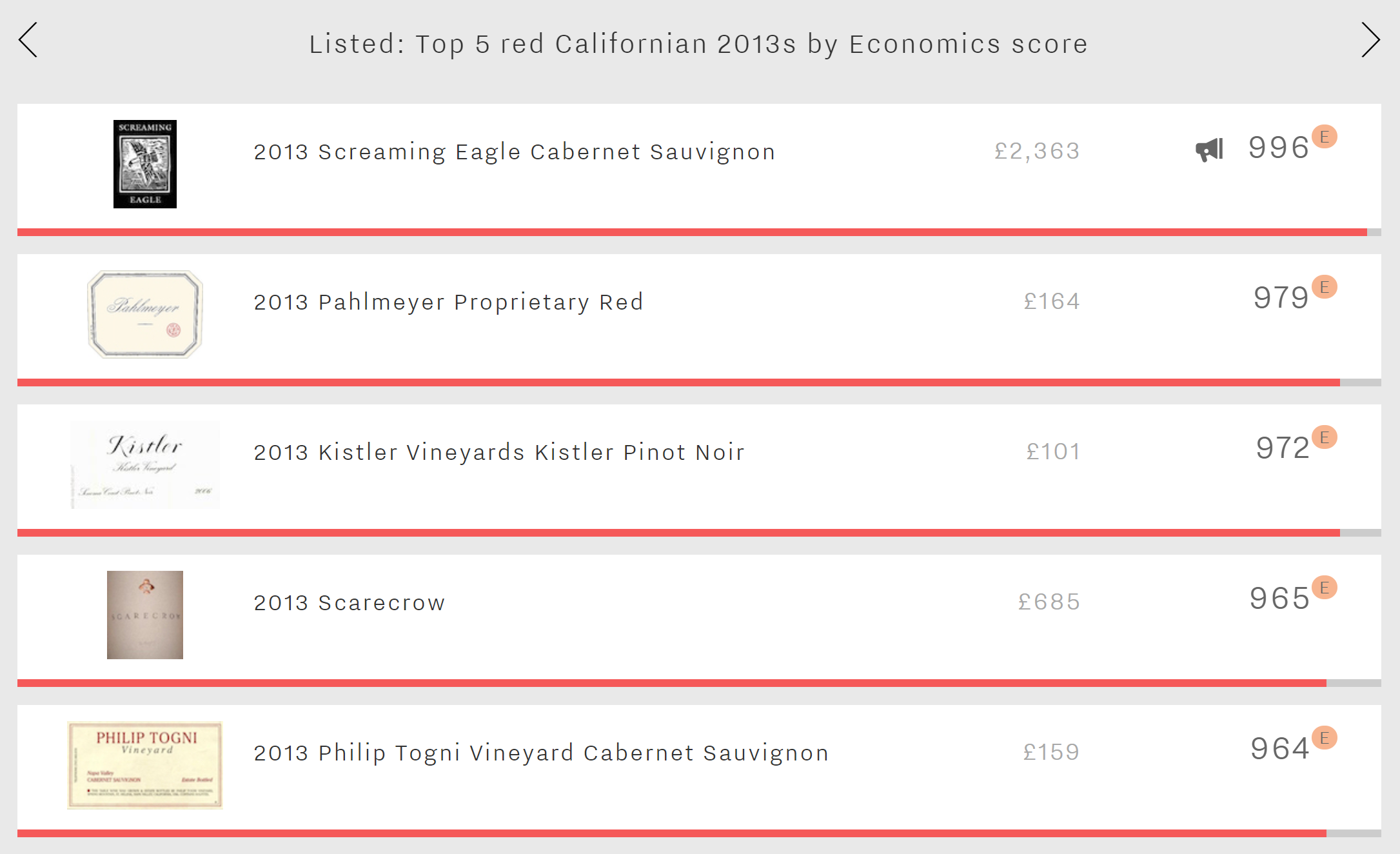 Perhaps unsurprisingly, the number one spot is taken by Screaming Eagle Cabernet Sauvignon. At 996, its Economics score is not only the highest of this week's top five, but of all 2013s on Wine Lister (matched only by 2013 DRC Richebourg). It is also by far the most expensive of the five at £2,363 per bottle – over twice as high as the price of the other four combined. Screaming Eagle's "mailing list" sales model teamed with tiny production quantities (7,800 bottles per annum on average) means that demand for this wine consistently outweighs supply. This could explain the wine's strong presence on the secondary market, with 855 bottles traded at auction over the last 12 months (according to figures collated by the Wine Market Journal).
In second place is 2013 Pahlmeyer Proprietary Red. Interestingly, it has the lowest Quality score of the group. Indeed, its 2013 Quality score is 74 points lower than Pahlmeyer's average (848). Contrastingly, the 2013 vintage receives its best ever Economics score of 979, boosted by a six-month price performance of 18.7%.
The third spot of this week's top five is occupied by the only Pinot Noir of the group, Kistler Vineyards Pinot Noir, with an Economics score of 972. It is the only wine of the five to have been released before 2016, and thus the only one with a three-year compound annual growth rate (28.2%), whereas Economics scores for the other four 2013s are based upon price performance over the short term only. Kistler's place in the top five 2013 Californian reds by Economics score is impressive, given its lower price point (£101 per bottle, compared with an £843 average for the other four wines).
The penultimate wine of this week's top five is 2013 Scarecrow. Alongside its best ever Quality score (987), the 2013 vintage achieves an Economics score of 965, helped by the second-highest three-month average price (£663) and the best price stability of the group (with standard deviation of just 4.1% over the last 12 months).
Last but by no means least is Philip Togni Vineyard Cabernet Sauvignon, with an Economics score of 964. Though fifth for economics, it is number one for Quality, thanks to a 100-point score from Wine Lister partner critic, Antonio Galloni, who calls it "a majestic, towering wine… one of the wines of the vintage".