Second-generation owner and winemaker of her estate in Anjou: "The important thing is to feel alive".
For the 13th interview in Le Figaro Vin's series we remain in Savennières in the Loire to meet Tessa Laroche, #38. One of France's greatest winemakers, hidden away in one of the country's tiniest appellations, Savennières Roche aux Moines, she will celebrate 20 years at the helm of her estate in 2023.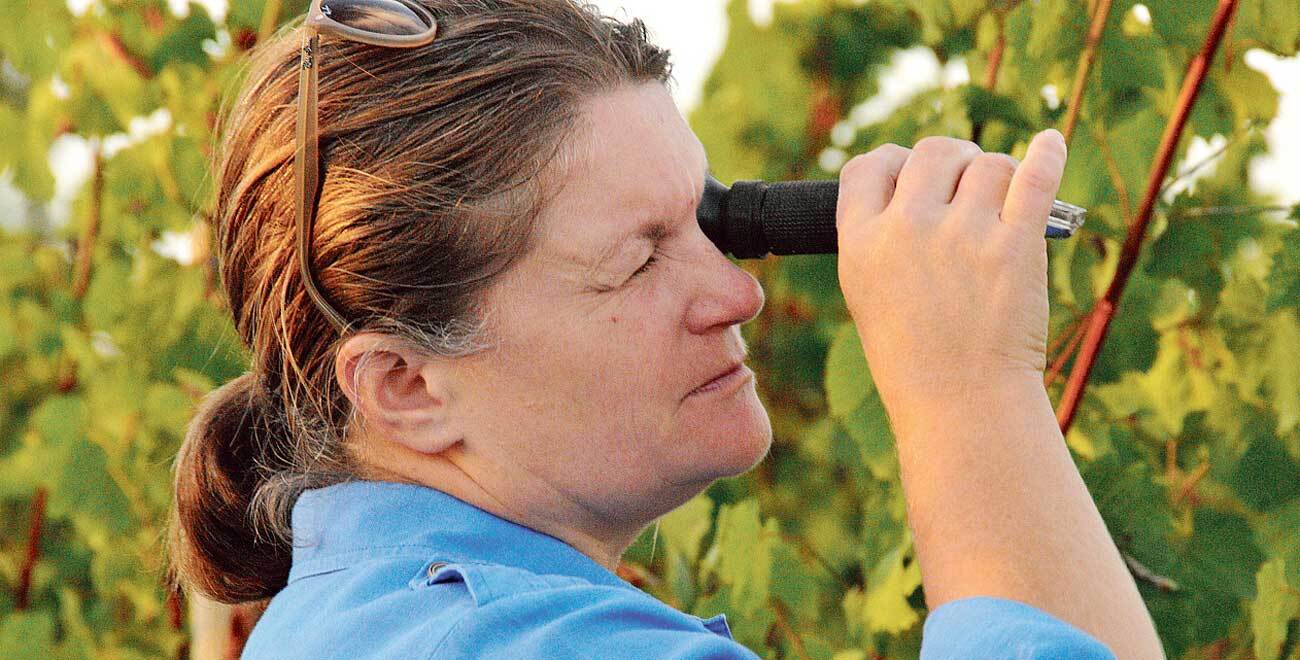 Her parents bought the property, whose wine-growing origins date back to the Middle Ages, in 1981. At that time the wine was still sold in barrels, not bottles. With each passing vintage they succeeded in converting the neighbourhood. Tessa's mother, Monique Laroche, who passed away in 2020, was the driving force who played a major part in establishing the region's viticultural reputation.
Her core operation remains the iconic wine of the estate, turning out between 30,000 and 40,000 bottles a year, but in recent years Tessa Laroche has branched out with a new wine, Le Berceau des Fées.  This is made from young vines and matured in vats instead of barrels, while her reds, made from Cabernet Franc, display a vivacity rarely found elsewhere. Though her terroir remains her greatest love, not a day goes by without a glass of champagne. As she is fond of pointing out: "The important thing is to feel alive".
Le Figaro Vin: How does it feel to be crowned a winemaking champion?
Tessa Laroche: I am not a champion, because it is impossible to go it alone. I am just a winemaker. I have a passion, I try to do the best that I possibly can, together with all the colleagues who work with me on the estate.
Who is your mentor?
My mother tops the list, but I would add Odilon de Varine, Charles-Emmanuel Girard, and Richard Leroy (respectively cellar master in Champagne, oenologist in the Loire Valley, and legendary winemaker in Anjou, ed.).
Is wine a team sport?
Yes, without a team you cannot function. There is always a captain, as in any sport or as there is on a ship. The prerequisites are that my team must enjoy food and wine, must have a good sense of humour, and must be happy. The wine we make is good and full of life, so we have to be in harmony!
What is the key to making a good wine? The terroir or the winemaker?
You cannot achieve the necessary level of complexity without the terroir. Without being a megalomaniac, I am lucky to have one of the finest terroirs in existence. That said, all of us are passionate about what we do and, no matter what, our love is reflected in the wine.
To what do you owe your success?
To this wonderful place, and to my parents, who came to establish themselves here. My team has been here for 15 years. Without them I would never have got this far.
The king of grape varieties?
Chenin. It is the best grape variety in the world, with its potential for total success or abject failure. You have to learn how to tame it, growing small yields and small bunches of grapes. But you can have so much fun with it, making sparkling wines, dry wines, sweet wines…you have to know how to manage it, rather like with a horse. If you give it its head it probably won't be that good. Just now my preference is for dry wines, but the sweet wines are coming back into favour.
Your favourite wine?
Roche aux Moines 2001, my very first wine.
Your favourite vintage?
2019, which I like hugely right now, just like the 2017. But it's constantly evolving.
If your wine was a person, who would it be?
Just like your dog, your wine takes on your appearance. My wine looks like joie de vivre because I try not to transfer my anxiety to it.
What are the best circumstances in which to taste your wine?
You should be relaxed, at the end of the morning, or after a productive day, sitting in the garden or in front of the fireplace.
Who is your strongest competition in the Loire?
For all of us here Richard Leroy is the master. We even call him God. He is always exchanging ideas, part of the conversation. He loves to share his knowledge. We have to remember that we are all just passing through and it is essential to engage with each other. There is a real solidarity in Anjou, and no one works in isolation. That is probably why the region attracts so many new establishments.   
Have you ever thought about chemically enhancing yourself, or your wine? 
No, that has never occurred to me. I don't wear make-up, so why not keep my wine natural too?
Is your family proud of you?
We are siblings and everyone is delighted by the continuity of the estate.
What has been your most innovative strategy in the vineyard and in the cellar?
To get the best grapes depending on the vintage. You have to reinvent yourself every year. However, there is nothing more difficult if you are French!
Who would be your ideal successor on the podium?
God alone knows. I have six nephews and nieces. The choice has to be obvious and, above all, not put pressure on anyone. As things stand, I am in no hurry.