Head of Domaine Marquis d'Angerville, which has been in his family for 220 years: "A musician once said to me…d'Angerville wines are Bach".
For the sixth interview in Le Figaro Vin's series we make our first visit to Burgundy where Guillaume d'Angerville, #45, creates some of the region's most elegant wines.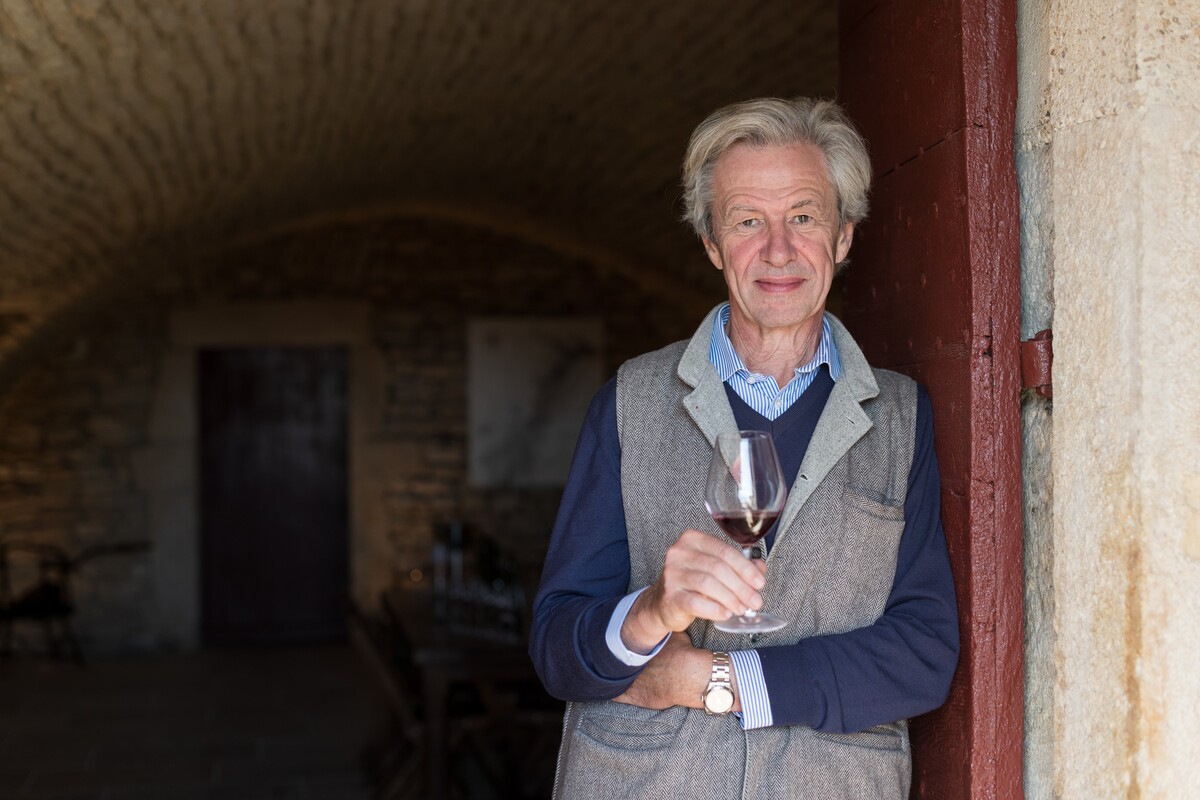 Le Figaro Vin: How does it feel to be crowned a winemaking champion?
Guillaume d'Angerville: I don't feel anything because I don't see it that way. From my perspective, it's my terroir that is the winemaking champion, not me. I am very fortunate to work with these terroirs and my job is to do my best to help them achieve their full potential.
Have you been training for long?
My background is rather unusual. My father strongly encouraged me to do something else with my life before taking on the estate and I followed his advice. I was a banker for many years. I still spent a lot of time on the estate, of course, and I rarely missed a harvest. My real training only started 20 years ago. 2022 was my 20th harvest.
Who is your mentor?
I have a number of mentors. I was lucky enough to spend a lot of time with Aubert de Villaine (of Domaine de la Romanée-Conti, ed.) over a period of almost 10 years, when we jointly ran the team applying for World Heritage site status from Unesco. We worked together closely and, without being aware of it, I learnt a great deal from him during that time – even though we never talked directly about our estates or how to make wine. We remain sufficiently close for me to call him from time to time when I have a question, or feel uncertain, or want to get a different perspective on things. I should also mention two other mentors, Dominique Lafon and Jean-Marc Roulot, who, by a strange coincidence, are both from Meursault. They were enormously helpful when I took over the estate. They are not so much mentors as interlocutors with whom I can have the kind of completely honest conversations that help me progress.
Is wine a team sport?
Yes of course, you might even say that our wines would be every bit as good if I wasn't there. I am just a team leader. I try to instil a desire for excellence in my team, but it's the team that does the work. Good wine starts in the vineyard, and our vines are tended by a team of winegrowers who are passionate about their craft. Everything else flows from that: the harvest, the vinification, the élevage. My role is to supervise, to make sure we attend to every last detail in order to achieve the best possible results.
What is the key to making a good wine? The terroir or the winemaker?
Without a doubt, the terroir matters more than the winemaker. But without the winemaker the terroir cannot fully express itself. It's a reciprocal relationship. A journalist once said to me, "Guillaume, your wines are not made they are born". That made me realise that I am a bit like a midwife whose role is to help with my wines' birth and ensure that they are born healthy, even that they are well brought up. When you have children, you appreciate that you have some influence, but you know that it's limited. A child's personality has to develop independently. You have to be there for your terroir, but also careful not to get in the way.
To whom or to what do you owe your success?
Above all, I owe my success to our very distant ancestors, to those Cistercian monks of Burgundy who understood the region and designed the template for Burgundian viticulture. We cannot overstate the fact that the Burgundy of today owes everything to those people who worked the land with quite extraordinary self-sacrifice and persistence. At a more personal level, I am indebted to my grandfather and my father, who have both played an exceptional part in our estate's success. My grandfather was a major contributor to the fight against fraud in Burgundy, and to the move to estate-bottling. For 52 years my father was a servant to Burgundy wines. He left the estate in perfect condition with an impeccable reputation. When I came on the scene the level was so high that I had a long way to fall but, in all honesty, I couldn't fail. I think I have moved the estate forward, through a combination of hard work, humility, and a passionate desire, shared with my team, to make the best possible wines. You have to have good people around you and that is one of my strengths: picking genuine talent and knowing how to delegate.
Was your father proud of you?
He never said so to me. Some kind souls have told me that he was, and I am soft enough to believe them.
Who is your biggest supporter?
I hope that my wife is. You could also say it's a bottle of Clos des Ducs. My reputation, at some level, is indistinguishable from that of Clos des Ducs.
Your favourite colour? 
Red.
The king of grape varieties?
You already know the answer, Pinot Noir.
Your favourite wine?
Clos des Ducs, inevitably.
Your favourite vintage?
I would pick out 1964 as the best vintage in living memory in Volnay. Were I to choose from the wines I have made myself, then it would be a very close call between 2010 and 2020, with 2020 just ahead, though it is still much too early to say. The jury is still out.
If your wine was a person, who would it be?
It is frequently said that a wine is like its maker. I like wines that are very elegant, very precise, very distinct, and very pure. A musician once said to me that Lafarge wines are Mozart and d'Angerville wines are Bach. That is high praise indeed. I wouldn't dare say it myself, but I am delighted to hear it said.
What are the best circumstances in which to taste your wine?
With serenity, in a relatively small group, and ideally in my cellar.
With whom?
With friends, of course. The main thing is to taste with people who love wine, who do not overinterpret, who simply want to enjoy the wine and decide whether or not they like it. And I find, increasingly, that I prefer plain language, free from superfluous description, and a relaxed tasting, free from endless comparisons of one wine to another.
Have you ever thought about chemically enhancing yourself, or your wine? 
Personally never, still less for my wine. It is a topic that crops up regularly these days, in conversations about global warming and its potential impact on Burgundy and on wine. I always say – somewhat guiltily – that global warming has some upsides for us, in particular that we now get to harvest fully ripened grapes which don't need adulterating with sugar. Since I took over the reins, 20 years ago, I have never chaptalized my wines. The question came up in 2021 because the grapes had a much lower sugar content than usual. I chose not to add sugar and the alcohol level of my Volnay Premiers Crus is going to be in the region of 12.5% – the lowest in the last 20 years. The minute that we start to tamper with the grape juice that is destined to be wine, we upset a natural balance that we can never then recreate. It is better to stick with the natural balance.
For what price would you be prepared to sell your estate?
I cannot answer that question. You have to appreciate that the estate has been in my family for 220 years. I am the sixth generation. Since selling is not in the frame, you could say the estate is priceless.
 Who is your strongest competition in Burgundy?
I can't think of any. What is deeply intriguing about this region is that we are not competitors in the usual sense. Each winemaker has his unique terrain, makes distinctive wines, and has his own following. Every winemaker in Burgundy could sell his crop several times over. By the same token, in Volnay there are some very good winemakers and we are all friends. My real adversaries are the people who make my job much more difficult, all the bureaucrats who tie our hands with endless red tape. In all honesty, it's bureaucracy that is the enemy.
What are you most proud of?
Do you know the quote from Winston Churchill? "My most brilliant achievement was my ability to be able to persuade my wife to marry me."
What has been your most innovative strategy in the vineyard and in the cellar?
In the vineyard, I don't know if I can claim that being biodynamic is an innovation, but it is the development that has truly changed my viticulture and my wine, and which now underpins the estate. As for the cellar, I cannot claim to have made any hugely innovative changes. I have often been asked: "What has your former profession as a banker brought to the table?" In banking every detail counts, and when you have to follow a process you approach it systematically, one step at a time, looking for incremental improvements. I have tried to replicate that approach in both the winery and the cellar, aiming for marginal gains: this year for example, we have invested in a state-of-the-art wine pump. We are talking minor details in themselves but, when you add them all up, they make all the difference.
Who would be your ideal successor on the podium?
We have a huge number of talented young winegrowers which makes me extremely optimistic for Burgundy's future. Many of them have travelled elsewhere, tried out other ways of working, and have then come back full of promising ideas. Plenty of names spring to mind – and not necessarily only those who sell their wines at €1,400 a bottle. As for my successor at the domaine, that question is already percolating. I hope that by the end of the year, or next year at least, I will be in a position to announce who will take over.