Last week's blog post examined two of the most popular Wine Lister website features amongst collectors: the MUST BUY recommendation tool and the Compare Tool. Wine Lister's Vintage Value Identifier helps the modern wine collector to further refine their online investigations.
Featured on each wine page, the dynamic Vintage Value Identifier gives a clear visual of quality-to-price ratios across the vintages of a given wine, and applies a Value Pick Score to measure the relative value.
By performing the price analysis for you, this tool pinpoints exact vintages of your favourite wines that are the best options to buy or sell, based on the impressive quality for their price.
See the example of Montrose below, or by exploring its wine page here.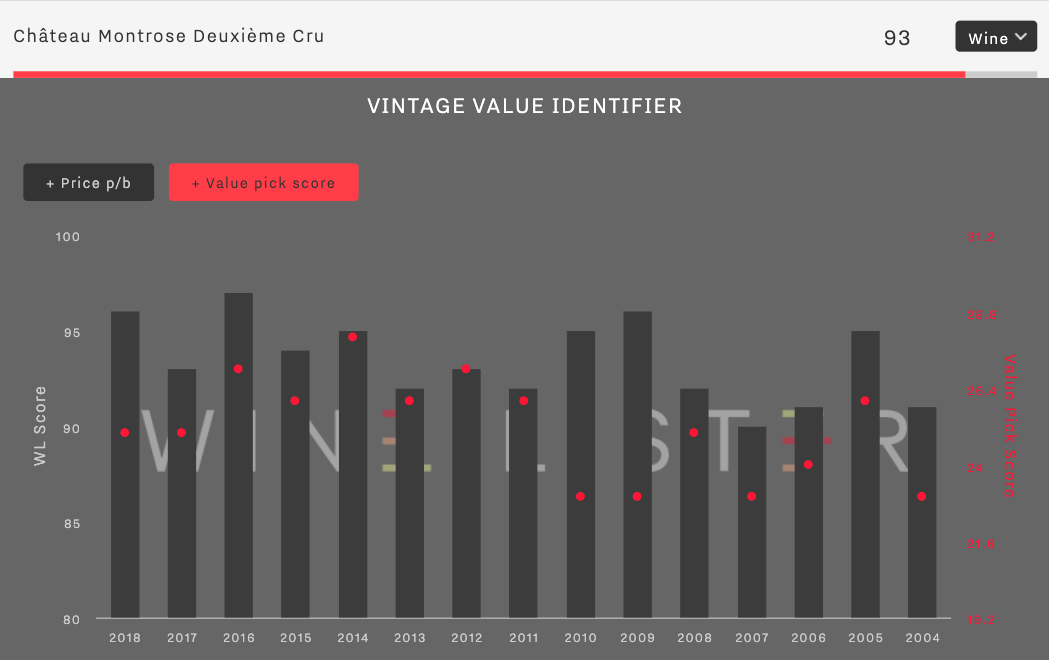 As indicated by the red dots, and values on the right-hand axis, Montrose's Value Pick Score fluctuates between vintages. The 2004, 2007, 2009 and 2010 vintages share the lowest Value Pick Score (23), while the 2014 Montrose achieves the highest score of 28.
The 2014 vintage tends to represent excellent value across the board in Bordeaux. This is due to its good (if not excellent) quality overall, and its release after the lesser-quality 2013 (which kept release prices down). Montrose's 2014 was awarded 96 points by Wine Lister partner critic, Neal Martin, who notes, "a bouquet that exudes class and sophistication: pure and mineral-driven black fruit, cedar and pencil lead, hints of blueberry developing with aeration although it never impedes upon the sense of terroir".
While the true benefit of the Vintage Value Identifier lies in the Value Pick Score, it is still possible to view the pure price vs. quality analysis, as illustrated below: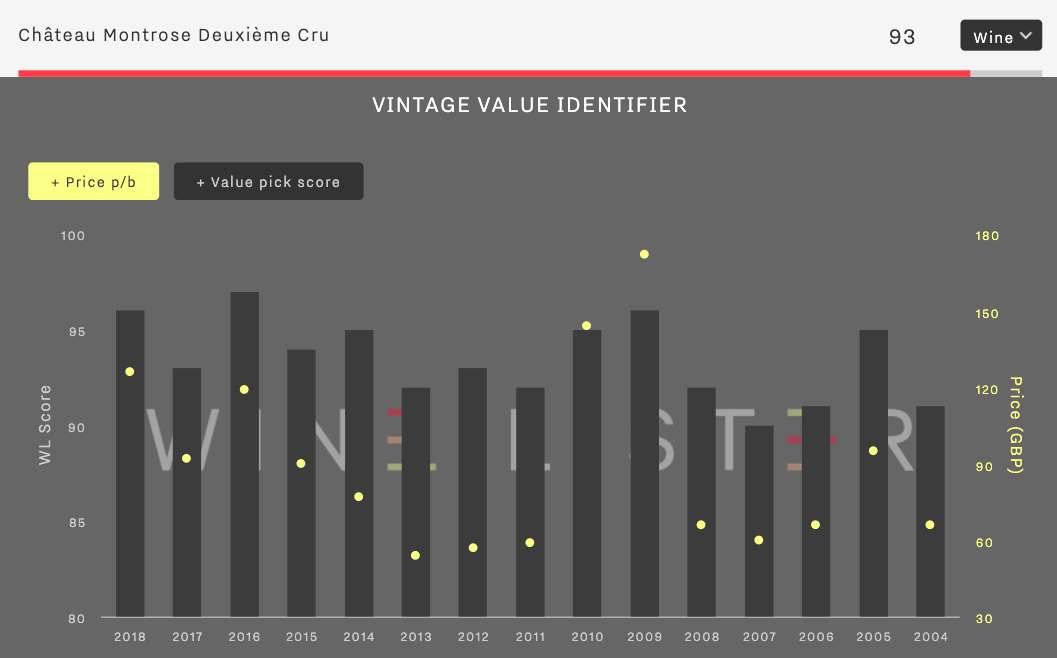 While Montrose 2009 achieves the second-highest WL Score of the featured vintages, it also commands the highest price (£172 per bottle in-bond, when buying by the case). Achieving MUST BUY status, the 2014 vintage is conversely priced at £77 per bottle in-bond for a similar level of quality (hence the higher Value Pick Score). The 2014 Montrose is available to purchase from Corney & Barrow, Cult Wines, Justerini & Brooks, and BI Fine Wines (the latter in magnums only).
Guiding your future purchases, you can identify good value in back vintages of any wines by using the Vintage Value Identifier on each wine's page. Click here to start your own analysis.
Wine Lister is currently offering a range of portfolio analysis services to private clients. If you are interested in having your wine collection analysed by our team of fine wine data experts, please don't hesitate to contact us.