Widely considered the most romantic (if most expensive) day of the year, Valentine's day often brings with it pressure to spend more to prove one's admiration. To help you avoid compromise on your Valentine's day drinking, Wine Lister has put together a list of red Value pick MUST BUYs with WL scores above 95.
Click here to view all red Value pick MUST BUYs, or read more below.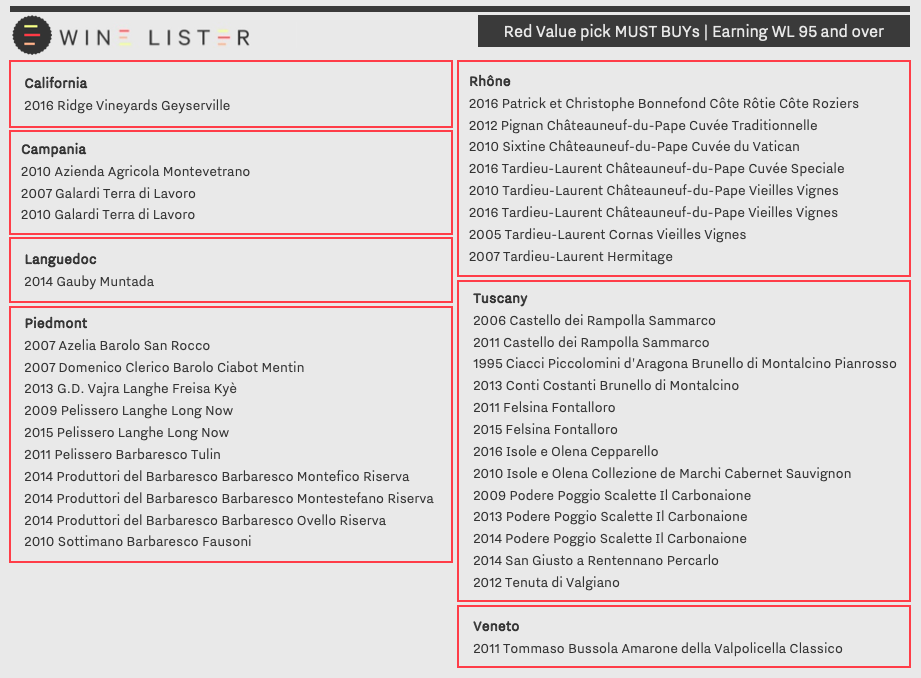 Of the 37 red Value Pick MUST BUYs earning WL 95 and over, a substantial 27 wines hail from Italy, suggesting the impressive quality-to-price ratios offered by many of the country's producers.
A passion for Piedmont
Famed Piedmont cooperative, Produttori del Barbaresco appears three times on the list, with the 2014 vintages of its Montefico Riserva, Montestafano Riserva, and Ovello Riserva. Despite hailstorms damaging several Barbaresco vineyards in 2014, Produttori's premium sites are subject to rigorous grape selection, meaning its single-vineyard wines retained quality in the vintage. Achieving the highest score of the three labels from Wine Lister partner critic, Antonio Galloni (96) who calls it a "potent, structured Barbaresco", the Montefico Riserva can be purchased from Hatton & Edwards for £42 per bottle (in-bond).
Tenderness for Tuscany
Moving further south, Podere Poggio Scalette's Il Carbonaione is represented by its 2009, 2013, and 2014 vintages, which all achieve WL scores of 95. With over 10 years of age, the 2009 is described by Wine Lister partner critic, Jancis Robinson, as offering a "very voluptuous, exotic nose", with notes of "both herbs and spices – and some meatiness […] very exciting and bursting with health". It can be bought from Atlas Fine Wines for £33 per bottle (in-bond).
A romance with the Rhône 
Family-owned, micro-négociant, Tardieu-Laurent represents five of the eight Rhône Value picks, with its 2016 Châteauneuf-du-Pape Cuvée Speciale, 2010 Châteauneuf-du-Pape Vieilles Vignes, 2016 Châteauneuf-du-Pape Vieilles Vignes, 2005 Cornas Vieilles Vignes, and 2007 Hermitage. Despite its small-scale production (a consequence of its meticulous selection process), Tardieu-Laurent offers excellent value across its labels. Jancis Robinson awards 18 points to the 2016 Châteauneuf-du-Pape Vieilles Vignes, noting it is "very aromatic and then so sweet and round on the palate! You want to gobble it up immediately". It can be purchased by the case of 12 from Tardieu-Laurent's exclusive UK agent, Corney & Barrow for £390 (in-bond).
Caring for California
Representing the New World, Ridge Vineyards' Geyserville appears in the line-up with its 2016 vintage. A single-site blend of 73% Zinfandel, 17% Carignan, 7% Petite Syrah, and 3% Alicante Bouschet, it achieves a WL score of 95, and is described by Antonio Galloni as offering "black cherry, graphite, lavender, and spice", with "a purity […] that is absolutely striking". Also noted by Jancis Robinson as having "snug, focused aromatics with hints of floral lift" and "a palate bursting with flavour", the 2016 Geyserville can be acquired by the bottle from Lay & Wheeler for £33 (in-bond).