Wine Lister has put together a selection of MUST BUYs that have reached the perfect point of maturity in 2021. With a minimum score of 93, these picks take into account wines entering their apogee on the basis of Wine Lister partner critics' drinking windows, and our own assessment of the optimum point with them, depending on region, grape variety, and style.
Read more below to discover some top wines that are at the peak of their drinking windows, or see more Wine Lister MUST BUYs here.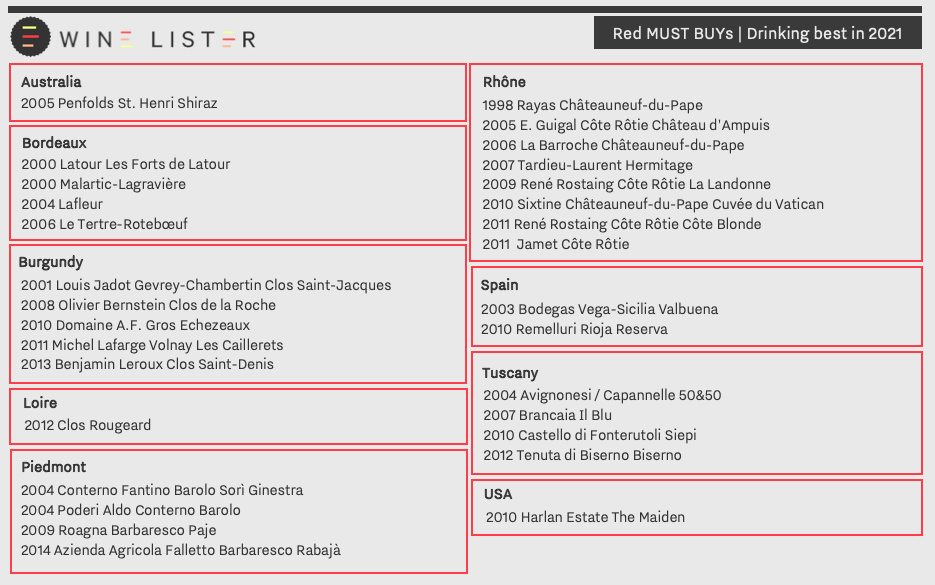 One of two Bordeaux 2000s that feature in our selection, Latour's second wine, Les Forts de Latour aptly illustrates the success of a vintage that is widely considered one Bordeaux's recent bests. With over 20 years of ageing under its belt, the 2000 Les Forts de Latour has a WL score of 94, and is described by Wine Lister partner critic, Jancis Robinson, as possessing a "minerality and lusciousness-yet-dryness on the finish". With 10 more years to enjoy it, it is available to purchase from Lay & Wheeler Wine Merchants for £198 per bottle (in-bond).
In Burgundy, Michel Lafarge's 2011 Volnay Les Caillerets is currently at the peak of its drinking window, and is noted by Jancis Robinson as offering "rich, round and charming red fruits" that "firm up on the end of the palate". With a WL score of 94, it has four more years of optimum drinking (Jancis notes there is "lots of fun to be had"), and can be purchased from Goedhuis & Co for £95 per bottle (in-bond).
At just £28 per bottle (in-bond), the Rhône's Château Sixtine achieves a WL score of 95 with its 2010 Cuvée du Vatican. Writing for Vinous.com (another Wine Lister partner critic outfit), Josh Raynolds describes its "explosive perfumed bouquet [that]evokes dark berry preserves, incense, licorice and candied flowers". Currently drinking at its best, this Value Pick is worth snapping up (by the case of 12, from Bordeaux Index).
Crossing into Italy, Roagna's 2009 Barbaresco Paje is one of four selected MUST BUYs from Piedmont that can be enjoyed at their best in 2021. "The 2009 is gorgeous. Sweet tobacco, brown spices, dried cherries, menthol and leather are some of the notes that take shape in the glass" writes our partner critic, Antonio Galloni (Vinous). The Buzz Brand is available from Bordeaux Index for £75 per bottle (in-bond).
Two New World reds feature in the selection, including Penfold's 2005 St. Henri. The vintage saw favourable weather conditions, with particularly mild temperatures, and moderate rainfall. Available in magnum form from Cru World Wine for £144 per bottle (in-bond), it is described by Jancis Robinson as "very round, polished and gorgeous", offering "warm, super-fruity mulberry fruit".

Wine Lister's selection of white MUST BUYs drinking best in 2021 includes five Burgundian picks from a range of vintages. Vincent Dauvissat's 2012 Chablis Vaillons is a new MUST BUY, and achieves a WL score of 93. A great year for the appellation, Chablis has an average WL score of 95 across its top wines in 2012 (explore Wine Lister's Vintage Chart here). Antonio Galloni notes that Dauvissat's Chablis Vaillons "opens with the most exquisite, expressive aromatics imaginable. Weightless and totally gracious in the glass, […] a wine of sublime understatement". It can be purchased from Latimer Vintners for £80 per bottle (in-bond).
View all Wine Lister MUST BUYs here, or explore our Vintage Chart to access the top wines per year.