For those in need of a chilled white wine to help beat the heat, Wine Lister's latest blog transports you to Italy, examining a selection of dry Italian whites with WL scores of 90 and above. Enjoy any of the below from the comforts of your home: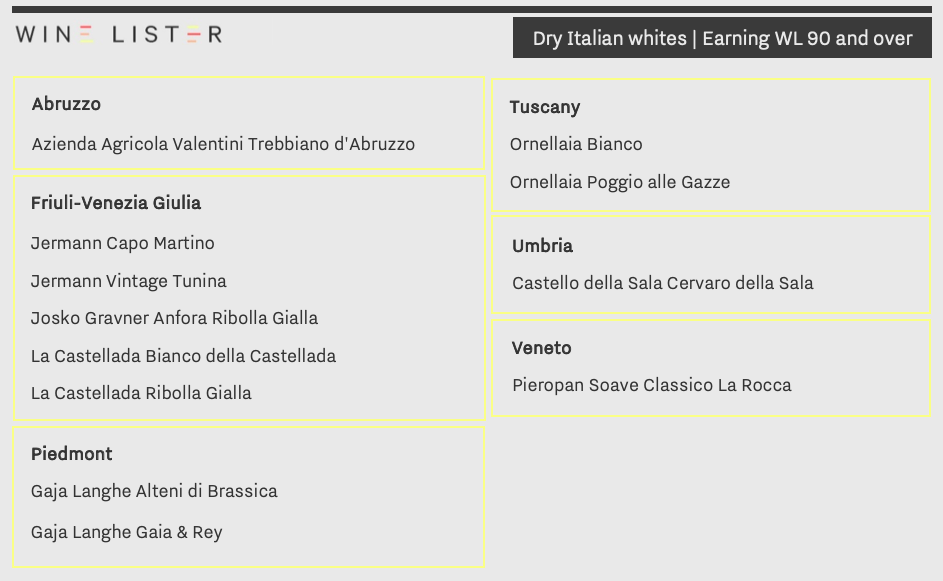 Abruzzo – Azienda Agricola Valentini Trebbiano d'Abruzzo
Valentini's Trebbiano d'Abruzzo is one of Italy's most prominent dry whites, benefitting from remarkable ageing potential that contributes to its frequent comparison with fine white Burgundy. Described by Walter Speller for Wine Lister partner critic, JancisRobsinon.com as "much too young right now, but huge promise", the 2013 vintage can be aged for another 20 years, despite already having a "gorgeous nose of spice, flint stone and mandarin fruit". The quality of its production can be attributed to the estate's judicious approach to grape selection, using a mere five percent of the harvest from its 170 acres of vineyards to make its own wine, and selling the rest to local co-ops. A Wine Lister MUST BUY, the 2013 Valentini Trebbiano d'Abruzzo achieves a WL score of 95 at c.£105 per bottle (in-bond). You can place a bid for this wine on the Berry Bros & Rudd online bidding platform, BBX.
Friuli-Venezia Giulia – Josko Gravner Anfora Ribolla Gialla
Situated on the Slovenian border, Josko Gravner has pioneered biodynamic winemaking in Italy. Given the plethora of high-tech winemaking equipment that exists today, his methods can be considered somewhat antiquated – his winery is stripped bare, apart from the necessary electricity for lights. Wines are fermented in underground Amphorae, filled by gravity, and aged in traditional wooden casks. An Italian indigenous grape, the Ribolla is aged for a considerable number of years before release, with the 2009 vintage displaying "fabulous aromas of dried grasses, chamomile, lapsang and smoked orange peel" and a "dry spicy grip", according to Julia Harding for JancisRobinson.com. With a WL score of 92 at c.£70 per bottle (in-bond), this MUST BUY is available to purchase by the bottle from The Good Wine Shop.
Piedmont – Gaja Langhe Gaia & Rey
Named after Angelo Gaja's daughter (and now fifth-generation director), Gaia Gaja, and his grandmother, Clotilde Rey, Gaia & Rey was first produced in 1983. Made from the first Chardonnay vines to be planted in Piedmont, this wine pioneered the production of exceptional white wines in the Langhe Hills, where production had previously been almost exclusively red. With a WL score of 93, the 2016 vintage can be enjoyed now, or laid down for further ageing. Wine Lister partner critic Antonio Galloni for Vinous describes it as "a gorgeous Chardonnay built on persistence, energy and class. Orchard fruit, citrus, almond and floral notes give the 2016 striking vibrancy". It is available to purchase by the case of 12 for £939 (in-bond) from Cru World Wine.
Veneto – Pieropan Soave Classico La Rocca
The Pieropan family have been producing wines in Soave since the late 1880s, and were the first to bottle wine under the Soave label in the early 1930s. The late Leonildo "Nino" Pieropan, grandson of the estate's founder, was also the first producer in Soave to make a single-vineyard wine, 'Calvarino', in 1971. Pieropan's Soave Classico La Rocca is made from Garganega grapes grown on La Rocca's unique terroir, which exists as a limestone outcrop in a sea of Soave's basalt. Gaining a WL score of 92, and available at less c.£20 per bottle (in-bond), the 2013 vintage is a Wine Lister Value pick. Jancis Robinson describes it as "lively and citrus" with notes of "lemon cream". It can be bought by the bottle from The Wine Centre.
Also featured in the list of Italian whites with WL scores above 90 are: Castello della Sala Cervaro della Sala, Fattoria Zerbina Arrocco Passito, Fattoria Zerbina Scaccomatto Passito, Gaja Langhe Alteni di Brassica, Jermann Capo Martino, Jermann Vintage Tunina, La Castellada Bianco della Castellada, La Castellada Ribolla Gialla, Ornellaia Bianco, and Ornellaia Poggio alle Gazze.
For bespoke fine wine purchase recommendations, as well as advice on collection re-sale, get in touch with our team at team@wine-lister.com, or download the full Cellar Analysis information pack.