With a bank of knowledge on some of the world's most delectable wines, sommeliers have the ultimate insider insight into which bottles are worth picking up. With this in mind, Wine Lister asked some of the world's top sommeliers to share with us their favourite wines retailing for under £35 per bottle.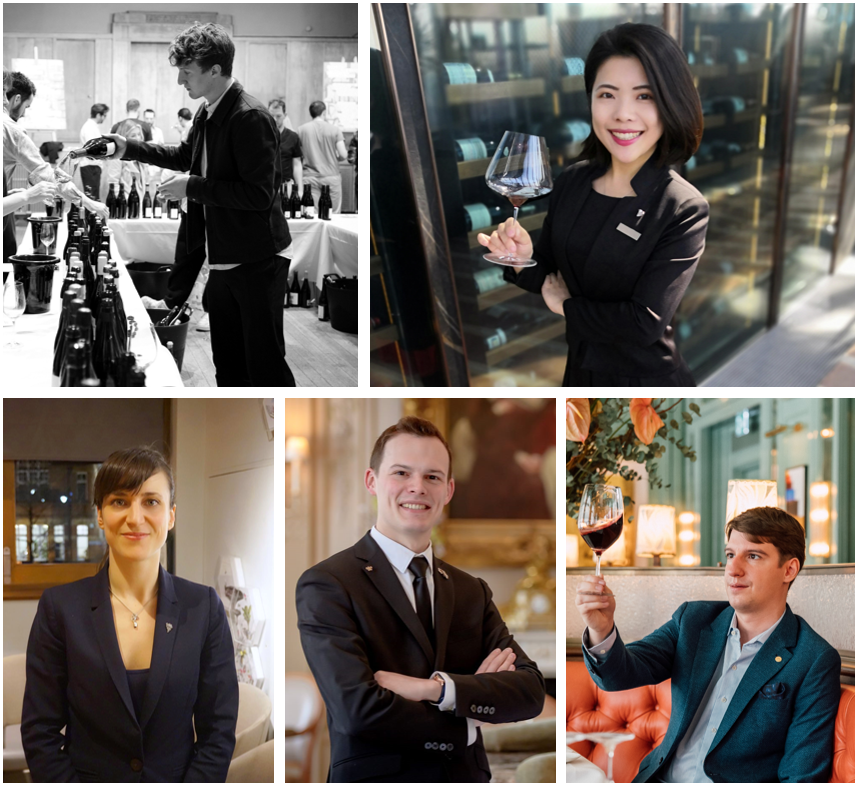 Clockwise from top left: Joshua Castle (Noble Rot), Lesley Liu (Odette), Marc Almert (Baur au Lac), Martin Jean (Domaine les Crayères), Sara Rossi (Trinity)
Joshua Castle (Noble Rot, London)
Joshua contends that "without a shadow of a doubt, Greece is producing some of the best value-for-money wines", noting that "the most successful producers are tapping into the country's long viticultural history, wealth of old vines, and indigenous varieties". He cites white wines produced from grapes such as Robolla, Roditis, and Savatiano "have been a huge success in the UK on-trade" while his pick his for "a great-value Greek wine is the red Agiorgitiko 'Natur' from Tetramythos, a producer based in the Peloponnese". "Acidity, fresh flavours, and light extraction are on the agenda", according to Joshua, who admires winemaker Panagiotis Papagiannopoulos' tempering of Agiorgitiko's often tannic profile – resulting in a bright crunchy expression. "I first drank it at the fantastic central Athens wine bar 'Heteroclito' where its energetic fruit, moderate alcohol, and glou-glou style has me hooked."
Agiorgitiko 'Natur' 2021 can be found in Noble Rot's London wine shop, Shrine to the Vine, for £17 per bottle
Lesley Liu (Odette Restaurant, Singapore)
Lesley recommends a Torrontés, citing how well it compliments the tropical climate of Singapore with its refreshing minerality and "lingering floral and sweet notes of delicate exotic fruit, fleshy citrus, and wild honey".
Lesley is particularly impressed by the barrel-fermented Torrontés produced by Susana Balbo – the first woman in Argentina to graduate with a degree in oenology. Lesley describes it as "a new chapter for Torrontés", due to the complexity imparted by the French oak barrels – "an unusual choice for aromatic varieties". She commends the versatility of the grape, which lends it to being a great match for all manner of Asian dishes as its "acidity can cut through the oil present".
Susana Balbo Signature Barrel Fermented Torrontés 2019 can be found in Roberts and Speight from £18 per bottle.
Marc Almert (Baur au Lac, Zürich)
Marc points to the wines of Côtes du Rhône for "some of the true best-buys in French wine", and advocates looking beyond the big-name appellations such as Châteauneuf-du-Pape and Côte Rôtie, and instead towards smaller regional appellations which "often offer great 'bang for your buck', whilst displaying a sense of terroir".
Marc recommends the Mistral Domaine de Ferrand. "The Bravay family named this highly-quaffable entry into their portfolio after the namesake northwesterly wind which is key to Rhône Valley viticulture." He praises its palate, which boasts "a rich array of violet, spice, and of course dark red fruits" and says that "it possesses a great acidity back-bone, soft tannins despite its youth, and is the kind of red wine I like to enjoy after a long service."
Mistral Domaine de Ferrand 2020 is available from Hedonism Wines for around £19 per bottle.
Martin Jean (Domaine les Crayères, Reims)
Martin shares a recent favourite from a blind tasting with friends –  "a sommelier friend had brought the Jaspe 2016 cuvée from Dominique Hauvette. It was a real favourite during the tasting, and something that I would want to share around a barbecue, with some grilled spiny lobster, decorated with some Provençal tomatoes, and an eggplant pie – simple dishes to share with family and friends."
Martin praises this biodynamic, Roussanne-dominated cuvée for "its balance, its vibrancy, and saline notes".
Domaine Hauvette 'Jaspe' 2016 is currently difficult to find in the UK, but can be found in outlets abroad such as Terroirs in Dublin from around £34 per bottle (excl. shipping).
Sara Rossi (Trinity Restaurant, London)
Sara has always been "fascinated by Slovenian wines because of their unique style and personality". She particularly recommends Cotar Terra Rossa, a blend of Teran, Merlot, and Cabernet Sauvignon, describing its "delicate aromas of violet, sour red cherries, rosemary, and sage". Sara praises its "refreshing acidity and firm tannins", as well as its "long and complex finish". Her ideal pairing for Terra Rossa would be "homemade truffle linguini pasta or roast grouse".
Though currently unavailable in the UK, Cotar Terra Rossa 2009 can be found in European retailers such as Germany's Vinoteca Maxima from £22 per bottle (excl. shipping).