While the Bordeaux 2022 en primeur campaign is yet to kick off in full swing – with just a handful of key releases entering the market over the past three weeks – Wine Lister's partner critics' scores are now in (Antonio Galloni and Neal Martin from Vinous, Jancis Robinson, Bettane+Desseauve, and Le Figaro Vin) informing our overarching 100-point Wine Lister score. The WL score is the average score of our five partner critics, normalised to take into account each critic's scale and scoring habits.
In our latest blog, we examine the wines that gain the top Wine Lister scores in 2022 – a vintage that, despite extreme weather conditions, is projected to be one of the best from this century (recap Ella Lister's vintage report here).
The top 30 wines of the vintage are shown below, with all estates in this ranking boasting scores of 96 or above. Scores are shown to one decimal place to enable a detailed ranking within the top scorers.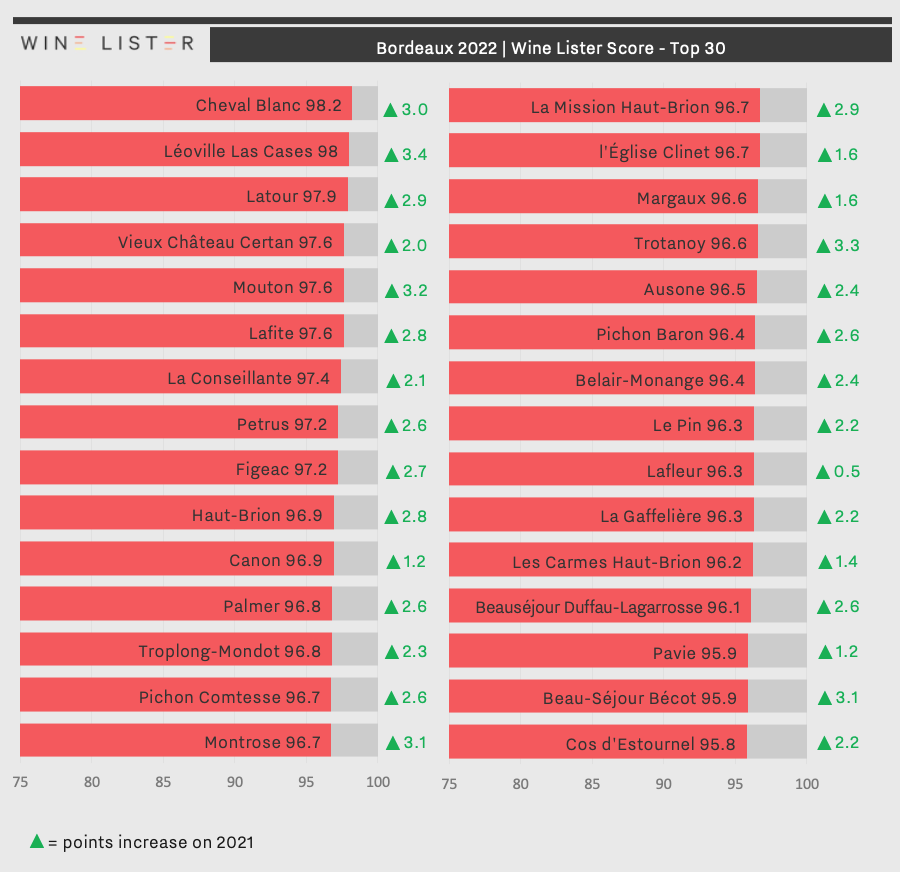 The 30 wines with the highest WL scores, including their points increase versus 2021
Reflecting trade and press sentiment regarding the exceptional quality of the 2022s, wines across the board have generally seen their WL scores increase on last year, and in some cases, significantly. This year, 64 wines achieve WL scores of 95 and over, more than double the number in 2021 (29). While the estates that made up our top 30 last year had an average score of 95.2, this year's top 30 average 96.8 points.
A glaring observation: only red wines have scored above 96 in 2022 – the vintage having been kinder to Merlots and Cabernets than to their white counterparts, which struggled to maintain acidity in the heat. Only six whites – predominantly sweet wines from Sauternes and Barsac – scored just outside the examined range, with WL scores of around 95. These include – in descending order – Climens, Suduiraut, Doisy-Daëne L'Extravagant de Doisy (last year's top-scoring wine, with 97 points in 2021), Rayne-Vigneau, La Mission Haut-Brion Blanc (the only dry white), and Fargues.
Turning to reds, Cheval Blanc stands at the top of the podium (up 3 points on 2021), followed by Léoville Las Cases (up 3.4 points), Latour (up 2.9 points), Vieux Château Certan (up 2 points), Mouton-Rothschild (up 3.2 points), and Lafite Rothschild (up 2 points), which all boast rounded scores of 98. They are closely tailed by La Conseillante (up 2.1 points), Petrus (up 2.7 points), and Figeac (up 2.6 points), amongst others.
The biggest climbers in the top 30 this year were Léoville Las Cases, with a WL score increase of 3.4 since the 2021, followed by Trotanoy with 3.3, Mouton-Rothschild with 3.2, La Mission Haut-Brion and Beau-Séjour Bécot with 3.1 points. On average, these 30 estates saw an increase of 2.4 points compared to 2021.
Right Bank estates take up the majority of places in this year's top-30 list (56% compared to 45% in 2021). This is mainly thanks to 10 Saint-Émilion properties and their limestone terroirs featuring in the top 30 – exactly one third – versus 24% last year, whereas Pomerol's representation is similar year-on-year (23% versus 21%). Other appellations featuring ore strongly in the top 30 are Pauillac (17% up from 14%), and Margaux and Saint-Estèphe (both 7% up from 3%), while Pessac-Léognan and Saint-Julien have seen their listings reduce (10% versus 17%; 5% versus 7%, respectively).