Extract: Illustrative analysis of en primeur release prices
Amongst other findings, Part II of Wine Lister's annual Bordeaux Study, 'Reaching for the stars', examines how en primeur pricing over recent vintages compares with quality levels and secondary market prices, to consider what success in Bordeaux's 2022 campaign might look like.
Extracted from the report, the chart below provides an illustrative analysis of the 2022 en primeur release prices, based on the 110 wines1 covered in the study. As the bulk of releases are yet to enter the market, this is an entirely theoretical projection which, if applied on a case-by-case basis, could nevertheless be a useful benchmark.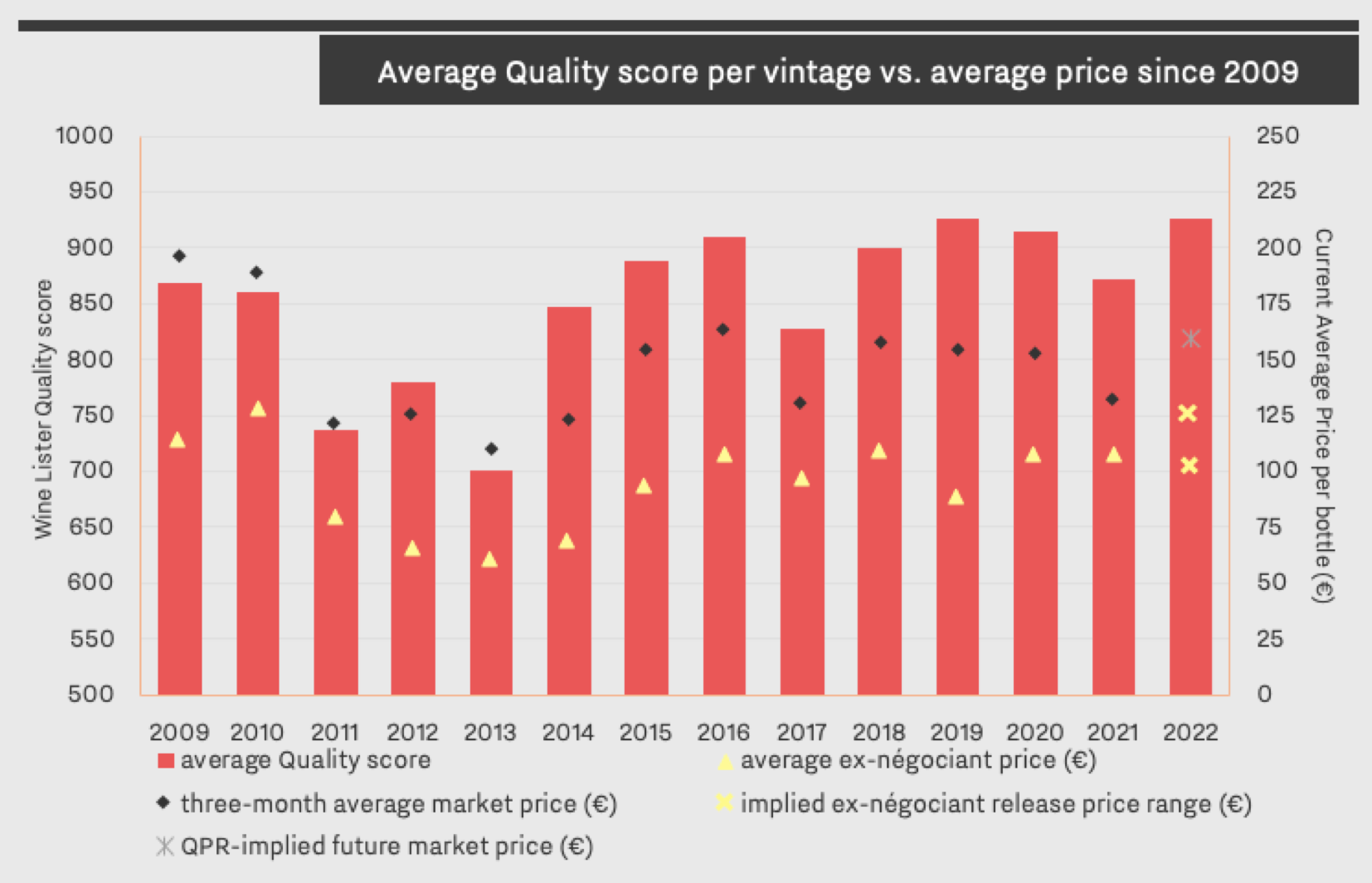 An extract from Part II of Wine Lister's 2023 Bordeaux Study, providing an illustrative analysis of the 2022 en primeur release prices
Wine Lister's Quality score aggregates recently-published scores from our five Bordeaux partner critics – Antonio Galloni and Neal Martin for Vinous.com, Bettane+Desseauve, JancisRobinson.com, and Ella Lister for Le Figaro – plus a small weighting for their average drinking window. By comparing the Quality score of the 2022 vintage (the highest ever recorded – 927) with the average of the most similar vintages (2015, 2016, 2018, 2019 and 2020), we obtain a quality-price ratio (QPR) of 6.66.
By dividing the Quality score of the 2022 vintage by this same QPR, we obtain a theoretical future market price of €160 for the 2022 vintage. To this price, we apply a discount of between 10% and 25%, corresponding to the minimum saving that consumers would expect to make versus buying the physical product two years later. This gives us an average release price of between €120 and €144 per bottle. By subtracting the average importers' margin, we arrive at an average ex-négociant release price of €103 to €123 per bottle, i.e. -5% to +26% compared to the ex-négociant release price of 2021.
Out of the 48 releases covered by Wine Lister at the time of publishing, the average release price of the 2022 vintage is €71.3, compared to €62.6 in 2021, representing an increase of 14%.
1Some wines have been excluded due to a lack of regular en primeur releases or unreasonable prices.
Head to Wine Lister's analysis page here to purchase the full study in English and French, while Pro Subscribers can access their copy for free here.