Managing Director and winemaker of Château Pichon Comtesse in Pauillac: "My wine is like Kate Bush".
The 30th interview in Le Figaro Vin's series takes us back to Bordeaux, to Pauillac, where Nicolas Glumineau, #21, creates exquisite wines with added soul. His answers reveal his insights into a winemaking profession that he has pursued for 20 years.
The vineyards of Château Pichon Longueville Comtesse de Lalande stretch out across 102 hectares in the heart of the Pauillac appellation, close to Premier Grand Cru Château Latour. The vines have an average age of 35 years and stand on terroir comprised of fine Garonne gravel on a clay subsoil. These vines are made up of a combination of grape varieties, currently in transition, that will shortly consist of 75% Cabernet Sauvignon supplemented by Merlot and Cabernet Franc. The Rouzaud family – of Louis Roederer Champagnes – took over Pichon Comtesse in 2007, ensuring that the vision of those predecessors, who had created these wines over many decades, would be sustained. At the helm since 2012, Nicolas Glumineau is a man whose fascinating career path has made him an expert in high-precision blending, alongside his qualities of humility and humour. Every year he vinifies this exceptional Deuxième Grand Cru Classé with considerable panache.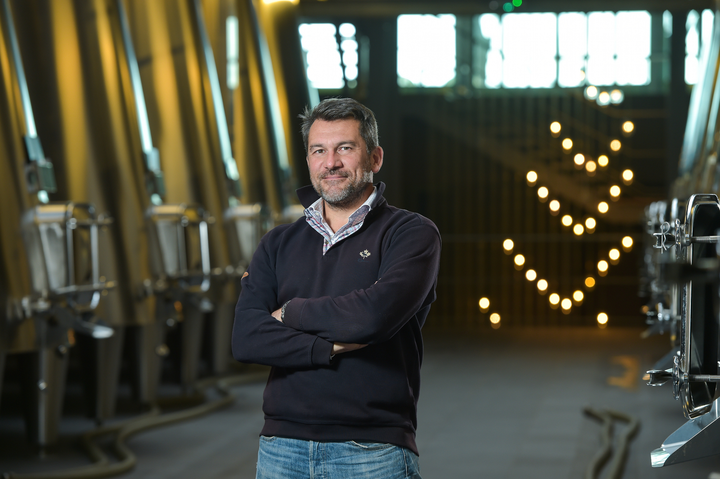 Le Figaro Vin: How does it feel to be crowned a winemaking champion?
Nicolas Glumineau: I am certainly not a champion. I am a challenger, on behalf of myself, of Pichon, of the world of wine both here in Bordeaux and globally. I sincerely hope that 2022 doesn't turn out to be the vintage of the century because we still have 78 vintages to go!
Have you been training for long?
For 20 years. My first vinification was at Château d'Escurac, with Jean-Marc Landureau (in the Médoc Appellation, ed.). Before that I wasn't involved in the world of wine. I studied genetics and biochemistry at the University of Bordeaux, where I worked in Denis Dubourdieu's laboratory and played around with Sauvignon Blanc wine yeasts, creating hybrids. That gave me the opportunity to develop a rigorous scientific approach and to practise experimentation.
Who is your mentor?
I have a number of them. First and foremost come my teams, because they help me to ask myself the right questions and to delve ever further into the meaning of wine and the work that we want to accomplish. Éric Boissenot is also a mentor: he has an extraordinary palate and is a man of great humility with a tremendous amount of knowledge. Jean-Baptiste Lécaillon and Frédéric Rouzaud (respectively Cellar Master and CEO of Maison Louis Roederer, which owns Pichon Comtesse, ed.) provide us with a framework that allows us a great deal of freedom, as well as some thought-provoking perspectives which help us keep improving.
What is the key to making a good wine? The terroir or the winemaker?
Terroir is a very French concept, with several different elements: the soil, the subsoil, the microclimate, the grape variety, the rootstock, and the human contribution, which come together as a unity that we call the terroir. So what is key here is the terroir, in all its complexity. Nature provides us with a score and our job is simply to interpret it.
To what do you owe your success?
To my wife and to my encounters with some very inspiring wines. And then a little work has also had a part to play!
Is your wife proud of you?
I hope so.
Who is your biggest supporter?
There are two of them. The first comprises the wine-lovers and the markets who are loyal to us. The second is Frédéric Rouzaud, who has invested a great deal in this property. Over and above his financial investment, he appreciates the time and energy required to implement a long-term strategy, and viticulture is always a long-term project. Time is a necessary luxury because it allows us to experiment, to understand, and to make the wine that we want to make.
Your favourite colour? 
Fifty shades of green in the forest. When it comes to wine my favourite colour depends on what we are eating.
Your hero among grape varieties?
Cabernet Sauvignon. I find it has the completeness, all the aspects and subtleties that I look for when tasting a wine, the elegance and intensity in particular. While I also find these subtleties in other grape varieties, in my view Cabernet Sauvignon expresses them best. We have undertaken a huge re-planting job at Pichon Comtesse, which has involved increasing the proportion of Cabernet Sauvignon from 60% to 75%, at the expense of Merlot and Petit Verdot. When we have finished we will have around 75% Cabernet Sauvignon, between 15% and 20% Merlot, and some Cabernet Franc. That corresponds to what we have used in our blends over the last few years.
Your favourite wine?
I am very fond of a Diamond Creek label called Red Rock Terrace. It is a Napa wine, made from Cabernet Sauvignon and grown on a north-facing plot, which always has loads of style and elegance, and is serious without being too austere. It has a truly superb balance. I recommend the 2006.
Your favourite vintage?
In Bordeaux, 1989. And at Pichon, 2022 and 1989.
If your wine was a person, who would it be?
My wine is like Kate Bush because I find her elegant, powerful, sinuous, poetic, and unique.
What are the best circumstances in which to taste your wine?
Listening to music, in an isolated cabin, together with friends. We have made a playlist for our website with pieces of music for each vintage, whether jazz, rock, or classical. When tasting our 1989 I would listen to The Cure's 'Prayers for Rain'. It was a very dry year, so the song was a perfect counterpart.
And without friends?
You can enjoy it on your own, in a good leather armchair, with a decent hi-fi system, and most importantly, nothing else, no one else around, to ensure you can savour it undisturbed.
Have you ever thought about chemically enhancing yourself, or your wine? 
My wine never but myself yes, with Mersault from Domaine Jean-François Coche-Dury!
Who is your strongest competition in Pauillac?
Force of habit. Viticulture today, even more than in the past, requires us to adapt, in the vineyard and in the cellar. That means constantly questioning what we are doing, being ready to experiment, and showing good judgment. Even when we are happy with the wine we have just produced we need to reflect on what we've done and ask if we could have done it better still. You can be very respectful of tradition, but that doesn't mean simply sticking to tried and tested ways. You have to observe nature, remain very humble, and always think about how to improve and evolve. In Pauillac itself we don't go in for competition so much as emulation. The most formidable rivals are the ones who are better than us. I have a great deal of respect for the way they work with their vines at Château Latour. We have plenty of things in common, including biodynamic and organic farming. And Château Lafite Rothschild has made some tremendous wines over recent vintages, 2022 and 2018 in particular.
And the competition that you dread the most?
My greatest fear today is that climate change gets even worse. That's the real competition. Competition in the form of trying to match our rivals is really positive, it pushes us to do even better, but there is room for everyone. On the other hand, climate change means we have to work ever harder, and push the dial on our experiments ever further. I am afraid of the serious effect that climate change might have on the kind of wine that we can make in Pauillac. 2022 will be remembered as an extraordinary vintage, absolutely massive, which is a great thing. I love it because the Pichon Comtesse we made corresponds precisely to what we have wanted to make for years, in terms of balance, power, elegance, complexity, body, and sensuality. We also love it because we were the first to be surprised that the wine was so good. That means we were not in complete control. I will never forget how challenging we found it. We had to change how we did things almost every day. Just because 2022 is a great vintage doesn't mean it was easy to make. But it's a source of real joy, and that's what makes every vintage different.
What is your greatest source of pride?
My children. And also my national first aid certificate!
What has been your most innovative strategy in the vineyard and in the cellar?
Socrates said: "All I know is that I know nothing." Questioning everything is always the best strategy when it comes to tempering empiricism with an admixture of technology. Experimentation is always my best innovation and frequently results in less interference with the terroir. "Less is more" as they say. A good example is replacing tillage, which requires a lot of time and effort, with grass and plant cover. It's a case of working the soil less in order to make it drain better and make it more alive. We realised that the less we worked the soil, the better it was for the vines. Working with biodynamics for the past 12 years has led us to revisit a number of established agricultural practices. In the final analysis you get higher quality production from a living soil, and when you have ripe grapes there is less need for extraction during vinification, because the balance of juice and wine is already there from the start. It is there in the fruit.
Who would be your ideal successor on the podium?
My successor will be ranked higher than I am, so I have two: Jean-Baptiste Lécaillon and Jean-Philippe Masclef, technical director of Haut Brion.