Last week, Wine Lister joined members of the fine wine trade and press, gathered behind their screens, for the unveiling of Ornellaia's annual Vendemmia d'Artista collaboration. With each new vintage release, the Ornellaia team chooses a word to characterise the latest growing season and its resulting wine, and selects an artist to bring the word to life on limited-edition labels of the Ornellaia bottle.
Marking the winery's 13th edition of Vendemmia d'Artista, the 2018 vintage has been coined "La Grazia" – Grace. Estate Director, Axel Heinz, explains that the choice of name is due to 2018 being "a wine that has no hard edges", and one "all about symmetry, proportion…a graceful expression of Ornellaia".
Indeed, the higher proportion of Merlot than Cabernet Sauvignon in the latest vintage blend – an exception for the estate – has produced what we found to be a soft and silky wine with a lively perfume and elegant, precise fruit. Ornellaia's CEO, Giovanni Geddes da Filicaja, notes that the wine really came together "at the time of blending". He adds, "all the pieces were good, but once we put them all together, it became a really gracious wine".
That the wine should be so-named came as somewhat of a surprise to Heinz. He reveals that "it was really after the year of ageing and when we sat down in the blending room, that the wine revealed itself to us". He describes the vintage as "one not without challenges", expanding thus: "usually [we have] a relatively dry Mediterranean climate. In 2018 we had Mediterranean sun but at the same time enough rainfall to slow the ripening down, and create a wine that is all about balance".
Belgian artist, Jan Fabre, was chosen to bring La Grazia to life, and limited-edition bottles in various formats will feature his work, as shown in the image below.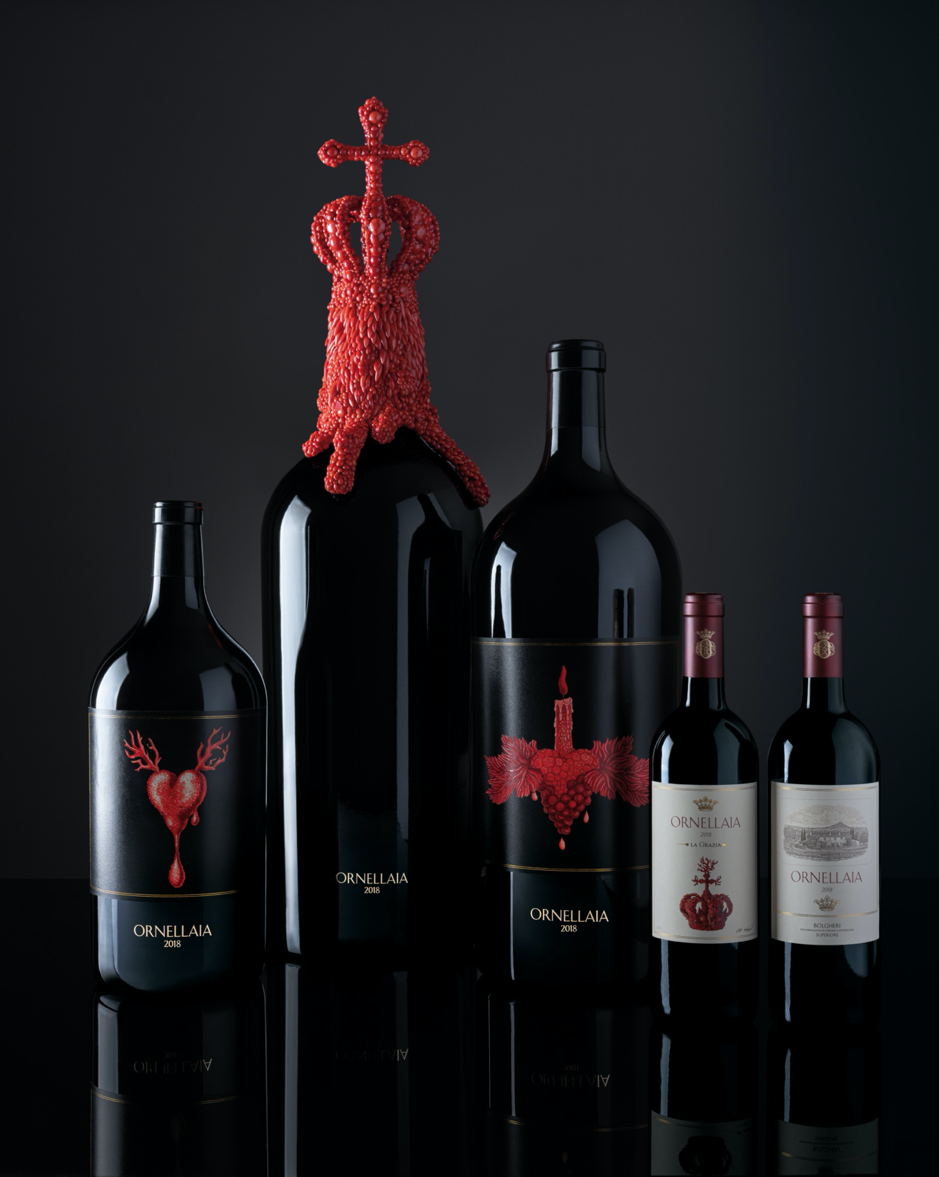 Photo: courtesy of Ornellaia winery – featuring sculpture and drawings by Jan Fabre.
Ornellaia's art curator, Bartolomeo Pietromarchi, explains the artistic concept as "a way to express balance between beauty and taste", as well as to "explore the relationship between the senses". Fabre has sculpted three works from precious red coral, which adorn Salmanazars due for auction in September; "A Candle of Mercy", "The Crown of Kindness" and "The Heart of Virtue".
Further bottles feature drawings that bring out the texture of these sculptures – indeed a limited number of 12-bottle cases of Ornellaia 2018 will each contain one bottle with Fabre's crown label design.
The 111 limited-edition, large-format bottles will be auctioned through Sotheby's in September 2021, and all proceeds will go towards Ornellaia's ongoing support of the Mind's Eye project at the Guggenheim museum.