The worthy successor to his grandfather and father on an estate that produces some of the greatest Rieslings of Alsace: "Being a winemaker is not about measuring performance".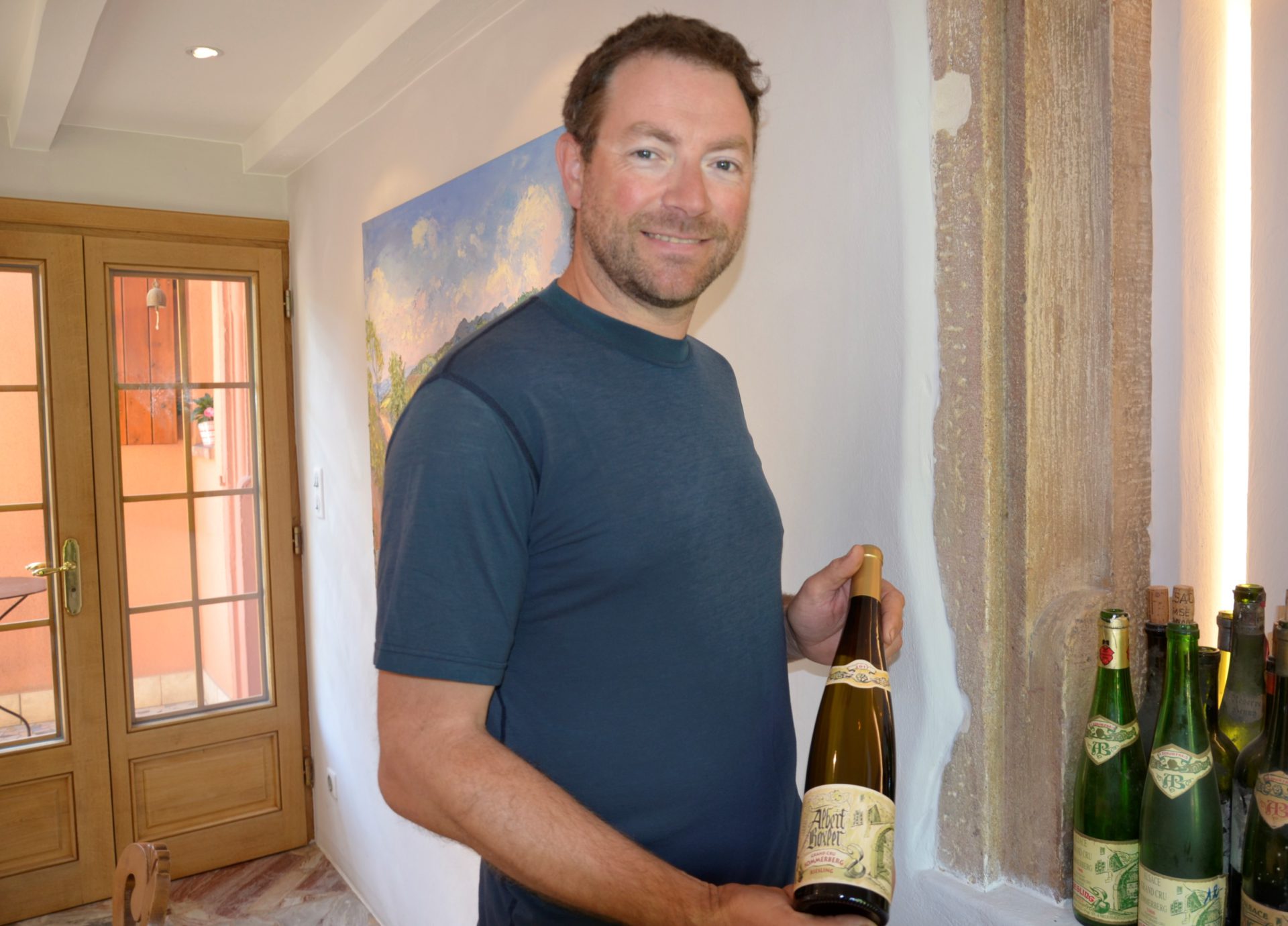 For the second in Le Figaro Vin's series of the 50 best winemakers in France we head off to Alsace, where we meet Jean Boxler, #49. He embodies the latest generation of an iconic Alsace estate, whose grands crus are equally seductive for lovers of natural wines and for the most sophisticated palates.
Domaine Albert Boxler is a family property, founded in 1672, on the hillsides of the Upper Rhine commune of Niedermorschwihr. Having worked side by side with his father for 25 years, Jean Boxler pursues his craft with the artistry of a goldsmith, producing wines of exceptional finesse on terroir known, nevertheless, for being extremely harsh. With great wisdom, despite his relative youth, he reveals his vision of a vocation which is based, for him, on passion, resilience, and sensitivity.
Le Figaro: How does it feel to be crowned a winemaking champion?
Jean Boxler: There are no champions. Being a winemaker is not about measuring performance but something far deeper and far less tangible. When you choose to do this job, you should not aspire to be the best. You must simply love your vines and try to do your work with as much sensitivity as possible.
Have you been training for long?
I started in 1996, so I have 26 vintages under my belt. At the same time, each year feels like my first. I attempt to refine things year by year, to avoid acting impulsively, and to focus on quality. Just as in sport, it is practice that allows you to manage the difficult times and cope with the random contingencies, and it's precisely the charm of the unpredictable that makes life interesting.
Who is your mentor?
My father (who passed away in November 2022, ed.) and, until I reached 17, my grandfather. They taught me my passion for the job.
What is the key to making a good wine? The terroir or the winemaker?
You need a winemaker to make good wine. But it takes both to make a great one.
To what do you owe your success?
I am not sure whether success can be measured by any specific criterion, as I don't like to be pigeonholed in a particular style. I think that wine involves something more conceptual. First and foremost, wine is a social bond. In current winemaking talk I notice a kind of radicalisation in the approach to production methods, sometimes to the detriment of the wine. Sadly, that creates a disconnection from the true purpose of production. There is no rule book for making good wine, rather there are different ways of getting there. The secret of success is therefore more to do with passion, conviction, and self-denial, which invariably end up paying off.
My parents and grandparents had a certain style, taste, and a concern for balance and simplicity, combined with a desire to produce grapes of exceptional quality, without ever resorting to cutting corners or to technical excess. Our success is measured by the loyalty of our customers, some of whom have enjoyed our wines for over 30 years. That has given us our greatest satisfaction; we make wines that we like to drink.
Is your family proud of you?
It's not a subject that we ever touch on. My father and I shared our passion for wine, day by day, for 25 years. He was my best guide. We never spoke about pride but about wine and nature.
Who are your best supporters?
I would say our American importer from the 1980s, Robert Chadderdon. It was a serendipitous meeting, with an outstanding taster, and we were on the same wavelength. He had a great deal of respect for our work.
Red or white wine? 
I have a soft spot for Rieslings, so it's whites. But balance, emotion, and vibrancy are what I look for most of all.
The king of grape varieties?
Riesling. It is complex, has a lot of character, and is completely uncompromisin­­­g. It perfectly reflects how you nurture it. It is incapable of hiding its feelings. This is no doubt down to our transparent terroir, with its crystalline granite soils on which Riesling is an open book. Riesling combines great purity with great candour.
Your favourite wine?
The Riesling Sommerberg Grand Cru "E" (lieu-dit Eckberg).
Your favourite vintage?
2017, which was a complete vintage across the spectrum. Otherwise, no doubt, 2023!
If your wine was a person, who would it be?
A wine is made in its maker's image
What are the best circumstances in which to taste your wine?
When you are relaxed.
Have you ever thought about chemically enhancing yourself, or your wine? 
No, because winemaking is not a competition. Everything depends on being able to mitigate any defects by making the right decisions, especially during the harvest. By keeping tuned into your plots, your work is already done. Doping and comparable interventions are an admission of failure. Their consequence is that your wine can never achieve greatness.
For what price would you be prepared to sell your estate?
I have three boys, two of them interested in winemaking, so the question does not arise.
Who is your strongest competition in Alsace?
Probably Gérard Schueller, even if his son Bruno has gone down a different route. The father's wines were monumental.
Which competitions do you dread the most?
The harvest. It is, at once, the most beautiful of times and the most anxiety-inducing, because you have to manage the human, the climate, and the condition of the vines. I would say that the greatest challenge today, because of the climate, is the fear of destabilisation.
What was your greatest win?
Passing on my love of winemaking to the next generation.
What has been your most innovative strategy?
Understanding how to work with people. Wine is a team sport.
Who would be your ideal successor on the podium?
My sons.