The insider's guide to fine wine trends, and the most compelling wines to watch
Wine Lister has released its second annual Wine Leagues, celebrating some of the top-performing wines and producers in today's new and much-diversified fine wine era. Informed by an in-depth trade survey with leading industry figures, the report provides a 360° view of those regions, producers, and wines that have seen strides in quality, popularity, economic promise, and more in 2021.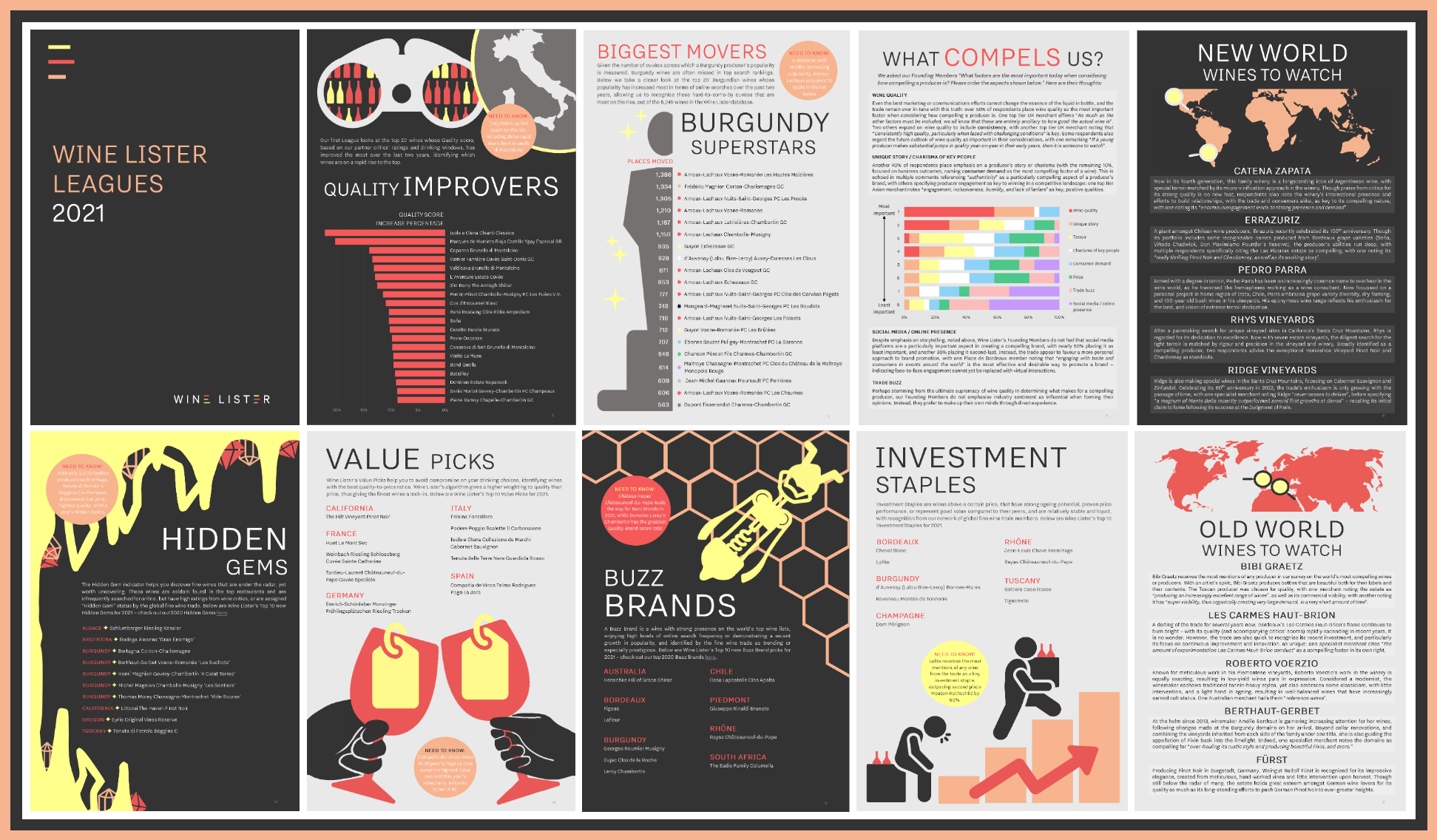 Wine Lister's annual in-depth survey sees our expert panel of 47 CEOs, MDs, and wine department heads share their insight on some of the fine wines to have on your radar, as we ask them:
"What are the most compelling wines and producers in the market today?"
Respondents singled out 188 wines and producers collectively, that span no less than 20 major regions. Within the list, our team identifies Bibi Graetz, Les Carmes Haut-Brion, Roberto Voerzio, Berthaut-Gerbet, and Fürst as wines to watch in the Old World, whilst calling out the New World wonders of Catena Zapata, Errazuriz, Pedro Parra, Rhys Vineyards, and Ridge Vineyards.
The report also includes rankings across:
Biggest quality improvers, which show impressive movement from Italy (occupying five places in the list of the top 20 by Quality score progression), with Isole e Olena Chianti Classico leading the pack
Best search rank movers, wherein Bordeaux represents eight of the top 20 wines whose popularity has increased most in terms of online searches (including Smith Haut Lafitte, Domaine de Chevalier, Figeac, and Léoville Poyferré)
Burgundy superstars, focusing on popularity movements from the trade's darling region – Arnoux-Lachaux features 10 times in the list of top 20 Burgundian wines whose online searches have increased the most over the last two years
Wine Lister's top-10 recommendations per Wine Lister Indicator; Hidden Gems, Value Picks, Buzz Brands, and Investment Staples in 2021
For the full analysis, download your free copy of Wine Lister's 2021 Leagues here.