Chef de caves of one of Champagne's most distinguished independent houses: "The best things in life stay the same".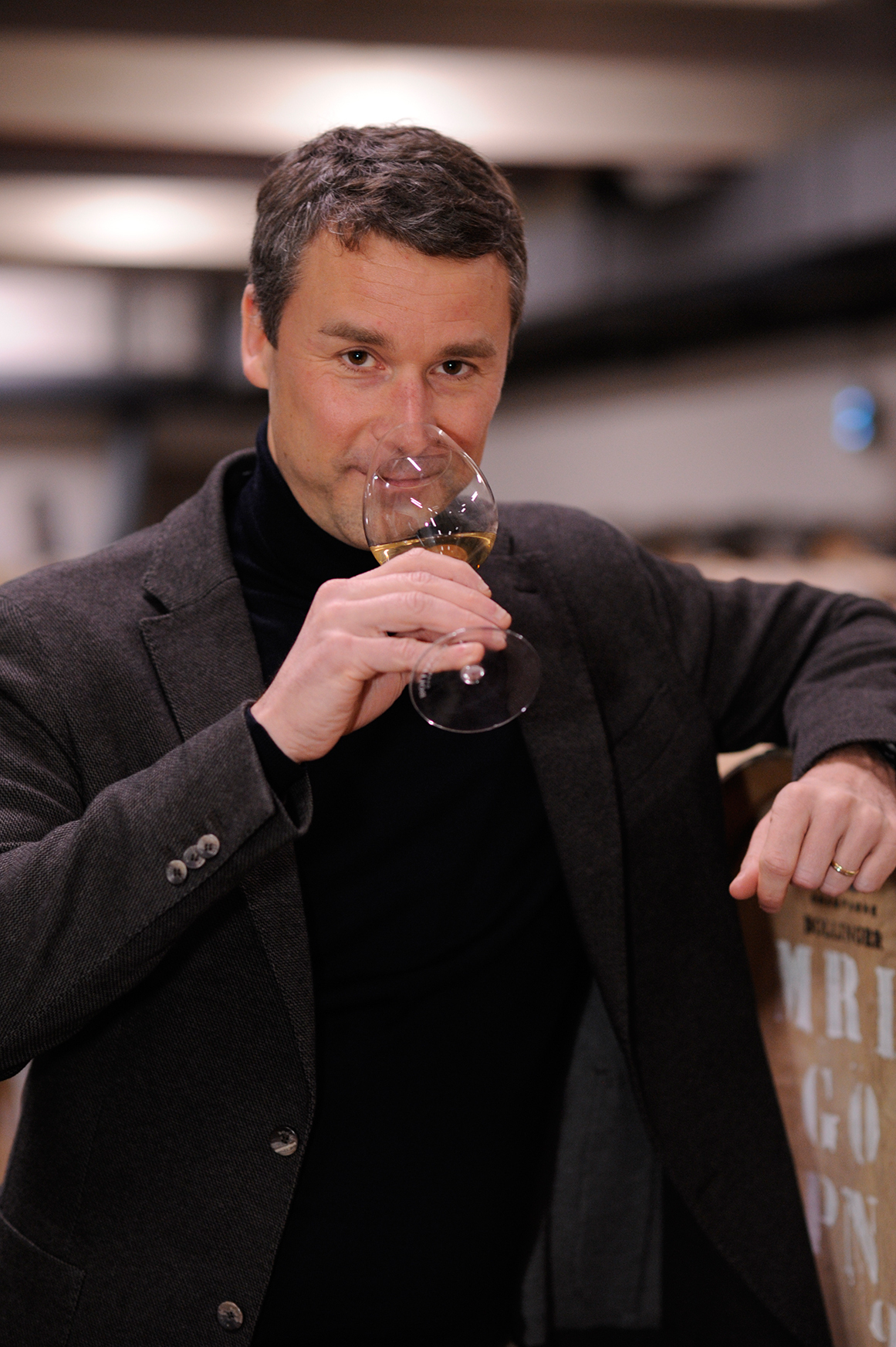 For the ninth in Le Figaro Vin's series we take our second trip to Champagne to meet Denis Bunner, #42. His interview reveals a distinctive perspective on Champagne, one which combines respect for traditional values with his vision for the future.
A son of Alsace, oenologist Denis Bunner joined the Champagne house of Bollinger as deputy chef de caves in 2013. Ten years later he has replaced Gilles Descôtes as head winemaker, taking over the reins in a seamless transition. With a remarkable collection of over 700,000 reserve magnums, Bollinger enjoys its status as one of Champagne's most iconic houses. It remains one of the pioneers of Coteaux Champenois with its renowned La Côte aux Enfants, while with every passing vintage it maintains the purity of an utterly inimitable style.
Le Figaro Vin: How does it feel to be crowned a winemaking champion?
Denis Bunner: It is a little disconcerting to be given that title because, as far as I am concerned, what matters most is team spirit. Although people tend to give all the credit to the chef de cave, the reality is that many separate elements combine to make a great champagne. My job is to bring out the power of the collective, to bring everyone together. I am also a musician and I love being the conductor. One should never forget that making champagne requires a great deal of time. Once you have finished with the composition there is a period when you have to let it rest, and then comes the disgorgement, another critical stage. It is important to recognise that we rely on expertise at every stage of vinification. Given that we carry out so much of the process by hand, the human contribution is crucial.
Have you been training for long?
From the cradle! My parents are winemakers in Alsace, and I have always been close to nature with an affinity for all living beings. I have been in Champagne for 20 years now, and I have been tasting two or three times a day since I was 20. I was fortunate to be a member of the Laboratory of Tasting and Sensory Analysis, and it is tasting that has mapped out my journey.
Who is your mentor?
It's more a case of people who have inspired me. I have met a whole host of leading figures in Champagne who have enabled me to get where I am today. Among them was Gilles Descôtes, who has now left us (he died in January 2023, ed.). He is the person who really shaped me and showed me the way.
Is wine a team sport?
Yes, absolutely. With 4,000 barrels in our cellar we stick to very traditional working methods, which are highly dependent on human resources, and that's what makes Bollinger a unique champagne.
What is the key to making a good wine? The terroir or the winemaker?
Both of them. To begin with we devote an enormous amount of care and attention to every stage, from the vineyard right through to the phases of fermentation. After the fermentations we are engaged in an exhaustive quest for perfection, with our decision to vinify in small containers. It has to be a co-operative effort between man and nature, and close observation is the key to everything.
To what do you owe your success?
My parents, who have passed on their predilection for a job well done. They are rigorous in their attention to detail, aesthetics, and craftsmanship. That's the commitment you have to make, without knowing if and when you will reap the rewards. The best feeling is when a wine reaches the market, and you realise that all your hard work has paid off. Over and above the desire to achieve success, there is the prize for perseverance. All the more so in Champagne, which takes a long view of time in a world that moves much too fast.
Is your family proud of you?
My parents are too modest to say so. They are very pleased that I have chosen to stay in the sector, but they are souls of discretion and I think they prefer not to mention it.
Your favourite colour? 
Blue in everyday life, the colour of the ocean and serenity. It's a colour which grounds us and is important to me. As far as wine is concerned then it has to be white, because of my roots and my culture.
The king of grape varieties?
My favourite is Pinot Noir because it's the predominant grape variety at Bollinger. I love its style and its personality. It is temperamental, and it's a characteristic of ours to vinify it for whites in the same way as for reds. We still have a Côte aux Enfants 1934 in the cellar, a wine that has never been marketed, but which remains delicious. We are proud to have played an integral part in the culture of still wines in Champagne, and to have been followed by many other houses. Nowadays these wines have become more full-bodied, mature further, and make very fine reds. Which is paradoxical, since while we try to slow down climate change, we also get to benefit from some of its effects. Since 1999 we have also profited greatly from our technical collaboration with Domaine Chanson, and we maintain some very strong relationships with Burgundy.
Your favourite wine?
It's a Pinot Noir, on a foundation of 2015, which is in our house's DNA. It's a wine from the heart which I made with Gilles before he left us: the PNVZ 2016.
Your favourite vintage?
1928, which is freighted with emotion, the greatest wine in our Wine Libraries, and, to my mind, the greatest Champagne vintage of all. It is packed with freshness and complexity. In 1938 Madame Bollinger wrote: "The 1928 is great and I predict a great future for it". We found these words in the archives after tasting it, and we can say that history has proved her right. We have always used cork for this tirage. The easiest approach would have been to use a metal stopper, but sticking to the concept of using cork is a stamp of the house style.
If your wine was a person, who would it be?
Not necessarily a person. While I find it quite hard to pin down, I would compare it to the painting of a great master, to a landscape viewed from a passing train on which shifting planes are superimposed. Our champagne has a highly evolving style, you pass through successive stages of fresh, ripe, stewed, and dried fruits, before you enter the creamy dimension, followed by the salinity, the complexity…
What are the best circumstances in which to taste your wine?
My first answer is with friends. We remember some champagnes because we have shared them. In the first place, I love sharing. I was married last year and had a get-together with some childhood friends that I have known since I was four, where I was struck by something fundamental: the best things in life stay the same. My second answer, in my capacity as an oenologist, is in a blind tasting, for the fun of discovery and the experience of surprise.
Have you ever thought about chemically enhancing yourself, or your wine? 
Not really, what would be the point? There is no call for it, it's the direct opposite of what Bollinger is about. As Madame Bollinger already used to say, back in her day: "Less is more".
Who is your strongest competition in Champagne?
As someone who cultivates a collaborative professional culture, I see the others as colleagues, not competitors, and there is strength in unity. If, on the other hand, I had to pick a role-model, I would choose winemakers who have been able to put love for the terroir back at the heart of things, the ones who have nurtured and reinvigorated the terroirs of Champagne. From our perspective, we are fully aligned with this approach to the terroir, and we are taking it forward, with the village-based expressions of PN, with the creation of La Côte aux Enfants in a champagne version, and with the whole range of our parcel-focused wines.
Who would be your ideal successor on the podium?
I think more in terms of taking a step forward than of taking one up or down. So I do not see myself as on a podium. And for the time being the question does not arise.