Winemaker of his legendary family estate in Champagne: "There is always a lot expected of the younger generation".
For the 31st interview in Le Figaro Vin's series we pay our sixth visit to Champagne to meet Guillaume Selosse, #20, who is now at the helm of one of the region's most sought-after estates. A model of discretion, he makes uniquely thrilling wines whose ratings continue to soar.
Domaine Jacques Selosse, founded by Guillaume's grandfather, is situated in Avize, a small village in the Côte de Blancs. Known long ago as Ozannel-la-belle, Avize has been renowned since the 18th century for its well-balanced Blancs de Blancs champagnes, classified Grand Cru. Jacques Selosse settled here shortly after the Second World War in 1947 and, despite not coming from a family of winemakers, soon acquired some vines. In 1949 Jacques and his wife founded the estate that still bears his name, and the couple made their own wine for the first time in 1964. Ten years later their son, Anselme, joined the estate and embarked on an extended exploration of the methods and practices of viticulture and vinification. His never-ending quest for perfection lasted throughout his career. From 1990 to 1996 he applied the principles of organic farming, then graduated to a biodynamic approach. But from 2002 he distanced himself from the established norms of biodynamic doctrine, taking the view that we should not impose on nature. Over the last few years Anselme's son, Guillaume, representing the third generation, has taken up the reins with verve.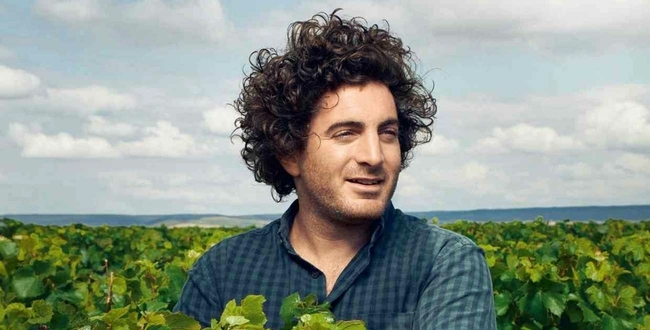 Paradoxically, it was in Bordeaux that this new star of the Champagne winemaking galaxy experienced his true epiphany, while studying viticulture and oenology in Saint-Émilion. This was a carefully considered sideways step, which enabled Guillaume to meet young prospective winemakers from all around the world. It gave him a very different take on things than he could have acquired had he simply stayed on his home terroir. From his earliest childhood, the paternal reputation of the highly respected Anselme Selosse had cast a long shadow over the young Guillaume, who next decided to spend a year in Australia in order to come back to the estate much better equipped to forge his own path. From his very first vintages, by dint of close observation and sheer hard work, Guillaume has stamped his personality on the estate, and today he produces champagnes of incomparable vivacity.
Le Figaro Vin: How does it feel to be crowned a winemaking champion?
Guillaume Selosse: I don't really see myself as a champion. One of the current struggles facing winemakers consists precisely in keeping a cool head. It is vital we always remember that wine is about shared values, not market values. We have to resist this focus on the market, even if we are, fortunately, starting to see it reach its limits, especially in Burgundy. The price curves are beginning to come down; it was getting to be obscene. The world of wine is changing now that, I believe, we have reached a tipping point.
What is your greatest source of pride?
My own cuvée Largillier, which I made without paternal support. I made it on my own, my father never entered the cellar, and his first taste of it was from the bottle. It is the first wine that I made entirely on my own.
Have you been training for long?
As a young boy, I used to run around in the cellar, climbing on the barrels, and spending Sundays with my father, who would tell me: "Smell the wine, open the valve", and so on. I have always been in a winemaking environment.
Who is your mentor?
At the technical level, my father, because I am always picking his brain, and it's with him that I have developed my awareness of all the factors that come into play. However, I have also gained insights from winemakers during my internships, especially from Benoît Lahaye (selected as winemaker of the year for 2021 by le Gault & Millau, ed.). But basically, it's my father.
Is wine a team sport?
A winemaker is a conductor: you need a team that can follow your tune, otherwise, it doesn't work. There has to be a symbiosis. We have a team of five working full time between the vineyard and in the cellar, plus two in the office, as well as my father and me.
What is the key to making a good wine? The terroir or the winemaker?
I think that the terroir is necessarily key, but the decisions taken during the growing season count for a lot. This is especially true for making white wine, where it all happens in the vineyard, through our decisions about pruning, disbudding, yields, and harvests. With red wines, it is easier to have an impact during vinification, but with whites, it's much trickier.
To what do you owe your success?
To my approach to tasting wines, to my never getting fixated on a particular region or grape variety, and to my going to meet with winemakers everywhere in France and in Europe. Exchanging ideas and discussing things is crucial, including with winemakers facing very different challenges from ours. The climate is changing so much that in the future even producers of Côtes-du-Rhône could become a source of inspiration. For example, my father once took part in the grape harvests in the south, and the things he learned there were of invaluable help with the 2003 vintage.
Is your family proud of you?
I hope so, I do everything I can to make them proud of me. There is always a lot expected of the younger generation.
Your favourite colour? 
Right now my most wonderful surprises come from reds, from Burgundian reds in particular.
Your hero among grape varieties?
Chardonnay.
Your favourite wine?
My favourite, for all seasons and every stage of a meal, is Les Carelles. It's a wine that perfectly expresses where it comes from, with a slightly roasted side, which gives it a Burgundian edge.
Your favourite vintage?
2009, for which I had a role both in the harvests and in the vinifications. If 2008 is still a work in progress, 2009 is honest, regal, always transparent, and full of joy.
If your wine was a person, who would it be?
Curiously, I find it has an electric side to it, it's off the beaten track, like a character on the fringes of society.
What are the best circumstances in which to taste your wine?
Surrounded by friends and family, with bites of Parmesan, setting things up for a wonderful night.
Who is your strongest competition?
The climate, including recurring spring frosts, as well as significant issues with water.
And the competition that you dread the most?
The process of bottling. As far as the harvest is concerned, we have made our decisions and we stick to them. In the cellar, we have to set up the fermentation process, achieve a certain specific gravity, and so on. It's incredibly tricky to get it right and it's the culmination of our entire year's work, which makes it particularly stressful.
For what price would you be prepared to sell your estate?
I have such an emotional attachment to it that I would never want to sell it.
Who would be your ideal successor on the podium?
My children, Tara and Lazare, who are still very young. When it comes down to it, it will be whoever is the most passionate about it and doesn't see it as something they are pressured into doing. I get that from my father, who never put pressure on me.