Chef de caves of one of Champagne's cult family estates: "Wine bonds us and binds us".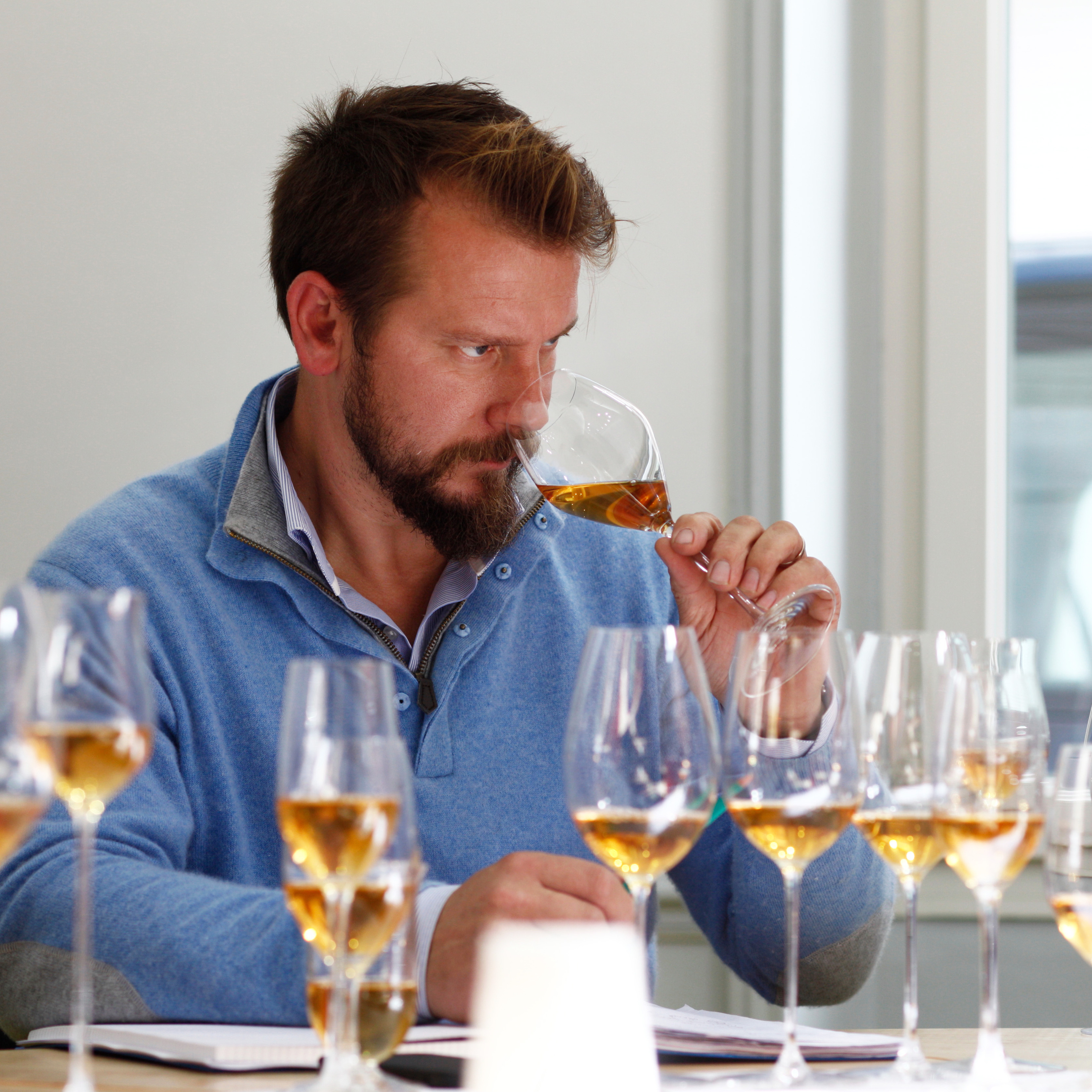 The third interview in Le Figaro Vin's series takes us to Champagne to meet Sébastien Le Golvet, #48. A genuine hedonist, dedicated to enjoyment, he tells us how his winemaking trajectory and his passions are intertwined.
As befits a true bon viveur, Sébastien Le Golvet smokes a cigar throughout our interview. He inherited this passion from his father-in-law, Claude Giraud. He has been able to fit in seamlessly with his in-laws by embracing the spirit of innovation and independence so prized by the family. The outcome is champagnes that are unique, remarkable, vinous, and resolutely hedonistic.
Le Figaro: How does it feel to be crowned a winemaking champion?
Sébastien Le Golvet: I see myself as more of a leader than a champion, insofar as Maison Henri Giraud is above all a team. To use a French expression, I am the one pulling the cart rather than pushing it.
Have you been training for long?
We have been training to produce great wines for a long time, going back a number of generations. Our Réserve Perpétuelle, moreover, was launched by Claude Giraud in 1990 and we continue to develop this ground-breaking work, which is the signature of the estate, to this day.
Who is your mentor?
Claude, of course, who has had the patience to pass on to me his own passion for wine. It is also through him that I have learnt to make wine while smoking cigars. He has taught me the similarity between the great terroirs of tobacco and the great terroirs of wine. He has always been at my side. He is a visionary, which is so important for making champagne – you need lots of perspective.
Is wine a team sport?
Yes, you can go fast on your own but you go much further as a team. Speed is all very well but it frequently leads to excessive haste.
What is the key to making a good wine? The terroir or the winemaker?
In my view you cannot separate them. You cannot replicate the terroir, it is unique, and if the winemaker does not understand his terroir he will never make a great wine. For us what comes first – the terroir – forever depends on the well-being of, and respect for, nature.
To what do you owe your success?
I think I owe it, above all, to the history of the Giraud family, which has worked the vineyard at Aÿ since 1625. It's a long history, and we owe our success to our terroir and to our family tradition of passing on know-how as well as assets.
Is your mother proud of you?
Yes, I think that she is very proud of how far my work has brought me in my devotion to wine. I think that the most satisfying achievement is to see your children flourish.
Who are your best supporters?
Our best supporters, first and foremost, are our customers, who come to our house, visit the Henri Giraud estate, stay at the manor, and enjoy an experience of well-being, through immersion in the terroir, and especially through "Craÿotherapie" (a concept of chalk baths and applications devised by Dr. Anne Le Golvet-Giraud, Sébastien's wife, ed.). These are the people who then spread the good word about us far and wide, and they are our best ambassadors.
Your favourite colour? 
My favourite colour – and I don't know if it's really a colour – would have to be gold, because for me it represents the lustre of Pinot Noir. Blanc de Noirs is thus the stroke of genius which has allowed us to make a great white wine with black grapes. That gives champagne its golden colour.
The king of grape varieties?
Pinot Noir, without question.
Your favourite wine?
I don't really have a favourite wine because each wine has its moment, in every case an occasion for sharing and pleasure. For example, if I'm partying, I can drink litres, even bucketfuls of wine, but, conversely, the Arḡonne cuvée requires a different approach. Each wine has a distinct function.
Your favourite vintage?
2004. That's the year my winemaking career began. I joined the domaine in 2002, and 2004 was the year of my first vinification alongside Claude. And, at the same time, it's the year that the 15th generation arrived (with the birth of his eldest son, Arthur, ed.). Every time I open a 2004 it reminds me of both my life's journey and an extraordinary vintage.
If your wine was a person, who would it be?
Our wines are all about joy, good humour, pleasure, fun and laughter, fine dining, and taste. If I had to compare them to a person, I would choose François-Xavier Demaison, an actor from the film Champagne. He paid us a visit and he is a truly exceptional person; brilliant, a true comedian!
What are the best circumstances in which to taste your wine?
Let's deal with the basics first: a decent glass and the right temperature. These are the first two requirements, and then the magic does its work, because wine bonds us and binds us. It helps bring people together.
With whom?
To start with, you need to be curious about other people. When you have that curiosity and you are sharing a good wine, that's when wine works its magic. People open up. You can talk about anything and everything, you take your time – it's like smoking a cigar – and, if you are in the company of people who are curious about each other, you can pass an entire night conversing over a glass, or rather over a bottle.
Have you ever thought about chemically enhancing yourself, or your wine? 
I tested negative at my latest drug test (laughs)! As for our wines, we are in the heart of an extraordinary vineyard here in Aÿ and I therefore think that today, rather than using chemicals, we ought to show nature the greatest respect, using minimal additives and interventions, by sticking to what is natural. We don't need to do any more than that. It is rather a case of being in the right place at the right time, for the vines and wines alike.  
For what price would you be prepared to sell your estate?
Selling our estate today is out of the question, so I cannot name a price. We are in the process of passing the estate to the next generation. Emmanuelle, my sister-in-law, who is taking over the reins at Domaine Henri Giraud, will write a new page marking the passage towards a new generation. Our wish is to perpetuate our know-how through the generations to come. And that is invaluable.
Who is your strongest competition in Champagne?
We don't have any competitors because we feed off each other. Once again it's about curiosity, visiting our peers, inviting them to our estate, getting to understand each other. We cannot be competitors, because we each have our own market. In our case we occupy a very specific niche. I don't look at my peers as competitors but more as people that we can use as models, as sources of inspiration.
What has been your most innovative strategy in the vineyard and in the cellar?
In the vineyard we now use an absolute minimum of agricultural products. Furthermore, our Coteaux Champenois is called "triple zero", with zero pesticide residues. For us this is something that really matters, something modern, and the fruit of our labour in the vineyard.
Turning to the cellar, our most innovative technical development there has been understanding how to marry two exceptional terroirs – the terroir of Aÿ Grand Cru with that of the forest of Argonne. I always say that it's the story of the Beauty and the Beast. We have understood how to create this synergy between the two terroirs, which now produces an exceptionally great wine. For example, contrary to what you might expect, the Cuvée Arḡonne, vinified exclusively in new barrels, is not at all oaky, but expresses the terroir of Aÿ thanks to the forest of Argonne. With the Cuvée Arḡonne, the trema on the "g" alludes to the "y" of Aÿ, and thus to the fusion of the two terroirs.
Who would be your ideal successor on the podium?
Our ideal successor would be the 15th generation of the family. What excites Emmanuelle and me is the prospect of one of our children taking over. That is what we live for.