The Place de Bordeaux's 2022 September campaign has seen its third week of releases, with a number of key entries including the likes of Pym Rae 2018, Dalla Valle Maya 2019, and Château Palmer 2012.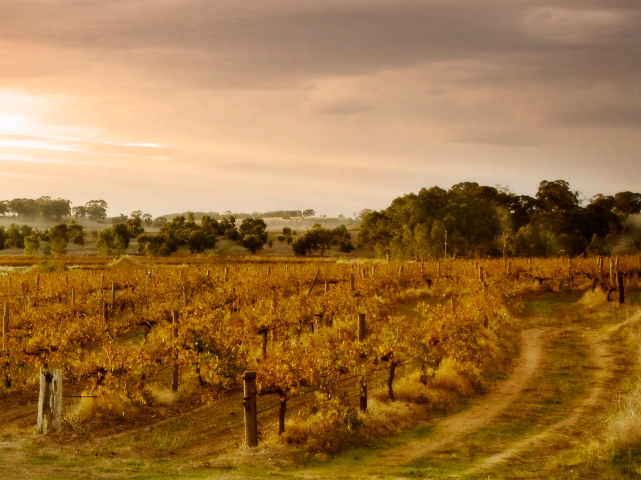 The Armagh vineyard in autumn
Following a UK bank holiday on Monday to mark the funeral of Queen Elizabeth II, Tuesday 20th September morning saw several releases in quick succession, starting with Pym Rae 2018, which entered the market at a recommended retail price of £270 per bottle. Tasting at the CVBG Beyond Bordeaux London event earlier this month, Wine Lister's Founder and CEO, Ella Lister found this vintage to be a real step-up from the Tesserons' Californian outpost, awarding the 2018 96 points and noting "exceptional balance, the texture of taffeta, and an addictive softness".
Another standout release, Telmo Rodríguez's Yjar saw its second ever vintage – 2018 – released through the Place at £95 per bottle (in-bond). Tom Parker (tasting for jancisrobinson.com) awards a score of 17, while Ella scored 96 points, comparing its balance to that of "a ballet dancer, toned and delicate", noting that it is "the perfect wine for today's palate". The 2018 vintage saw a production volume of just 6,000 bottles – a reduction of 1,000 bottles compared with the 2017.
The Armagh Shiraz 2018 was also released on Tuesday at £165 per bottle (in-bond), with Ella awarding 95 points and describing the latest offering from Jim Barry as "rich and opulent" – a vintage "worthy of the 50 years since the first Shiraz was planted at the domaine in 1968".
Wednesday 21st September saw the release of Le Petit Cheval Blanc 2020, which entered the market at £100 per bottle (in-bond). It was shortly followed by Giovanni Rosso Barolo Ceretta 2018, released at £51 per bottle (in-bond). Walter Speller (for jancisrobinson.com) awards the latter a score of 17++, describing it as "simply gorgeous" and praising its "beautifully sculpted chewy tannins".
Next up on Wednesday, Dalla Valle Maya 2019 was released at £464 per bottle (in-bond), marking the first vintage produced since the estate committed fully to biodynamic practices.  Another first – Château Haut-Batailley introduced its 2016 vintage to the market at £36.67 per bottle (in-bond).  A transitional year, the Cazes family acquired the estate shortly before the 2016 primeurs and oversaw blending, while vinification had been carried out by the previous owners (the Borie family) – provoking the decision to withhold its release. The 2016 bottle features a transitional label – neither the previous label under the Borie family, nor the new label under the Cazes family, debuted in 2017. Neal Martin (for Vinous) awards the 2016 94 points, calling it "an outstanding Haut-Batailley".
Château Palmer released ex-château stock of its 2012 vintage on Thursday 22nd September, the third vintage to be released from the estate's "Ten years on" series. Since 2010, approximately half of each year's production has been reserved in the cellars, while the remaining half is sold en primeur. The 2012 vintage was released at £257 per bottle (in-bond), having achieved scores of 17 from Jancis Robinson (for jancisrobinson.com) and 94 from Antonio Galloni (for Vinous).
Also released this week were Cobos 2019 and Clos des Goisses 2013.
Likely to be released next week are Kracher Tba N°5 Grande Cuvee 2019c, Château d'Avize 2012, Morlet Cœur de Vallée 2019, Allegrini Fieramonte 2015, La Poja 2017, and Biserno 2017.