Amongst other findings, Part II of Wine Lister's annual Bordeaux Study, 'Walking the tightrope', explores the outperformers of the latest vintage – the top 15 wines whose Wine Lister Quality score (part of our Pro rating system) in 2021 most exceeded their wine-level average. The wine-level average is calculated based on a mean Quality score over the last five vintages, to reveal more recent trends. Seven of this year's outperformers were also featured in the 2020 list, indicating that these wines continue to build long-term quality in 2021.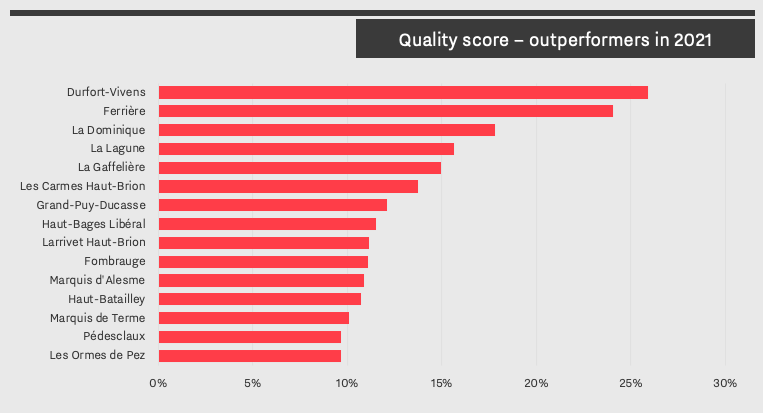 Quality score – outperformers in 2021 (as featured in Part II of our 2022 Bordeaux Study)
Four Margaux wines feature in the 2021 outperformers chart, with Durfort-Vivens this year taking the top spot from Ferrière. Receiving a score of 92-94 from Ella Lister (for Le Figaro Vin), she describes it as "Effervescent with energy and life […] with an impressive density, and a generous future ahead of it."
New additions to the outperformers chart this year, Marquis d'Alesme and Marquis de Terme rank in 11thand 13th place respectively. As well as appearing in our list of Bordeaux 2021 Value Picks (wines with the best quality-to-price ratios), the latter earns the status as the Bordeaux red with the biggest increase in 2021 Quality score compared to the 2020 vintage (also explored in Part II). Antonio Galloni for Vinous awards Marquis de Terme 2021 its highest ever potential score from the critic platform, 93-95, calling it "inky, vibrant, and super-expressive".
La Lagune returns to the 2021 chart in fourth place, down from third in last year's study. James Lawther (JancisRobinson.com) calls the 2021 "pure and precise". The estate has been certified organic since the 2016 vintage and is currently working towards biodynamic certification.
Pauillac also sees four wines on this year's outperformers chart, with Grand-Puy-Ducasse, Haut-Bages Libéral, Haut-Batailley, and Pédesclaux showing strong improvements in Quality score in 2021. Awarding a score of 92-94, Antonio Galloni notes that Grand-Puy-Ducasse "has made important strides of late", given the increased investment under the direction of Anne Le Naour, while Pédesclaux has also seen significant investments from proprietor Jacky Lorenzetti.
Saint-Emilion brings three wines to the 2021 outperformers chart, with Fombrauge entering the outperformers chart in 10th place, and La Dominique overtaking La Lagune to occupy the third spot. La Gaffelière has also increased its standing on the chart, having climbed six places from 11th place last year, and achieving its highest ever Wine Lister Quality score in 2021.
Les Carmes Haut-Brion continues its upward trajectory in 2021, receiving a score of 17++ by James Lawther (the highest score given by the JancisRobinson.com team since the 2015 vintage), and gaining Ella Lister's top score for the vintage (96-99 points). Larrivet Haut-Brion enters the outperformers chart in ninth place, with the estate deciding not to include any Merlot in their 2021 blend – a first in Bordeaux.
Also appearing on our list of Value Picks for the 2021 vintage, Les Ormes de Pez rounds off the list of outperformers, having received a score of 91-93 from Neal Martin (Vinous), who calls it "A stylish Saint-Estèphe".
For the full list of Wine Lister's top 20 Value Picks for Bordeaux, as well as further analyses of the region's performance on Quality, search data, auction activity, and short-term price performance, download Part II of Wine Lister's 2022 Bordeaux study here.