A feast fit for a Queen
Emmanuel Cruse and the Château d'Issan team were this month (17th May 2022) joined by 70 leading figures from the UK's fine wine trade for an evening of celebration at historic Royal landmark, Kensington Palace. Organised by WLPR, the event commemorated the 870th wedding anniversary of Eleanor of Aquitaine and King Henry II of England on 18th May 1152, whose nuptials were celebrated with the wine of Château d'Issan.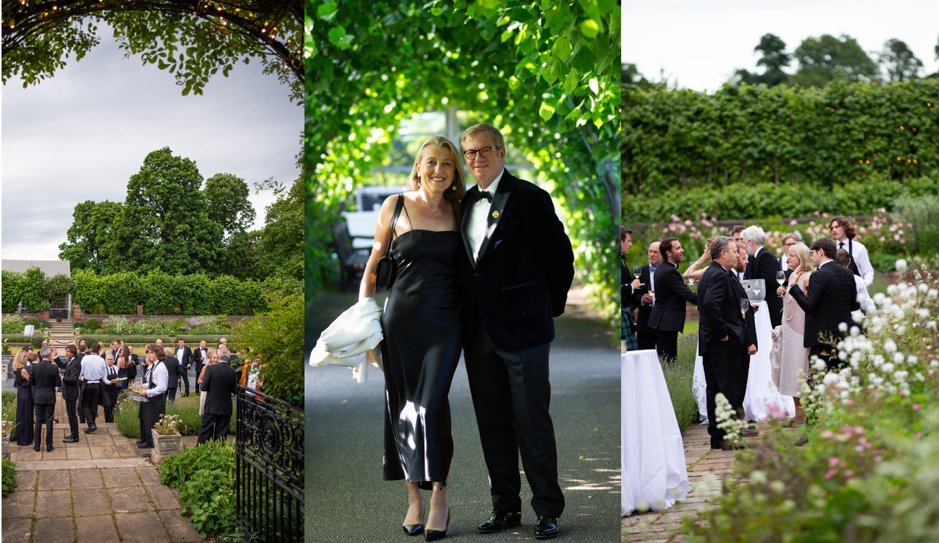 Reception in the Sunken Garden: Entering the garden (left), Virginie and Emmanuel Cruse (middle), guests enjoying  2014 Bollinger La Grande Année (right)
This was the third and largest of Château d'Issan's series of banquets to celebrate the union, following an event at the Houses of Parliament in 2018 and Westminster Abbey in 2015. Emmanuel, his wife, Virginie, and Château d'Issan's Commercial Director, Augustin Lacaille were delighted to return to London to host friends and associates in a market close to their hearts.
The reception took place in Kensington Palace's newly-redesigned Sunken Garden (unveiled to the public for the first time in July 2021), where guests were served the 2014 vintage of Bollinger La Grande Année – a champagne to which Queen Elizabeth awarded a Royal Warrant in 1955. Following the call to dinner, guests joined a short private tour of the Palace's State Apartments, with bespoke tour booklets leading them through its majestic halls. The banquet took place in the King's Gallery, with Emmanuel situated below a wind-dial, which, hailing from 1694, still shows the direction of the wind to this day. Adorned on the face of the dial is Great Britain, enlarged to match up to its trusty neighbour, France.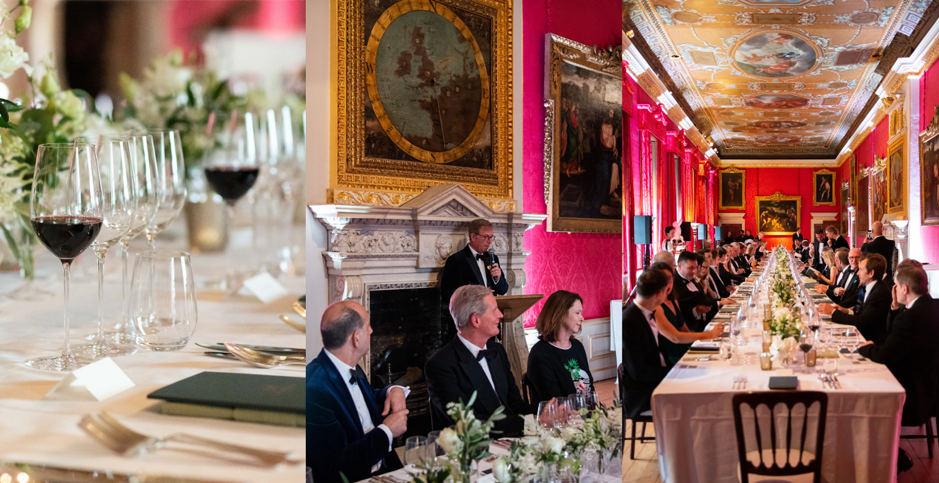 The Royal Banquet: The King's Gallery table set (left), Emmanuel's speech (middle), guests seated (right)
 What is the connection between Eleanor of Aquitaine and Château d'Issan?
In his introductory speech, Emmanuel shared with his esteemed guests the role of Château d'Issan, formerly Lamothe-Cantenac, in consummating the marriage between Eleanor of Aquitaine and King Henry II – the former being an avid lover of Bordeaux wines. Bordeaux specialist, Jane Anson shared further historical insight into Eleanor of Aquitaine, explaining that "her contribution to England extended beyond her lifetime", and "she continued to support the wine of Bordeaux" throughout her reign.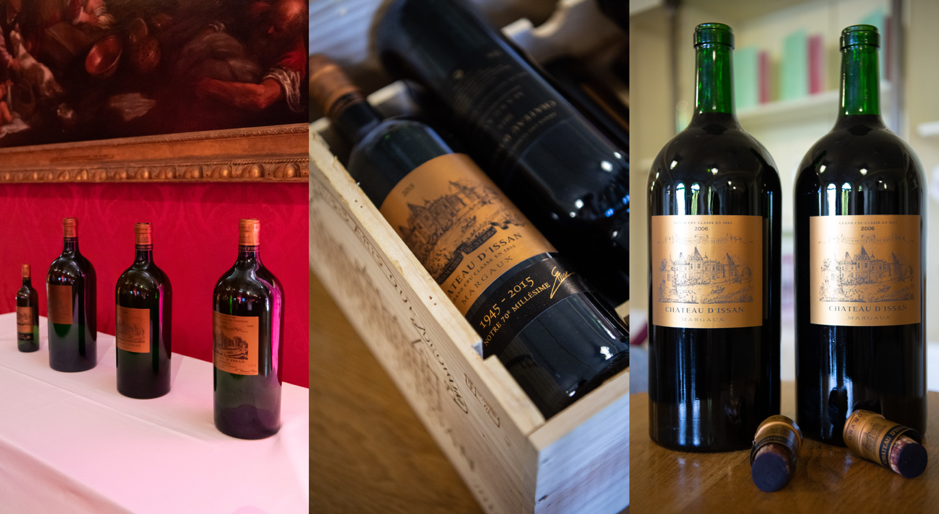 The wines: all formats displayed (left), Château d'Issan 2015 (middle), Château d'Issan 2006 in jeroboam (right)
A bespoke menu booklet at each place setting documented Château d'Issan's rich history, while the white flowers and green foliage adorning the centre of the table took inspiration from the flora and fauna found at the estate – as well as traditional wedding flowers.
Honing in on their union, themes of Bordeaux and Great Britain were integrated into the dinner menu: to start, guests were served Château d'Issan 2015 with a pigeon and bacon ballotine, foie gras ganache, and pear. Jeroboams of Château d'Issan 2010 were served alongside a baked cannon of lamb, confit shoulder, and potato crown. Château d'Issan 2006 was also served in jeroboam format alongside a Franco-British cheese course, comprising Comté, Mimolette, and Stilton. Finally, imperials of Château d'Issan 1995 were poured with a dessert of dark chocolate mousse, coconut sorbet, peanut, and lime.
For further information on WLPR's tastings and events, please contact the team here.