A tour of the town with our Pessac-Léognan friends
The Larrivet Haut-Brion team joined Wine Lister to catch up with industry friends and meet some new faces in London's fine wine scene after two years of restricted travel. Alongside a wine and cheese consumer tasting and a trade lunch, a series of individual merchant meetings provided the chance for the team to reunite with a market close to their hearts.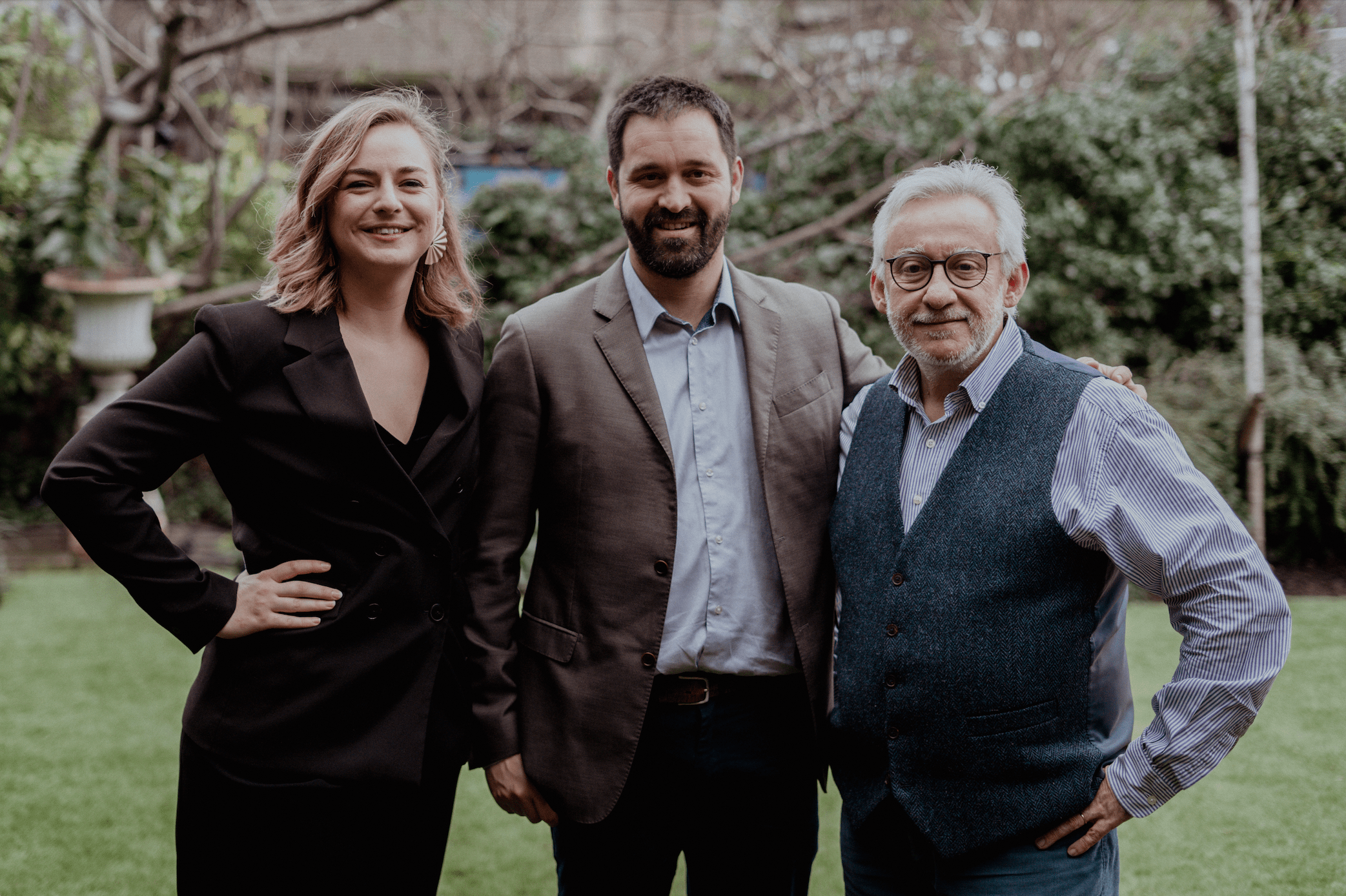 Larrivet Haut-Brion in London: (from left) Brand Ambassador Clara Bouineau, Technical Director François Godichon, Managing Director Bruno Lemoine
What are the latest developments at Larrivet Haut-Brion?
The viticultural evolution at Larrivet Haut-Brion kick-started with the arrival of their Managing Director, Bruno Lemoine in 2007. Fascinated by the mosaic soil structure unique to the property (with top-soils composed in patterns of graves, colluviums, or sand and clay-limestone), Bruno conducted extensive terroir analysis which informed a detailed replanting programme, allowing the team to better match grape varieties to soil types for optimum quality. Among other changes, this led to an increased proportion of Cabernet Sauvignon and Cabernet Franc vines planted across the vineyard sites.
Further changes were implemented in 2015 with the arrival of Technical Director, François Godichon, who integrated several new production methods informed by his Burgundian roots. His parcel-led approach was reinforced in 2018 with the construction of a new cellar with space and facilities for a more precise vinification of individual micro-plots.
The final piece in Larrivet Haut-Brion's winemaking puzzle, Cellar Master, Charlotte Mignon joined the team in 2020 and drives continuous experimentations with different ageing vessels, including combinations of concrete eggs, terracotta amphorae, and both new and old oak barrels. With Charlotte unavailable to join the visit (having just welcomed her second child), the London trio was completed by the property's Brand Ambassador, Clara Bouineau, who joined the team in January 2022.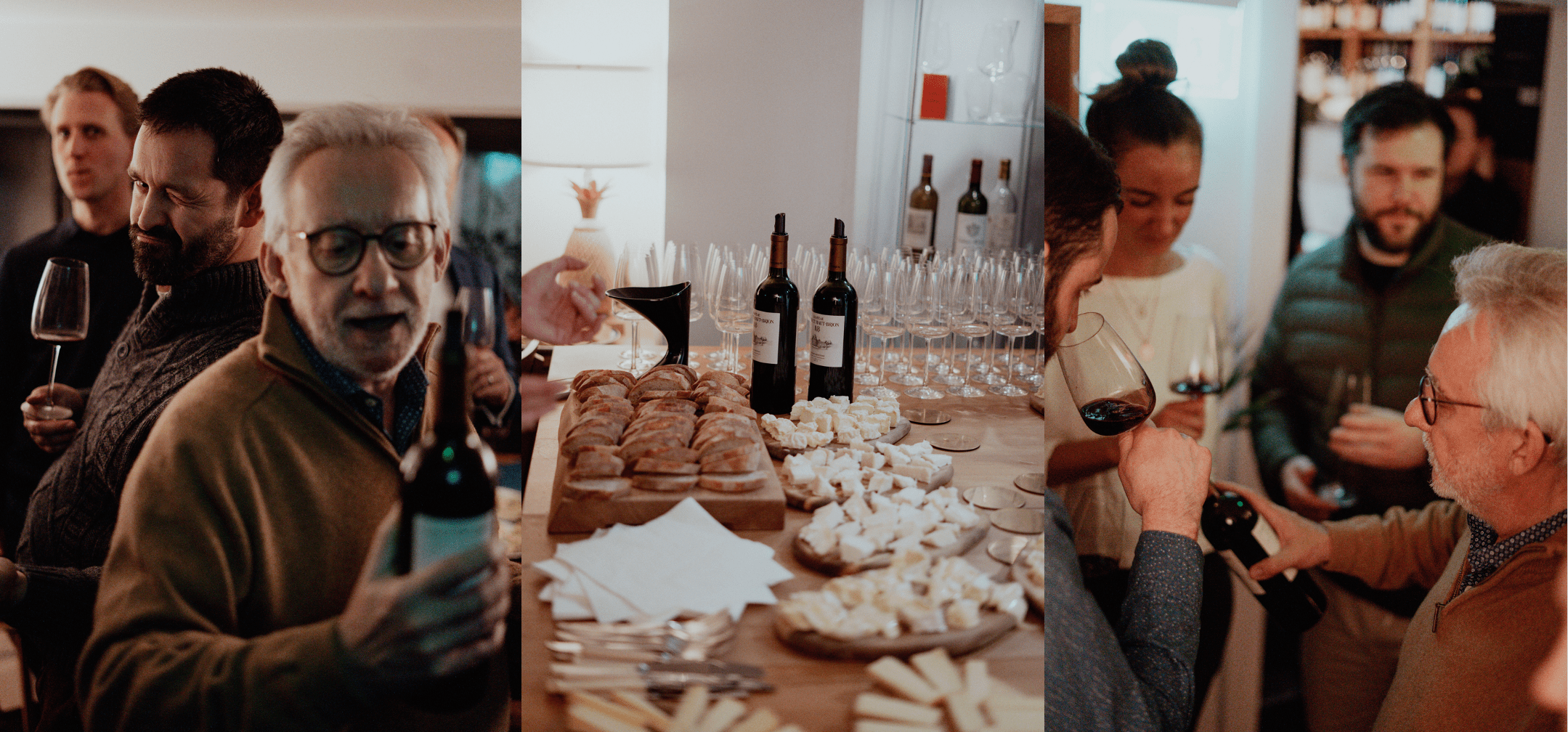 Wine and cheese tasting: Bruno and François tell guests about their wine (left), wine and cheese  at Must & Lees (middle), Bruno pouring wine for guests (right)
A marriage of Bordeaux wine with British cheese
The first stop on Larrivet Haut-Brion's London tour was specialist wine shop Must & Lees, where the team was joined by some of North London's Bordeaux enthusiasts for a wine and cheese evening on Wednesday 23rd February. Celebrating the estate's commitment to the UK market, Wine Lister and Larrivet Haut-Brion devised a tasting format that showcased their red and white wines alongside a selection of 100% British cheeses from Neal's Yard Dairy. While providing the opportunity for the team to build relationships with its consumers, the evening showcased the suitability of Larrivet Haut-Brion wines with some of the UK's favourite fromages, including the likes of St Jude and Colston Bassett Stilton.
Wine and cheese pairing: Larrivet Haut-Brion Blanc 2017 with Sinodun Hill, Les Demoiselles Blanc 2019 with St Jude, Larrivet Haut-Brion Blanc 2014 with Baron Bigod, Larrivet Haut-Brion Blanc 2007 with Durrus, Les Demoiselles Rouge 2019 with Ogleshield, Larrivet Haut-Brion Rouge 2017 with Colston Bassett Stilton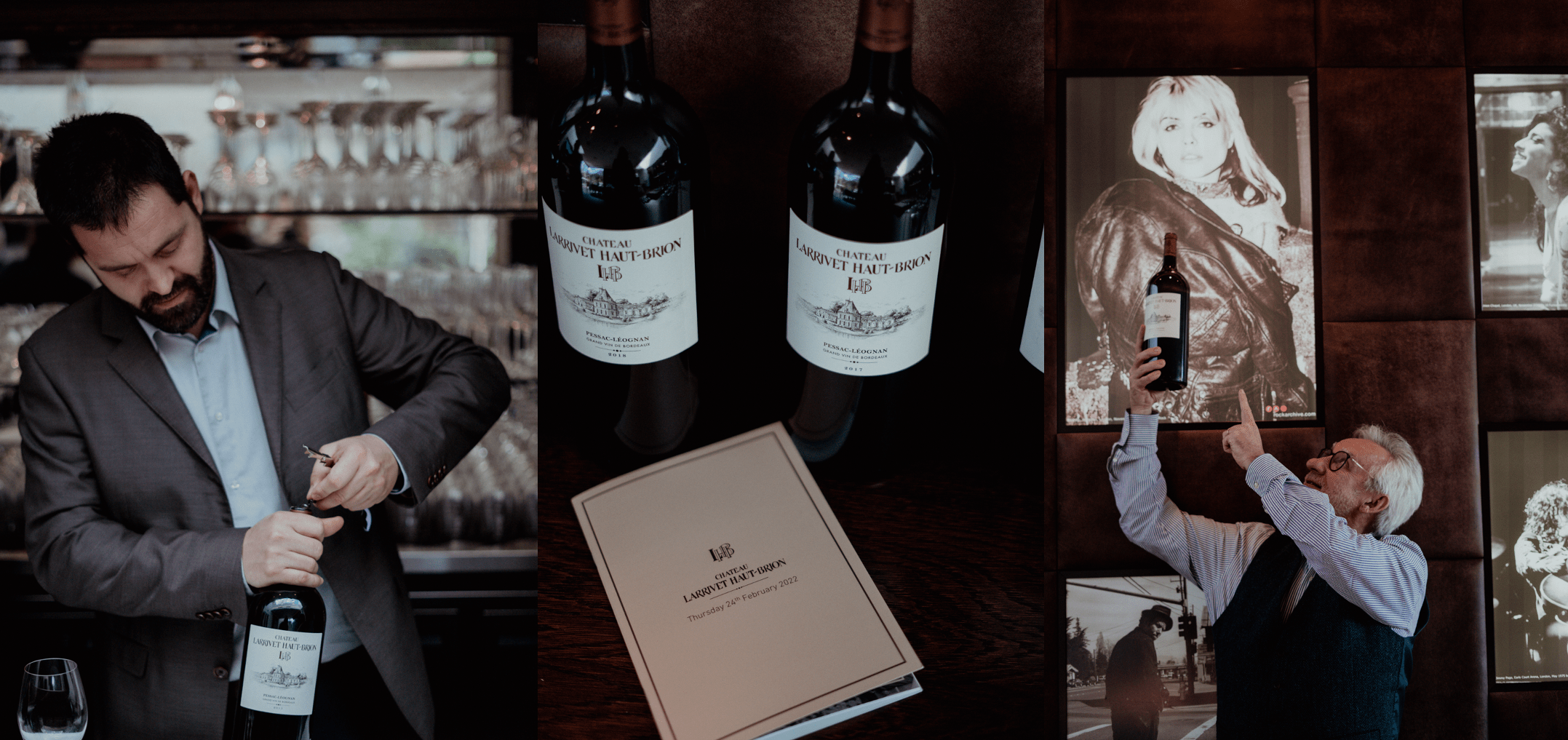 Frederick's trade lunch: François opening a 2015 magnum (left), magnums on display with bespoke booklet (middle), Bruno presenting a magnum (right)
A taste for technical developments
Having already met with some of London's key fine wine merchants, on Thursday 24th February, Wine Lister invited a handful of its fine wine trade and press friends for lunch at Frederick's to discover some of Larrivet Haut-Brion's best recent vintages in magnum.
With positive feedback across the board, Larrivet Haut-Brion's whites showed freshness and complexity, thanks to the blending of Sauvignon Blanc with Sémillon from old vines grown on limestone soils. Alongside an impressive showing of some iconic recent vintages of reds (including 2005, 2010, 2015), the 2017 Rouge provided a promising picture of the future of Larrivet Haut-Brion 2021, with a low proportion of Merlot offset by a higher percentage of Cabernet Franc mirroring the projected blend of this year's release – which may contain no Merlot at all.
To round off the lunch, the Larrivet Haut-Brion team poured some of their favourite wines from outside the property – an exercise that they believe is crucial to learn and gain inspiration from others. Amongst their "beyond Bordeaux" selection were Pierre Gerbais' Prestige Extra Brut, Mas Jullien 2018, and Domaine Moingeon Saint-Aubin 1er Cru Sur Gamay 2018 – each giving guests a glimpse into the team's personal preferences. 
Wines tasted: Les Demoiselles Rouge 2019, Larrivet Haut-Brion Rouge 2019, Larrivet Haut-Brion Rouge 2018, Larrivet Haut-Brion Rouge 2017, Larrivet Haut-Brion Rouge 2016, Larrivet Haut-Brion Rouge 2015, Larrivet Haut-Brion Rouge 2010, Larrivet Haut-Brion Rouge 2005, Les Demoiselles Blanc 2020, Larrivet Haut-Brion Blanc 2020, Larrivet Haut-Brion Blanc 2019, Larrivet Haut-Brion Blanc 2018, Larrivet Haut-Brion Blanc 2011
For further information on WLPR's tastings and events, please contact the team here.