Insight from Burgundy's regional specialist
Wine Lister's partner critic and leading Burgundy expert, Jasper Morris MW completed the release of his Burgundy 2020 scores last week. Below we take a closer look at his top ratings per appellation subset.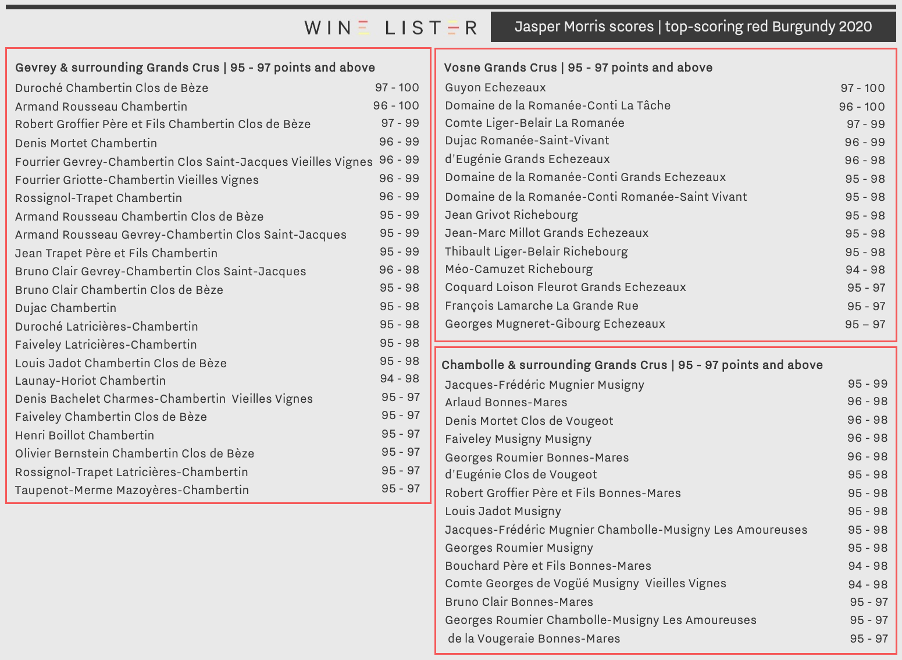 How did Burgundy's appellations perform in 2020?
Jasper Morris' Burgundy 2020 report outlines the challenges brought about by such a hot and dry summer, with soaring temperatures throughout August leading to a deficit of juice, particularly in Pinot Noir. The inability of certain rootstock to deal with the hot dry conditions led to the threat of dieback disease (a fungal disease that attacks the trunk, appearing more frequently in stressed vines), with Jasper noting he has "never seen as many vines being ripped out as [he] did in autumn 2020". Indeed, both factors resulted in relatively low yields for reds, with a number of producers in the Côte de Nuits having "made more wine in the frost-damaged 2021 vintage than they did in 2020."
Nonetheless, Jasper reported that the hydric stress "concentrated everything, including acidity", identifying wines with "profound intensity beyond anything [he] saw in 2018 and 2019." He describes a "universally successful vintage for the white wines", and a "wider range of styles and successes in the reds".
Côte de Nuits
With almost all of his top scores given as ranges, much of Jasper's tasting this year took place whilst wines were still in barrel, as many producers were "tempted to increase the length of élevage for their wines, especially the reds, given the exceptional concentration of the fruit". This contrasts with the majority of singular scores awarded to the in-bottle samples he rated at the same time last year, and while 2019 did not see any potential 100-point wines, the Côte de Nuits 2020s have five.
The selection includes Duroché's Chambertin Clos de Bèze and Armand Rousseau's Chambertin, with the former released as a limited edition cuvée to mark 100 years since the Duroché family planted vines on the site. Also potentially perfect are Guyon's Echezeaux and Domaine de la Romanée-Conti's La Tâche, with Jasper suggesting the former "could be THE wine of the vintage." Completing the line-up is Perrot-Minot's Richemone Vieilles Vignes, a Premier Cru with a vibrancy that Jasper considers "almost unsurpassed anywhere in the Côte".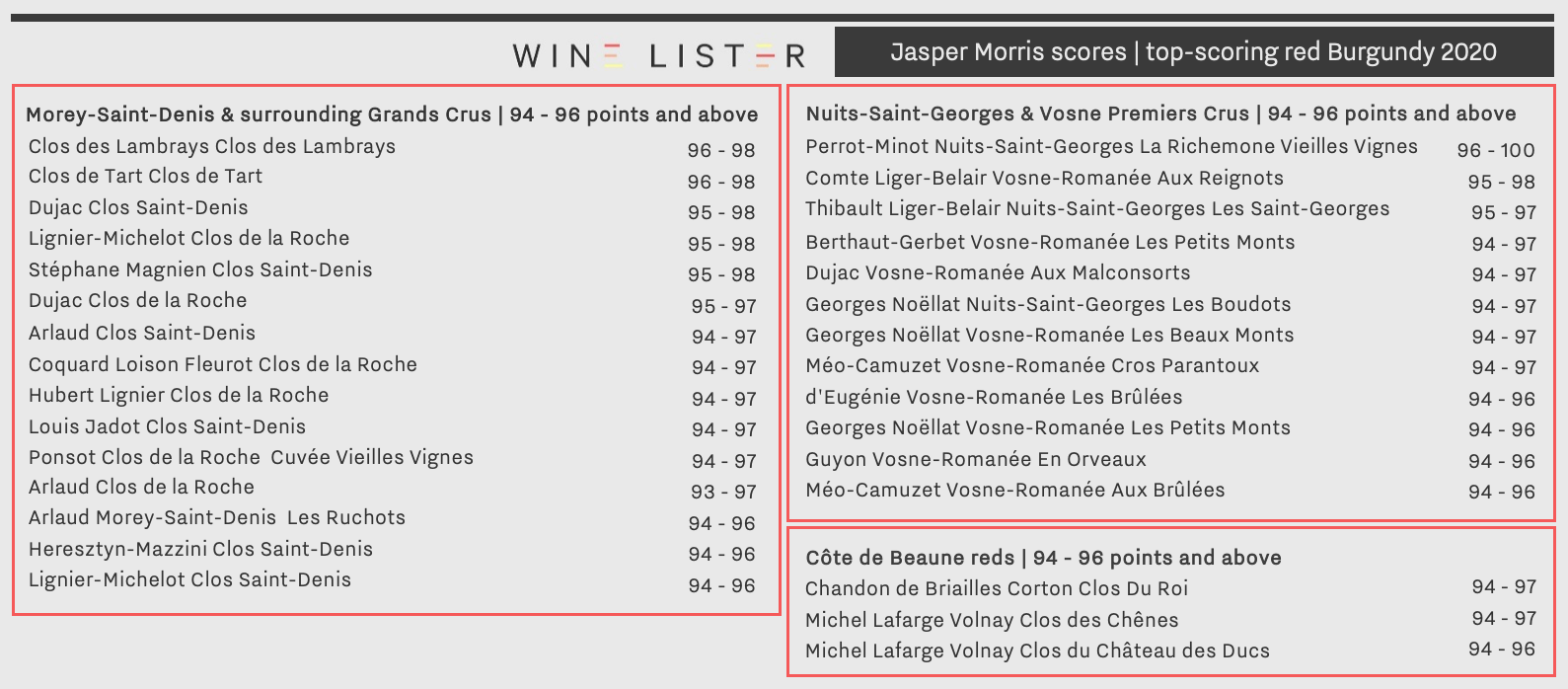 Within Morey-Saint-Denis and its surrounding Grands Crus, Clos de Tart's namesake cuvée shares the top score for a second year in a row, earning 96 – 98 points, having been complimented for its "spectacular depth". Clos de Lambrays – nurtured by Clos de Tart's previous winemaker, Jacques Devauges, since 2019 – matches the rating.
Côte de Beaune – reds
Jasper reports that the most challenging conditions were felt where grapes typically ripen first, including the southern villages of Volnay and Corton. Despite this, several reds including Michel Lafarge's Volnays Clos des Chênes and Clos du Château des Ducs, and Chandon de Briailles' Corton Clos du Roi fare well, the latter described as having the "most sensual nose of all", with notes of "alpine raspberries".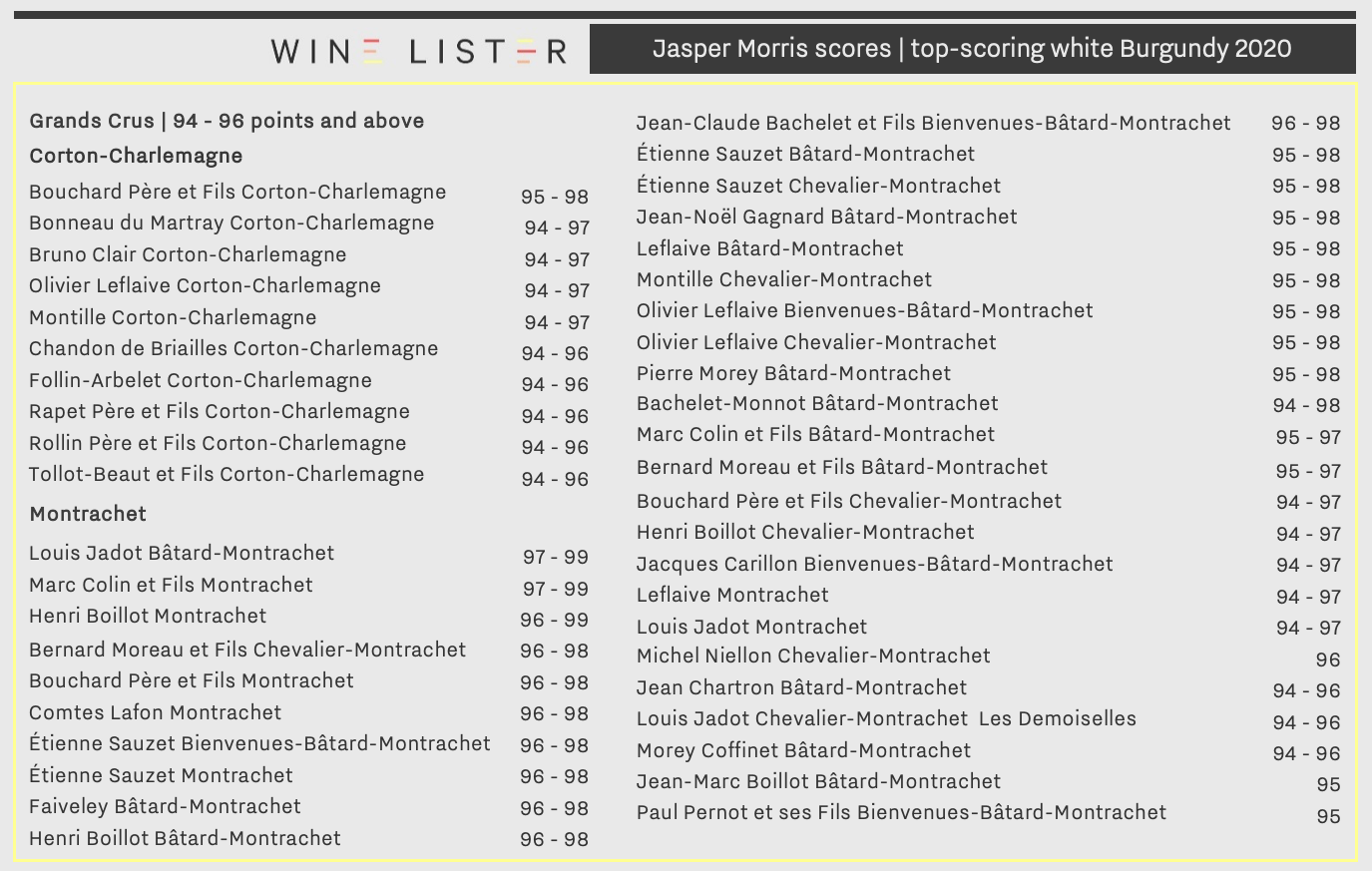 Côte de Beaune – whites
Jasper awards 71 white Burgundy 2020s a score of 94 – 96 and above, compared with last year's 29 wines scoring 95 and above. He stresses the success of the 2020 vintage across the whites, with Chardonnay grapes retaining more juice than Pinot Noir, and benefitting from a longer ripening time. Montrachet and associated white Grands Crus saw two wines with a potential 99 points – Marc Colin's Montrachet and Louis Jadot's Bâtard-Montrachet.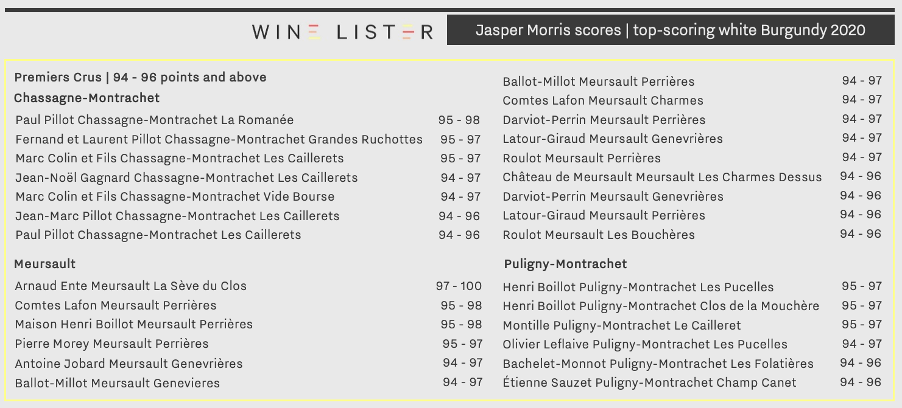 Bouchard Père et Fils' Corton-Charlemagne achieves a score of 95 – 98, and is praised for expressing "a really impressive wealth of fruit". Earning the only potential 100-point score for whites in 2020, Arnaud Ente's Meursault La Sève du Clos was particularly memorable, with Jasper affirming that he has "never seen this consistently great wine as expressive before".
Explore Jasper Morris' full Burgundy 2020 report here. For more Burgundy 2020 commentary from our partner critics, recap Neal Martin's ratings here, and stay tuned for the last lot of scores from Jancis Robinson.com.