The best bottle for your budget
Considering the best of white Burgundy MUST BUYs across five different price points, these potential picks gain high WL scores and are all approaching or within their drinking window parameters. Wine Lister's MUST BUY algorithm produces initial recommendations through considering a wine's quality and value within its vintage and appellation.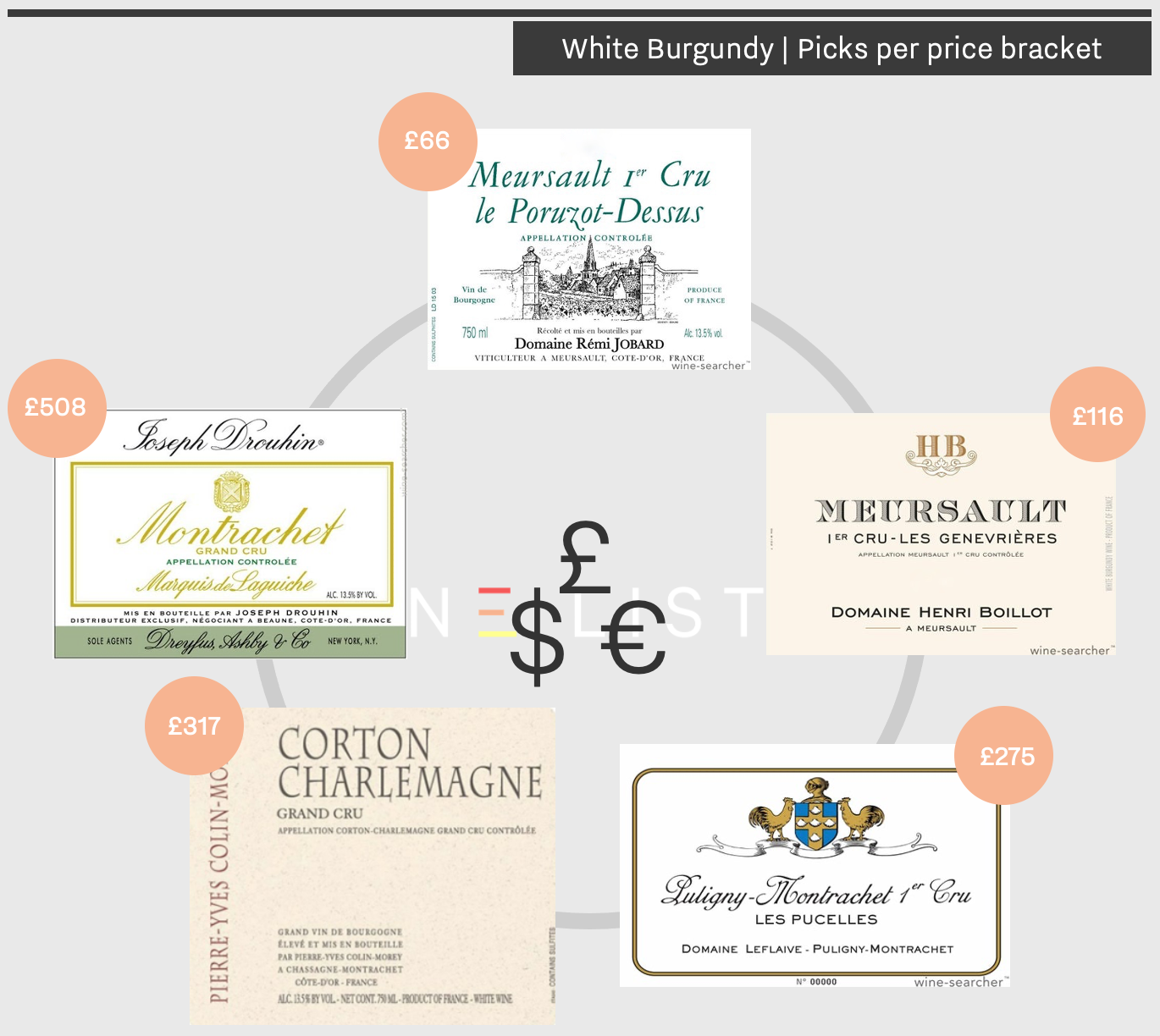 White burgundy MUST BUY picks per price bracket (per bottle, in-bond) 
Which are the best white Burgundy wines for my budget?
Notorious for housing wines of high quality with equally high demand, Burgundy has seen some extreme price rises over the last few years. Below we explore top white Burgundies with availability across a range of prices.
With a history of winemaking in his family dating back to the 15th century, Rémi Jobard took over his namesake estate from his father in 1996, and has since overseen many developments. As well as converting to an organic practice in 2008 (and gaining certification in 2011), Rémi introduced cover crop growth across his seven vineyards to encourage the 60+ year old vines to grow deeper to find nutrients. Harbouring a naturally limited yield through cordon-pruning, Rémi Jobard produced just 2,700 bottles of Meursault Le Ponuzot-Dessus in 2015. Despite this, there is still some available of the vintage for under £100, which can be purchased from Lea & Sandeman at around £66 a bottle.
Since taking over the helm of his family property in 2005, fifth-generation wine maker, Henri Boillot has implemented several changes at Domaine Boillot. As well as a focus on sustainable farming methods, including the avoidance of chemicals, and manual harvesting, the team conducts heavy pruning to limit yields, and harvests fruit as late as possible to ensure maximum phenolic maturity. White grapes are crushed gently to avoid bitterness, and fermented in larger barrels than the typical Burgundy "pièce" (350l, vs. 228) to ensure that purity and freshness is unencumbered. Achieving a WL score of 94, the 2016 vintage can be enjoyed at its best for another 10 years, and is available to buy from Fine+Rare at £116 a bottle.
The Leflaive family legacy has been propelled into a modern era, under the founder's great-grandson and fourth generation leader, Brice de La Morandière since 2015. As part of increased investment into refining its practice, Leflaive introduced a new type of cork in 2016, from natural cork to DIAM (made from broken down natural cork, cleaned with carbon dioxide), which increases the longevity of its bottles. MUST BUY Puligny-Montrachet Les Pucelles 2014 achieves a WL score of 94, and can be found at Corney & Barrow from £275 a bottle.
The son of Burgundy's infamous Marc Colin (whose domain expands across 30 different appellations in the region), Pierre-Yves established his own project in 2005 from vineyards he inherited from his father. He deviates from traditional Burgundian vinification methods, utilising larger demi-muid barrels (600l) to moderate the influence of oak on the wine and preserve the purity of fruit. Gaining Buzz Brand and Investment Staple status, Pierre-Yves Colin-Morey Corton-Charlemagne 2018 has WL score of 95, and provides a solid bet for top-quality white Burgundy to lay down for the future. It can be sourced from Berry Bros. & Rudd at £317 a bottle.
Produced by négociant house Joseph Drouhin with grapes sourced from vineyards owned by the Laguiche family of the Montrachet Marquis de Laguiche estate, Joseph Drouhin's Montrachet Marquis de Laguiche 2013 is a MUST BUY at the premium end of white Burgundy offerings. Founded in 1880 by 22-year-old Joseph Drouhin himself, the legacy of its founder's production has been carried through generations, with the property now under the helm of his four grandchildren, Fréderique, Véronique, Philippe, and Laurent. Receiving a WL score of 96 at around £508 a bottle, the 2013 has 10 more years left of enjoyment. To get your hands on this vintage, you can place a bid for it on the Berry Bros & Rudd online marketplace, BBX.
N.B. All prices are quoted per bottle, in-bond and are correct at the time of publication (19th August 2021).
To keep up to date with our fine wine insights, be sure to subscribe to our free newsletter: https://www.wine-lister.com/subscribe/info