Keeping it in the family with the best value second wine picks
Further informing your Bordeaux 2020 purchases, we look at the top 20 second wines of the vintage by Wine Lister's value score. The score is calculated based on the quality to price ratio of a wine and vintage, while still allowing room for higher-priced wines to feature.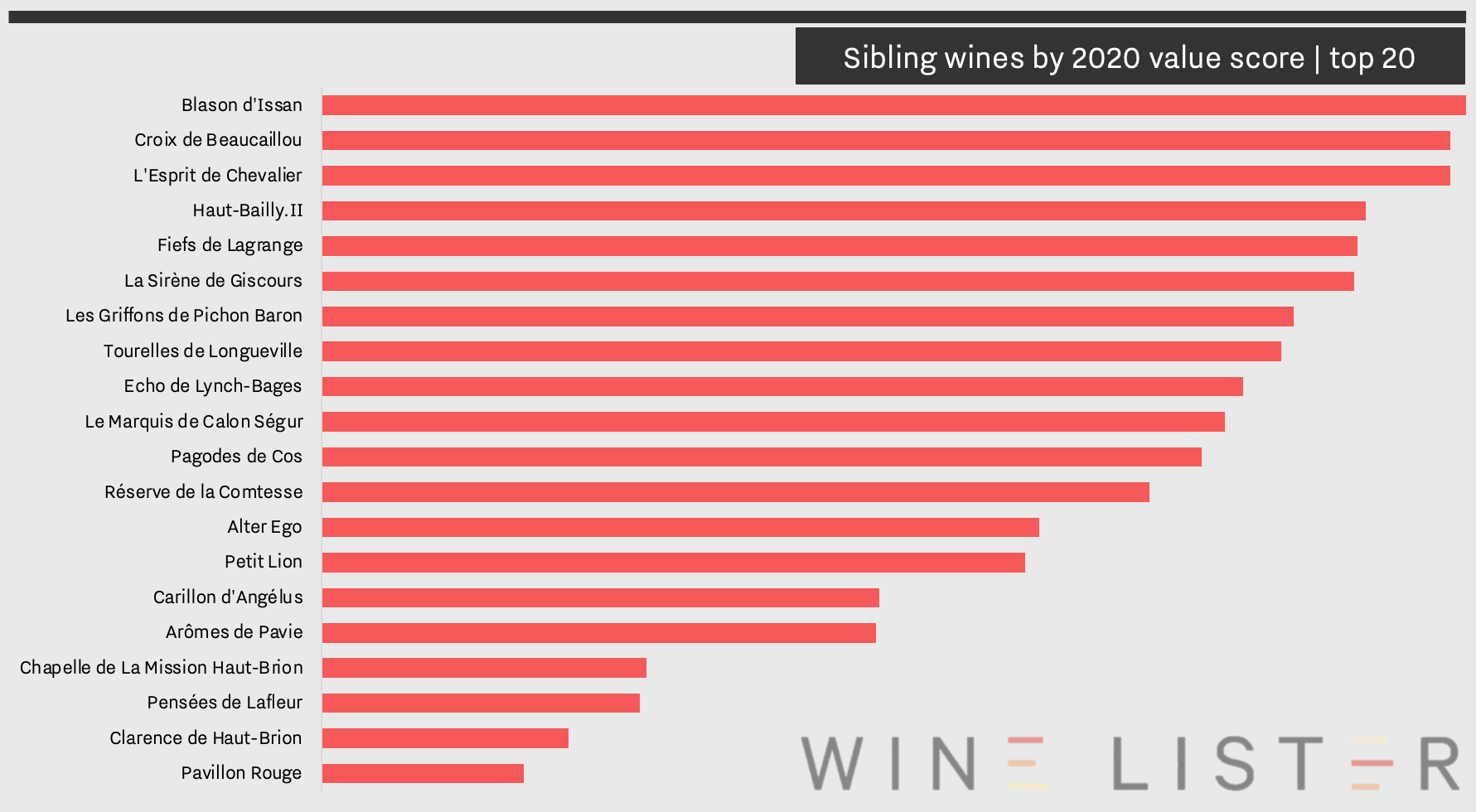 The top 20 leading sibling wines by Wine Lister value score
 Which second wines provide the greatest value?
Often lurking in the shadows of their Grand Vin counterpart, sibling wines offer a high quality, more accessible alternative to Bordeaux's long-ageing elite. While some are the product of grapes remaining from the Grand Vin, other producers prefer to give a sibling wine its own dedicated plots, often of slightly younger vines. In either case, these wines made at the hands of some of the world's greatest winemakers should be considered seriously. Below we look at our top picks of sibling wines for value, based on the latest offerings from the Bordeaux 2020 en primeur campaign.
Left Bank legacies
All major Bordeaux appellations across both banks are well-represented amongst the top 20 value picks, with Margaux property, d'Issan achieving the greatest value score for the 2020 vintage. First produced in 1985, Blason d'Issan bears a greater proportion of Merlot than its Grand Vin sibling (57% compared to 39%), but as noted by its maker, Emmanuel Cruse, is still very much a "baby d'Issan", sporting the château's perennial style. The second wine of 2020's wine of the vintage (according to Wine Lister partner critics), Margaux, has been a permanent feature of the estate since the 17th century; christened Pavillon Rogue in 1908, it is 2020's only top 20 second wine from a First Growth property. Margaux comrade, Giscours, is also represented, by its Sirène de Giscours, which enjoys the same winemaking attention and ageing as the Grand Vin, but with grapes sourced from younger vines. Finally, Margaux majesty, Palmer is featured with Alter Ego. Its 2020 release was well sought-after, particularly after no second wine was produced in 2018.
Pessac-Léognan royalty, Haut-Brion's Clarence de Haut-Brion ranks among the top 20 sibling wines for value. It is joined by L'Espirit de Chevalier – the red counterpart of Domaine de Chevalier's sibling series – and Haut-Bailly's Haut-Bailly II. The latter was renamed (from La Parde de Haut-Bailly) in 2019 to symbolise the second generation of owners, the Wilmers family. Finally, Chapelle de La Mission Haut Brion comes from the same vineyard as the Grand Vin, grown and harvested in the same way, with the introduction of grapes from the older parcels of La Tour Haut-Brion since the 2006 vintage.
Saint-Julien has three properties represented by their second wines, including Croix de Beaucaillou, which ranks in second place. This sibling wine is produced using grapes hailing from its own distinct vineyard, lying to the west of the château. Completing the top five rankings is Fiefs de Lagrange, which bears familiarity to its Grand Vin sibling, but is more suited for earlier drinking. Finally, Léoville Las Cases' le Petit Lion celebrates its 13th vintage with the release of the 2020, produced from a blend of replanted vines that are now between 15 and 18 years of age.
In neighbouring Saint-Estèphe, Le Marquis de Calon Ségur and Pagodes de Cos occupy 10th and 11th place respectively, with the former taking very different form from their first wine as an alternative interpretation of the Calon terroir. The latter is produced from a separate, dedicated plot of 40-year-old vines.
Completing the Left Bank selection are four Pauillac value picks, of which two hail from the same property. Pichon Baron is the only property to see its two additional wines feature – Les Griffons de Pichon Baron and Tourelles de Longueville. Lynch-Bages' Echo joins them within the top 10 picks by value score. Finally, Pichon Comtesse's Réserve de la Comtesse – first sold in 1973 – is a top feature for en primeur 2020. This well-established sibling wine represents between 20% to 50% of Pichon Comtesse's total production.
Right Bank relatives
One the Right Bank, and particularly in Pomerol, sibling wines have been slower to catch on, simply due to lower production levels per property. Two Saint Emilion Classés A properties nonetheless stand out for sibling value picks– Pavie and Angélus – featuring Arômes de Pavie and Carillon d'Angélus, respectively. The latter is increasingly becoming a "cousin" rather than a sibling, since the property has recently invested heavily in new plots for Carillon alone. Amongst this top pick hoard is Pomerol estate, Pensées de Lafleur, which takes 13th place amongst the top value picks with a limited-production of 500 cases.